Today, we continue and finish our simmering tour of the Big Valley straddling Nevada and California. This setting truly has it all, including one of the most clear and majestic celestial displays anywhere in the world!
Early Human History: Four Native American cultures are known to have lived in the area during the last 10,000 years (at least that long). The first known group, the Nevares Spring People, were hunter-gatherers who arrived in the area perhaps 9,000 years ago (about 7,000 BCE). At that time there were still small lakes in the region, as well as in neighboring Panamint Valley. The climate was also milder. Large game animals were plentiful. These animals denote the reason why humans migrated here. Like everywhere else in the world and throughout time, humans followed the herds for food and articles of clothing, systematically destroying most of the game. By 5,000 years ago (about 3,000 BCE), the Mesquite Flat People wandered into the region, at which time the Nevares Spring People may have already moved elsewhere since the area now hosted fewer animal species. Around 2,000 years ago, the Saratoga Spring People wanted into the region.
They, too, entered the valley, but this time their tribe adapted to a harsh climate that was probably already hot, dry desert. The reason is because their culture was a more advanced at hunter-gatherer society. They were also skillful at handcrafts. We know these people by mysterious stone patterns in the valley that were left when they finally moved on.
Nature's nutritional pantry––pinyon pine:
Some 1,000 years ago, the nomadic Timbisha (formerly called Shoshone; also known as Panamint or Koso) joined the short roster of nomadic emigrants to Death Valley. They hunted sparse wildlife and supplemented their diets with mesquite beans and piñon pine nuts, which are well known for their high caloric intake. Because of the wide altitude differential between valley bottom and mountain ridges, especially to the west, the Timbisha practiced a vertical migration pattern to sustain their presence here. Their winter camps were located near reliable water sources in the valley bottoms. As the spring and summer progressed and the weather warmed, they followed the grasses and other plant food sources that ripened at progressively higher altitudes. November found them at the very top of the mountain ridges where they harvested pine nuts before moving back to the valley bottom for winter.
The Next Wave: In time, this strange and beguiling territory was encroached upon by migrant Anglo during the California Gold Rush. In December 1849, two groups of California-bound Anglo travelers with perhaps 100 wagons found their way into Death Valley after getting lost on what they thought was a shortcut off the Old Spanish Trail. Called the Bennett-Arcane Party, they searched the valley but were unable to find a pass over the mountains for weeks. Fortunately, they did find fresh water at various springs and they survived by eating several of their oxen. They also used the wood of their wagons to cook the meat and make jerky. The place where these virtual pilgrims survived is today referred to as "Burned Wagons Camp," located near the sand dunes. After finally abandoning their wagons, they managed to hike out of the valley. The fable of the event claims that, just after leaving the region, one of the women in the group turned and said, Goodbye Death Valley, unofficially giving it the name by which we know it today. Included in this party was William Lewis Manly, whose autobiographical book, Death Valley in '49, detailed the trek and popularized the area. Geologists later named the prehistoric lake that once filled the valley after him.
After an unusual drenching during 2005's rainy season, the lake returned (a most unusual sight, indeed):
(Continues after the fold.)
Boom And Bust: The ores that are most famously associated with Death Valley are also the easiest to collect and the most profitable, namely evaporate deposits such as salts, borate and talc. Borax was found in 1881 near Furnace Creek, which was then called Greenland, an obviously facetious name.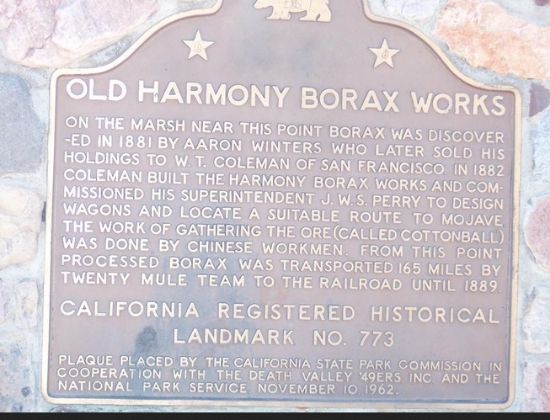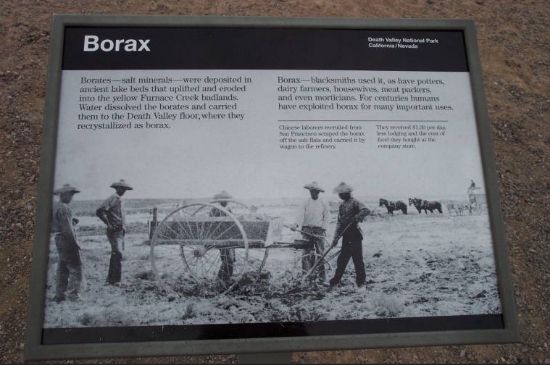 Later that year, the Eagle Borax Works became Death Valley's first commercial borax operation, processing ore in late 1883 or early 1884, then continuing until 1888. This mining and smelting company produced borax to make soap, mainly for industrial uses. It was shipped out of the valley 165 miles (266 km) to the Mojave rail head in ten-ton capacity wagons pulled by sturdy twenty-mule teams. (Actually, there were teams of eighteen mules and two horses each.)
The teams averaged 2 miles an hour and required about thirty days to complete the round trip. The trade name "20-Mule Team Borax" was established after a new owner acquired the Pacific Coast Borax Company in 1890. Mining continued after the collapse of that relatively short-lived empire. By the late 1920s, the region was the world's number one source of borax. Geologically speaking, Furnace Creek Formation is 4 to 6 million years old and the primary source of borate minerals gathered from Death Valley's playas.
In time, I think the mules (and the two horses) must have threatened to go on strike and the company used this iron replacement to haul the ore. . .
Other visitors stayed to prospect and mine copper, gold, lead and silver. These sporadic mining ventures were hampered by the remote location of mines and the typically harsh desert environment. Generally, Death Valley was not a rag-to-riches enterprise, although in December 1903, two prospectors got lucky. They were looking for silver when, quite by accident, one of them discovered an immense ledge of free-milling gold. The find was right next to the duo's work site. They named their claim the Keane Wonder Mine. This started a minor, but fleeting gold rush into the area. Eventually, only a few mines extracted enough metal ore to make their operations worthwhile. The boom towns, which sprang up around these mines, flourished during the first decade of the 20th Century but soon declined after the financial crisis of the so-called Panic of 1907.
Flora And Fauna: Typically, the designate of the park, Death Valley, gives the impression to most people that nothing lives here other than tourists and those who serve them in the tourist industry, including the park rangers who manage the park. However, this wan, hot and dry territory is receptive to a variety species of plants and animals that have adapted to its desert environment; a woefully thirsty setting where standing water is as rare as a blooming rose. Several of the larger springs derive their water from a regional aquifer which extends as far east as southern Nevada and Utah. Much of the water in this aquifer has been there for thousands of years, at least since the Pleistocene ice ages (from 2.6 million to 12,000 years ago). Today's drier climate does not provide enough precipitation to recharge the aquifer at the rate at which water is being withdrawn. Still, it follows there's water here, that is, for anyone who knows where and when to find it. Here's a small list of photos of some of the valley's critter inhabitants:
Our grand pappy's and such used to work here. . .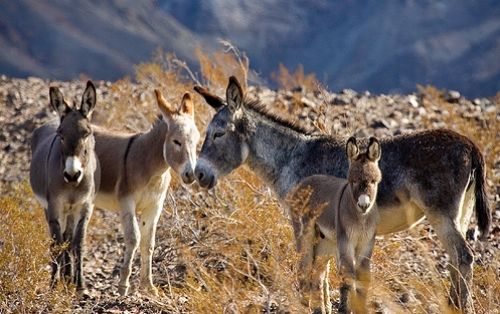 "I'm walking here!"
We live here, too (zebra tailed lizard). . .
We're the rams who make the ewes turn (ahem). . .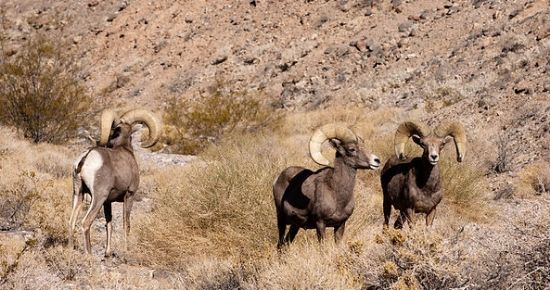 I'm a desert tortoise. . .not a turtle. . .which means I don't swim and live in water. . .
We're also ubiquitous. . .if you climb high and can find our species. . .
[Image removed because of request from copyright holder.]
You don't even want to mess with me, dude!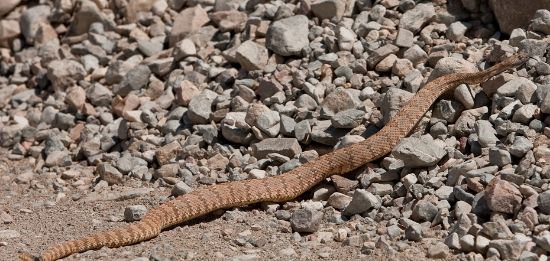 And don't call me "Kitty!"
You can call me by that name. I'm Millie the Kid and I own Rich and live with him:
Ecozones: From the lowest to highest elevations, various terrestrial ecozones support a variety of wildlife, including 51 species of native mammals, 307 species of birds, 36 species of reptiles, 3 species of amphibians, and 2 species of native fish (alive and well in Salt Creek and Cottonball Marsh). Small mammals (such as the aforementioned gallery on display) are more numerous than large mammals such as bighorn sheep, coyotes, bobcats, kit foxes, cougars (mountain lions) and mule deer. About 1,000 species of plants, 23 of which are not found anywhere else, manage a firm foothold on the terrain and desiccated environment. These include creosote bush, desert holly and mesquite thrive at the lower elevations, and sage up through shadescale, blackbrush, Joshua tree, piñon-juniper, thence to limber pine and bristlecone pine woodlands in higher elevations. Some plants and trees such as the creosote bush and mesquite have taproot systems that can extend 50 feet into the ground to take advantage of a year-round supply of ground water. Water is obviously the key to survival here for the many life forms. The diversity of Death Valley's plant communities also results partly from the region's location in a transition zone between the Mojave Desert, the Great Basin Desert and the Sonoran Desert. Ergo, the unusually diverse and abundant forms of life found here.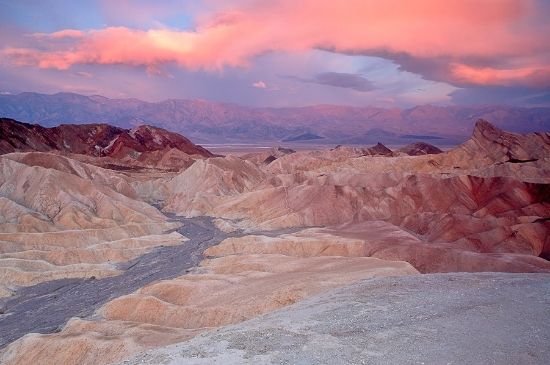 Of course, on those unusual wet years the valley takes on a whole new appearance and adds color with a variety of wildflowers drawing photographers hundreds or thousands of miles just to get the shot. Here are just some of the many types of flowers that grace the landscape, however ephemeral their showcase:
Believe it or not, one year not too long ago one entire valley was covered with an outrageous flower display. . .
Tourism: What keeps Death Valley alive since those days is the tourism industry? People, namely tourists. Early on, to accommodate the advent of tourism tent houses were built in the 1920s (where Stovepipe Wells is now located). Many of these venturesome tourists flocked to resorts built around natural springs that were thought to have curative and restorative properties. In 1927, Pacific Coast Borax turned their soap-mining interests by mining gold from tourist's pockets. All it took was converting crew quarters of its Furnace Creek Ranch into the Furnace Creek Inn and Resort. When the spring at Furnace Creek was later diverted to develop the resort, surrounding marshes and wetlands started to shrink. Before long, the park had to devise a new scheme to attract tourists by making it a popular winter destination. Other facilities that started off as private getaways were later opened to the public, most notably Death Valley Ranch, better known as Scotty's Castle. This large and exotic ranch home built in the Spanish Revival style became a hotel in the late 1930s, largely because of the fame of Death Valley Scotty, and became a major tourist attraction. His real name was Walter Scott (but no relation to the famous Scottish poet and writer with the same name). Alleged to be a successful gold miner, Death Valley Scotty pretended to own his castle, claiming to have built the mansion with profits from his mine. Neither claim was true. The real owner, Chicago millionaire Albert Mussey Johnson, provided the funds and encouraged the myth. When asked by reporters about his connection to Walter Scott's castle, Johnson replied that he was Mr. Scott's banker. He obviously enjoyed living the life of an incognito onlooker.
The "surrogate" owner (Scotty) in his declining wealthy years:
Scotty sitting smug and cozy with the Johnson's on either side:
Bonus Details: The deep Death Valley basin has a diverse and complex geologic history, filled with sediment (a light yellow color) eroded from the surrounding mountains. Black lines on geologic maps show some of the many major faults that created the valley. Since its formation, the area that comprises the park has experienced at least four major periods of extensive volcanism, three or four periods of major sedimentation, also several intervals of major tectonic deformation where the crust has been reshaped. Two periods of glaciation have also affected the area, though no glaciers ever existed in the ranges now in the park.
Trails: There are too many trails in the park to mention, scores of hiking trails of varying lengths and levels of hiking difficulties ― but with this proviso: In Death Valley, hikers are on their own and need to carry plenty of water. Make that a copious amount of water especially during the warm and hotter months. Hikers should always use common sense, especially paying attention to the heat and dry conditions. There are literally thousands of hiking possibilities to choose from when exploring the valley. The normal season for visiting the park is from October to April, and even then temperatures can soar. Knowing one's limitations is therefore salient advice that applies to anyone desiring a short or long hike. Otherwise, there are resorts and paved roads and plenty to see and do here, even while driving and gawking at the visceral scenery in the comfort of one's air-conditioned vehicle. At night, the dark sky is brimming with scintillating starry points. Death Valley is one of the best places on the planet to observe the heavens due to the usual dark sky conditions and cloudless skies. Just remember: This is desert terrain. This apt notice means the valley cools down appreciably when the sun goes down, including during the warmer months. If the wind stirs, the chill factor can cool the body even more. Mindful visitors should therefore wear appropriate clothing day or night. Keeping one's physical body feeling comfortable stave off everything from heat exhaustion (which can easily lead to heat stroke), headaches from dehydration, or feeling poorly and having a bad attitude.The advice is visitors need to drink large of water here, but also frequently snack on salty or sweet-tasting morsels that help the body maintain a physiological and psychological equilibrium. Incidentally, never hydrate one's body in hot temperature extremes without also snacking. Without salt and sugar when drinking water, the risk of an electrolyte imbalance increases, which in medical terms is called hypothermia––deadly results if not soon reversed. (See below for names of trails throughout Death Valley.)
Very typical Death Valley hiking terrain (this is Willow Canyon):
And this type of country:
How about some parting shots to remember this most singular setting with an iconic moniker. . .
Ubehebe Crater (testimony to DV's primal volcanism days):
From a lofty and long view: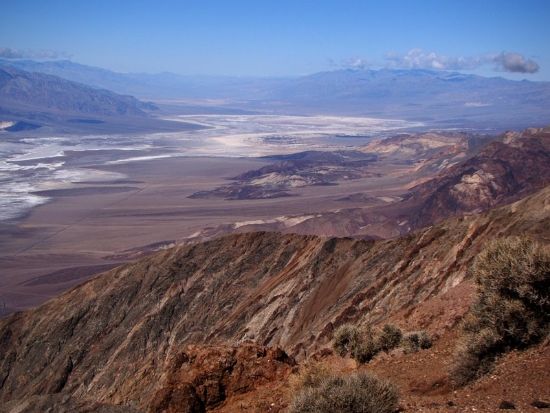 Moonrise:
Hiking the dunes:
The haunt of a lingering sunset:
Directions: The main road transecting Death Valley from east to west is California Hwy. 190. On the eastern border is Nevada, where Route 95 parallels the park from north to south with connecting highways at Scotty's Junction (SR 267), Beatty (SR 374) and Lathrop Wells (SR 373). Coming from the west, SR 14 and US Route 395 lead to Ridgecrest, California, where SR 178 heads east (into the park). Further north on Hwy. 395 at Olancha, California, Hwy. 190 joins and enters the park, and further north at Lone Pine, California, Hwy. 136 joins Hwy. 190 headed east into the park. South of Death Valley, I-15 routes through Baker, California. From here, take SR 127 which runs north from Baker to Shoshone, and take the Death Valley Junction, with connections on SR 178 from Shoshone and another connection with California Hwy. 190 at the Death Valley Junction.
Contact Information: Death Valley National Park, P. O. Box 579, Death Valley CA 92328. Phone (visitor information): 760-786-3200. Fax 786-3283. Email: non-listed. Resort Information (operated by Xanterra): Furnace Creek Resort, P. O. Box 187, Death Valley CA 92328. Physical Address: Hwy. 190, Death Valley 92328. Phone: 760-786.2345. Fax 786.2514. Central Reservations: Phone: 800-236.7916. Fax 303-297.3175. Email: reserve-fc@xanterra.com
And so, DKos community, we come to the end of another armchair tour. There will be other scenic places to tour and more supplemental topics to read and think about, so stay tuned for a continuation in this series. (Which, by the way, there is a very special series that will post later this afternoon, say, around 3:30 or 4 (MST) on the indomitable, and somewhat autocratic, Major John Wesley Powell. This series with an historical theme will run for the next seven days. For those of you interested in Western American history of the late 19th Century, and interested in reading about a gripping adventure of his legendary 1869 expedition of the Green and Colorado rivers canyon country, this subject matter is for you.)
As always, your thoughtful commentaries are welcomed.
Rich
http://www.nmstarg.com/...
http://www.grandcanyon.org/...
R U UP OR DOWN FOR A HIKE IN DV?
Hiking Seasons:

The best time to hike in Death Valley is from October through April. Summer temperatures can be dangerous in the park's lower elevations. Even during spring and autumn the heat can be unbearable for most people. Avoid hiking on the salt flats or anywhere below sea level when it's hot. Save the low elevation hikes for the cooler winter days. The high peaks are a pleasant escape from the heat in summer, but are usually covered with snow in the winter and spring. If you must climb them during winter season, be sure to be properly equipped with adequate winter clothing, an ice axe and crampons.
Solitude is the norm in the park's backcountry, but in the springtime and on holiday weekends you will see other people, especially at the most popular hiking locations.
Water:

Due to the dry climate of Death Valley, you must drink more water here than in other places, even in the cooler winter months. Always carry adequate water (at least 2 liters for a short winter dayhike, 1 gallon or more for longer warm season hikes and overnighters). Don't "save it for later", be sure to drink it as you hike. If you are feeling thirsty, you are getting dehydrated. Springs and other natural water sources are rare and should not be considered reliable. Boil or treat water from these sources before using.
On Death Valley's NPS site there are scores of hiking trails, from easy to moderate to "Why in the hell did I take this so-called trail?" For instance, these recommendations:
Golden Canyon Interpretive Trail
Gower Gulch Loop
Desolation Canyon
Natural Bridge Canyon
Badwater Salt Flat
Salt Creek Interpretive Trail
Mesquite Flat Sand Dunes
Mosaic Canyon
Titus Canyon Narrows
Dante's Ridge (and)
Little Hebe Crater Trail
And there are the more adventurous hikes for the most adventurous hikers. . .Death Valley Buttes; Fall Canyon; Little Bridge Canyon.
If it's too hot for hiking during your time of visit, then the recommendation (for those in sound physical shape) is to go higher. For instance, Wildrose Peak and Telescope Peak trails.
Every trail name just mentioned can easily be found on Google and therein find the corresponding topo maps and trail description.
Happy and safe trails wherever you wonder and wander in this splendorous national park, like no other!