Last year, San Diego legalized miniature goats and my friends got some. You can have two miniature goats - no more, no less. They cannot have horns, and any male must be neutered. The preferred dairy breed among the little bitty goats that are legal is the Nigerian Dwarf. So my friends got two Nigerian Dwarfs, sans horns. Their names are Flora and Fauna. And on Friday night, Fauna gave birth to twins. I don't care who's wearing what to the Oscars - none of them will be this cute!

Me and a baby goat! Mama did NOT like me holding her baby.
A friend and I went to visit the babies today. They were two days old. The baby boy stayed out of sight the entire time. The baby girl was out and about but a bit difficult to photograph, as she was often trying to nurse or she had her back to us. When she did face me, she usually wanted to investigate me and my camera, making her impossible to photograph.

One of the babies, laying in the flower cover from a palm tree. Baby #2 was in a pretty good hiding spot, taking a nap.
The two adult goats are the most mellow animals I've ever seen. I'd rather have them next door to me than most dogs I've met. They barely make any noise, ever. When you visit, they just stand there, silently, and let you pet them. They don't bite like a dog can. Their poop doesn't stink like a dog's. Their poop is useful, unlike a dog's. And they make milk. I really, really, really want a goat - but I will say that following my friends' adventures with their goats has made me more cautious about getting some of my own, if I ever do.
Since only females and neutered males are allowed by law, the goats had to go away to "camp" to get pregnant. Flora, the older goat, has been to camp twice and failed to get pregnant both times. Fauna went once and got knocked up with these twins. It's certainly not the same as having chickens, who start laying eggs at a certain point whether there's a rooster around or not. Another concern is that goats can catch a disease when they go to camp. My friends have probably had their goats for a year now, and they are just now about to get some milk - and only from one goat, not both.
Usually, when I visit, the goats barely take notice of me, although they don't mind me petting them. But they don't seem to enjoy it much either. This time it was different. With Fauna's babies getting all the attention - and Fauna nearby protecting them - Flora felt left out. I got many gentle head-butts from her to let me know I'd better pet her because she's cute and interesting too.

Milk!
Now that the babies are born, all of the milk Fauna produces is for them for about the first month. After that, once they need less milk, my friends will start milking Fauna to help themselves to whatever the babies don't need. Sadly, by law, after two months have passed, they must sell the babies, because only two goats are allowed on any one property. In my opinion, this is cruel, since it will be distressing to the mother and the kids to separate them that young.
The babies' fur is much softer than the adults. I think they must be smaller than the babies of full-size goat breeds since they are a miniature breed. I've seen a newborn baby goat before (just a few minutes after its birth) and I swear it was bigger than this. I think one of my cats is bigger than the baby I held.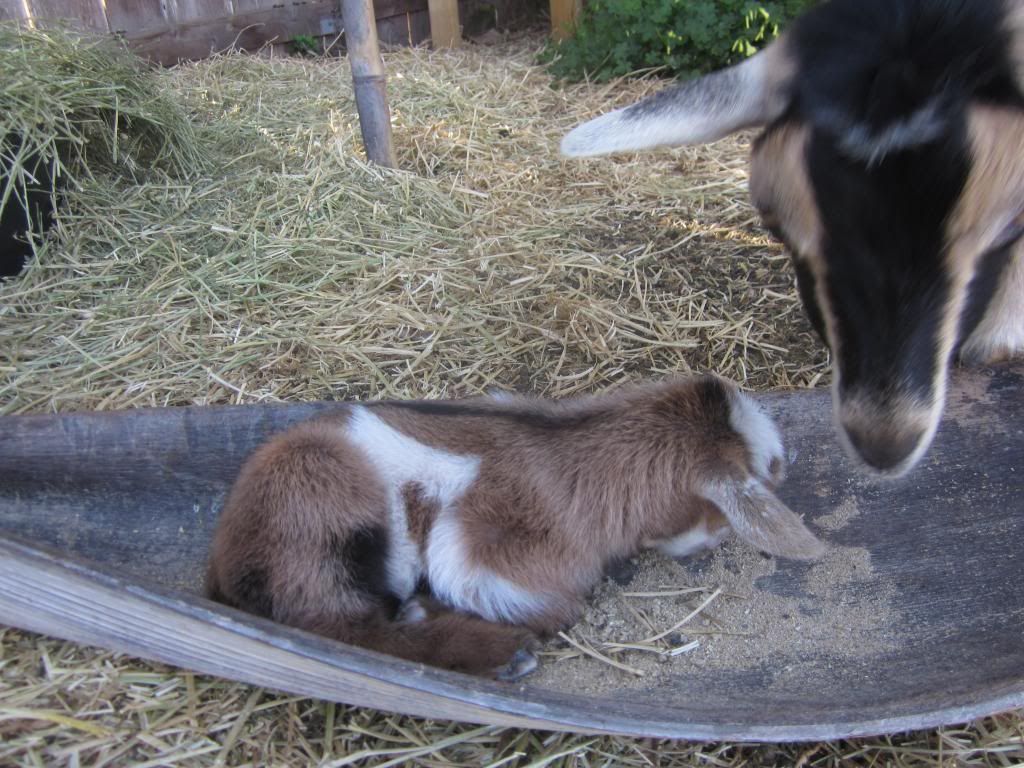 The cutest thing Mama and Baby did was when the mother would get separated from her baby, she would "Baa" and the baby would hop over. It didn't walk or run, it bounced! The baby doesn't have great coordination of its legs yet, and it was clear her legs aren't very strong yet either. When Mama called her, she would make a tiny little "Baa" too. So cute!
UPDATE: Wow, it looks like I'm on the rec list! Thanks! That's nice and unexpected. But I think I'll use the opportunity to say something about progressive politics. San Diego's NOT a liberal town. We ain't no San Francisco. But a small group of dedicated people worked hard for a few years and they got our urban ag laws changed last year. We've now got some of the best, most permissive and liberal laws in the country. We used Seattle's law as a model, I believe. Cleveland's also got some great urban ag laws, and the most liberal laws on backyard chickens I've seen are actually from Salt Lake City. On greywater policy - an area where we aren't quite there yet, check out Tucson. Personally, I'd prefer to do rainwater harvesting instead of greywater, because you can collect a shocking amount of water from just a few inches of rain, and there's no soap mixed in with it like there is with greywater. But the big rain barrels can get VERY expensive, and greywater's cheap. I just worry about all of the nasties that go out with our water - flame retardants in your kid's PJs, endocrine disruptors in most liquid soap, etc. So you've gotta be VERY conscious about what's going down your drain when you decide to grow your food with it.
Here's a piece I did for Grist about our new urban ag rules: http://grist.org/... If you're gonna be using a bunch of water to irrigate your yard anyway, it's much nicer to grow food than grass, unless you have kids who really use the lawn or your top hobby is croquet or something.