Here is another sordid tale in the crazed frenzy to frack America. A spate of lawsuits have been filed over possible abuses in the leasing of tribal lands in the shale oil and gas rush in North Dakota. A Propublica story by Abrahm Lustgarten ("Land Grab Cheats North Dakota Tribes Out of $1 Billion, Suits Allege") gets to the heart of the matter.

A review of tribal and federal records as well as lawsuit documents reveals a dizzying array of lowball, non-competitive deals brokered by numerous companies, often entwined with the tribal council and with individual landholders on the reservation. But at heart the alleged practices are simple: Tribal leaders and outsiders set up companies to buy drilling rights cheap and flip them later for spectacular profits — in one case earning as much as a 200-fold return in just four years.

"Hundreds of millions of dollars were lost," said Tex Hall, the current chairman of the Three Affiliated Tribes, in an interview. "It's just a huge loss and we'll never get it back."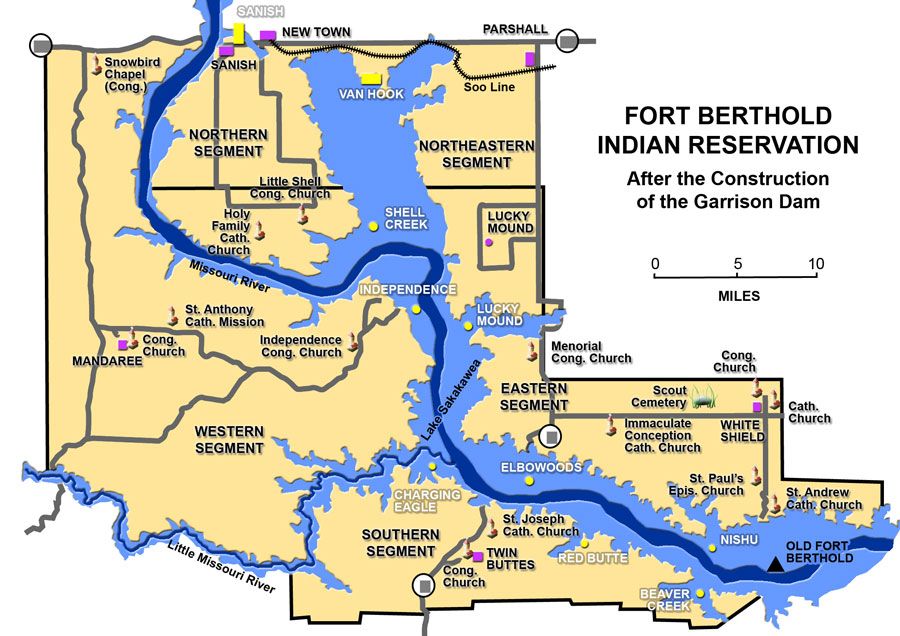 Many of the allegations involve a company set up by a casino executive and developer called Dakota-3, an oil speculation company known as Zenergy, and venture capital firm Och-Ziff Capital Management Group. This trio of parasites worked together to acquire leases for well below market value and then flip them for enormous profit.

The interlinked companies, the documents show, purchased drilling rights to some 42,500 acres of lands owned by individuals and families through dozens of separate small deals. Those rights were ultimately controlled by Dakota-3, which also purchased from the tribal council drilling rights to another 44,000 acres of lands managed by the council. Altogether, Dakota-3 accumulated rights to about a fifth of the 420,000-odd acres of leasable land on the reservation, having bought much of those rights for as little as $50 per acre and royalties of around 18 percent. At about the same time, records and interviews show, other companies were purchasing drilling rights to land on and near the reservation for $300 to $1,000 per acre plus royalties as high as 22.5 percent.

One of the lawsuits alleges that the difference in the one-time bonus payments, plus the difference in royalty payments, "could mean billions of dollars" over the life of the oil field.
The legal challenges focus on two key players in this sad saga - the tribal councils and the Bureau of Indian Affairs official assigned to oversee the Fort Berthold Reservation.
Members of the Three Affiliated Tribes have compiled evidence that tribal interests were sold out by tribal councils. The 7-member tribal councils have considerable power with few checks and balances, particularly with respect to leasing agreements. An audit of tribal council activities revealed troubling patterns.

In 2011 a team of elders audited the tribal council's activities. They found widespread financial inconsistencies that they said indicated systemic misconduct. "We saw millions of dollars going out and hardly anything coming back" to the Three Affiliated Tribes, said Tony Foote a forensic auditor who chaired the team. "We're not just talking about cash. It's rooms, food, travel, donations, and there's only a handful of people that can get all this stuff."
Thanks to new rules streamlining approval of leasing on tribal lands, power has concentrated in the hands of the Bureau of Indian Affairs point person for Fort Berthold, a petroleum engineer named Jeff Hunt (
here
is his Linkedin profile).
I found this discussion of the Fort Berthold Reservation oil leasing issues in a High Country News article.

Last summer, Fort Berthold mineral owners filed their own suit, accusing the U.S. of failing to protect tribal members' economic interests. Among the evidence are Dakota 3 lease forms rubberstamped with the words, "This lease is in the best interest of the Indian mineral owner." A letter to the BIA from the Elders Organization states, "The BIA is allowing these lucrative agreements between oil companies ... knowing that (the original agreement) was not market value." According to the organization, the BIA never responded.
Hunt was the rubber-stamper in question. He approved leasing agreements despite serious questions raised about the terms by other Department of Interior officials and tribal elders.
Here are some of the proud accomplishments of Hunt and friends at the Bureau of Indian Affairs related to the Fort Berthold Reservation:

Notable accomplishments: Approved over 1,700 Oil and Gas leases and distributed over $80,000,000.00 in bonus payments. The Bakken formation is considered to be one of the largest oil producing formations in the lower 48 states. Strengths: We have developed staff expertise in Oil and Gas related activities. Challenges: We are now into the drilling phase of the Bakken Play and expect approximately 1000 wells to be drilled over the next 10 years. The environmental effects on the reservation will be substantial. The Agency staff when at full strength is 25 FTEs. This is counting 6 new positions added because of the mineral activity.
Conveniently, the Bureau of Indian Affairs has created the
Division of Energy and Minerals Development
. This little group claims to be "uniquely poised to offer services no other government agency can provide." Jeff Hunt is listed as Project Manager.
Mark Fox, head of the Fort Berthold Reservation taxing authority, has a different perspective.

"When has the federal government ever protected us?"

"They took our land, they flooded us out, they put us in housing units and then said, 'Live.' "

"They were not ready for what was going to happen here. The tribe and the people were not ready. The only ones that were ready -- that knew exactly what they were doing and have been doing it since -- were the oil companies."
Wherever you find fossil fuels, you find human beings acting beneath contempt.