Few people can afford to take on short-term debt (for example student loans), without some very real prospects of long-term income (good paying jobs) at some time in the near future. The same idea applies to Government too apparently.
Without revenues, without economic prospects for growth, it's kind of hard to pay to your credit card bills (or student loans), in the long run.

The CBO recent took a look at these "two sides of the same coin" -- Revenues and Outlays (income and outgo), and their projected growth rates. Thus prompting the questions posed in this post's title.

The Budget and Economic Outlook: Fiscal Years 2013 to 2023
CBO -- Congressional Budget Office
Economic Growth Is Likely to Be Slow in 2013 and Pick Up in Later Years

The U.S. economy expanded modestly in calendar year 2012, continuing the slow recovery seen since the recession ended in mid-2009. Although economic growth is expected to remain slow again this year, CBO anticipates that underlying factors in the economy will spur a more rapid expansion beginning next year.

Even so, under the fiscal policies embodied in current law, output is expected to remain below its potential (or maximum sustainable) level until 2017. By CBO's estimates, in the fourth quarter of 2012, real (inflation adjusted) GDP was about 5½ percent below its potential level. That gap was only modestly smaller than the gap between actual and potential GDP that existed at the end of the recession (see Summary Figure 2) because the growth of output since then has been only slightly greater than the growth of potential output. With such a large gap between actual and potential GDP persisting for so long, CBO projects that the total loss of output, relative to the economy's potential, between 2007 and 2017 will be equivalent to nearly half of the output that the United States produced last year.

The Economic Outlook for 2013

CBO expects that economic activity will expand slowly this year, with real GDP growing by just 1.4 percent (see Summary Table 2). That slow growth reflects a combination of ongoing improvement in underlying economic factors and fiscal tightening that has already begun or is scheduled to occur -- including the expiration of a 2 percentage-point cut in the Social Security payroll tax, an increase in tax rates on income above certain thresholds, and scheduled automatic reductions in federal spending. That subdued economic growth will limit businesses' need to hire additional workers, thereby causing the unemployment rate to stay near 8 percent this year, CBO projects. The rate of inflation and interest rates are projected to remain low.
Summary Figure 2.
GDP and Potential GDP
(Trillions of 2005 dollars)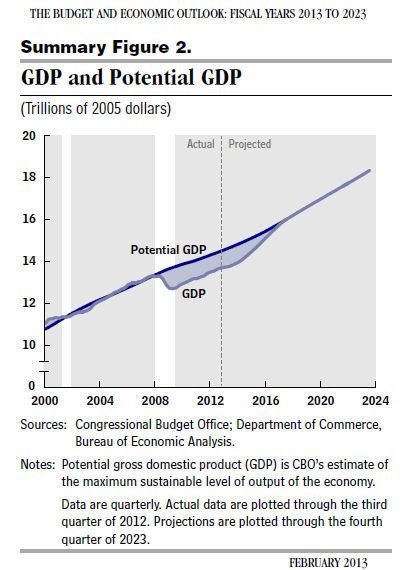 Sources: Congressional Budget Office; Department of Commerce, Bureau of Economic Analysis.

Notes: Potential gross domestic product (GDP) is CBO's estimate of the maximum sustainable level of output of the economy. Data are quarterly. Actual data are plotted through the third quarter of 2012. Projections are plotted through the fourth quarter of 2023.
Say Hello
to the
GDP Deficit problem
--
courtesy of your Wall Street risk-takers.

That downward blimp in the above chart, is the Wall Street-induced Housing Mortgage Crisis of the late 00's -- which cratered our Economy, quite literally.
THAT debt-laden economic hit, also resulted our Jobs Deficit problem, show in this next CBO chart, which was another deep crater from which we are still slowing climbing out of: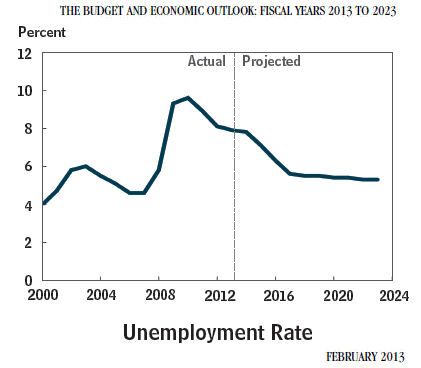 Those two big economic hits -- translated directly into less Revenue, and thus more Debt.
We need Jobs. We need Growth. We need more Income (both personally and nationally).
Period. National Debt is only the symptom of the much larger GDP Deficit problem.



[... the CBO continues ...]


larger


With revenues expected to rise more rapidly than spending in the next few years under current law, the deficit is projected to dip as low as 2.4 percent of GDP by 2015 (see Summary Table 1). In later years, however, projected deficits rise steadily, reaching almost 4 percent of GDP in 2023. For the 2014–2023 period, deficits in CBO's baseline projections total $7.0 trillion. With such deficits, federal debt would remain above 73 percent of GDP -- far higher than the 39 percent average seen over the past four decades. (As recently as the end of 2007, federal debt equaled just 36 percent of GDP.) Moreover, debt would be increasing relative to the size of the economy in the second half of the decade.

Those projections are not CBO's predictions of future outcomes. As specified in law, CBO's baseline projections are constructed under the assumption that current laws generally remain unchanged, so that they can serve as a benchmark against which potential changes in law can be measured.

Revenues

[...]
As a result of those factors, revenues are projected to grow from 15.8 percent of GDP in 2012 to 19.1 percent of GDP in 2015 -- compared with an average of 17.9 percent of GDP over the past 40 years. Under current law, revenues will remain at roughly 19 percent of GDP from 2015 through 2023, CBO estimates.

Outlays

In CBO's baseline projections, federal spending rises over the next few years in dollar terms but falls relative to the size of the economy. During those years, the growth of spending will be restrained both by the strengthening economy (as spending for programs such as unemployment compensation drops) and by provisions of the Budget Control Act of 2011 (Public Law 112-25). Although outlays are projected to decline from 22.8 percent of GDP in 2012 to 21.5 percent by 2017, they will still exceed their 40-year average of 21.0 percent. (Outlays peaked at 25.2 percent of GDP in 2009 but have fallen relative to GDP in the past few years.)

After 2017, if current laws remain in place, outlays will start growing again as a percentage of GDP. The aging of the population, increasing health care costs, and a significant expansion of eligibility for federal subsidies for health insurance will substantially boost spending for Social Security and for major health care programs relative to the size of the economy. At the same time, rising interest rates will significantly increase the government's debt-service costs. In CBO's baseline, outlays reach about 23 percent of GDP in 2023 and are on an upward trajectory.
So what about the
GDP Deficit
? What about that
Jobs Deficit
?
What about a new focus on kick-starting Economic Growth -- instead of the perpetual Can-kicking tied to the National Debt -- that we get far too often from our congressional "leaders."
"Can-kicking" obsesses on only ONE side of the economic coin. At the great expense of the other (ie. workers).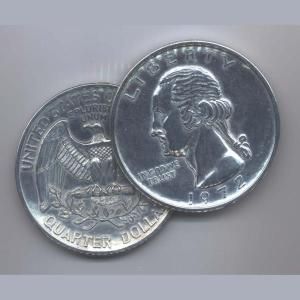 Revenues and Outlays -- those are the "two sides of the coin." You can't have one without the other. And according to the CBO both currently remain on healthy grounds, in relation to our GDP (ie. our economic churn rate, our current "prospects").

BUT, without a strong growing economy you can cut all the debt in the world, and it still doesn't address the long-term root problem.
That being, we need to find some "real prospects of long-term income" (ie. increase our long-term revenue rates) at some point in the future. We need to get some real actual economic growth on our horizons.
We need to grow the GDP economic pie. So that everyone's slice -- gets larger. We need to pursue (and produce) the next "Big Thing." (ie. Renewable Energy).
Same as it ever was. (Debt-obsessed fanatics, notwithstanding.)
Our Economy is a story with two sides to it. Both are necessary for our Opportunities to grow and thrive.
In the meanwhile, we will continue to "project down" that future GDP horizon road ... (as the CBO is want to do.) If only the Jobs of the Future, got as much attention.