Overnight News Digest, aka OND, is a community feature here at Daily Kos. Each editor selects news stories on a wide range of topics.
The OND community was founded by Magnifico.


National News

Scientists Report First Cure of HIV In A Child, Say It's A Game-Changer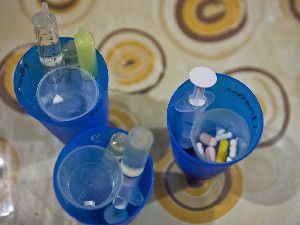 by Richard Knox

Scientists believe a little girl born with HIV has been cured of the infection.

She's the first child and only the second person in the world known to have been cured since the virus touched off a global pandemic nearly 32 years ago.

Doctors aren't releasing the child's name, but we know she was born in Mississippi and is now 2 ½ years old – and healthy. Scientists presented details of the case on Sunday at a scientific conference in Atlanta.

The case has big implications. While fewer than 130 such children are born each year in the U.S., an estimated 330,000 children around the world get infected with HIV at or around birth every year, most of them in sub-Saharan Africa.

And while many countries are striving to prevent these mother-to-child infections, many thousands of children will certainly get infected in coming years.

Until now, such children have been considered permanently infected. Specialists thought they needed lifelong antiviral drugs to prevent HIV from destroying their immune system and killing them of AIDS.


Teaching 2.0: Is Tech In The Classroom Worth The Cost?
by NPR Staff

The hallways at Westlake High School in Maryland are just like thousands of other school hallways around the country: kids milling around, laughing and chatting on their way to class.

On a recent morning, about 30 kids took their seats in a classroom that initially seems like any other. The major difference here is that instead of a chalkboard and a lectern at the head of the class, there are two enormous flat-panel screens and thin, white microphones hanging in four rows across the ceiling.

Greeting the students via Skype this morning is a dapper, bearded man in a brown vest. But it's not their history teacher, it's Kenneth C. Davis, author of Don't Know Much About History, who was invited to talk to the students about America in the late 19th and early 20th centuries.

This type of teaching is a novel approach, but it can be an expensive one. That has some asking whether the billions being spent on educational technology is worth the cost.


In First Post-Election Interview, Romney Calls Race A 'Magnificent' Experience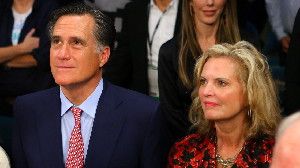 by Padmananda Rama

It was not the outcome they had hoped for, but in his first interview since losing the presidential election, Mitt Romney said he and his wife are moving on.

Speaking to host Chris Wallace on Fox News Sunday, Romney described last year's presidential race, his second attempt at serving in the White House, as a "great, thrilling experience of a lifetime."

"It didn't end the way we wanted it to, but the experience itself was magnificent," Romney said.

Both he and his wife, Ann, said they did not expect to lose to President Obama last November.

"I think we were convinced that we would win. We saw that the polls were very close, but we knew that the energy and passion was with our voters," Romney said. "And my heart said we were going to win."

The former GOP presidential candidate described to Wallace the "slow recognition" on election night that he was losing, especially as Ohio's election results started coming in.


After Keystone Review, Environmentalists Vow To Continue Fight
by Elizabeth Shogren

Environmentalists have a hope.

If they can block the Keystone XL pipeline, they can keep Canada from developing more of its dirty tar sands oil. It takes a lot of energy to get it out of the ground and turn it into gasoline, so it has a bigger greenhouse gas footprint than conventional oil.

But the State Department report, which was released Friday, says Keystone won't have much of an impact on the development of that oil from Alberta.

Industry analyst Kevin Book of ClearView Energy Partners says the report's finding will make it easier for the Obama administration to say the project wouldn't affect climate change.

"The State Department said, 'We agree with industry.' They're saying this oil would have gone to market anyway," Book says. "The facts are the oil in the ground in Canada isn't going to stay there if there's a buyer. And there is a buyer. The buyer's here in the U.S., right now, and the oil is coming here by train, by truck and in some cases by barge."

It's also already flowing to the U.S. through existing pipelines.


Biden: 'Can't let guard down' against voting limits
The vice president attends the "Bloody Sunday" commemoration of the 1965 march from Selma to Montgomery.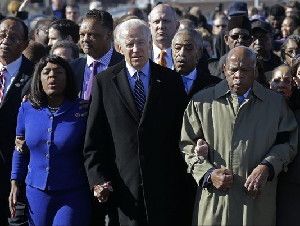 SELMA, Ala. -- Vice President Joe Biden apologized twice Sunday -- first to an audience in a college gym, then to a crowd at the foot of the historic Edmund Pettus Bridge. Both were gathered to commemorate "Bloody Sunday," when Alabama troopers and Selma, Ala., law enforcement beat back civil rights marchers on March 7, 1965.

"I feel a lot of guilt, like many in my generation, that I could have been here, I should have been here 48 years ago," he said at the Martin and Coretta King Unity Brunch on Sunday morning, saying he remembered watching the scenes of troopers and deputies shooting tear gas at the nonviolent marchers, trampling them with horses and beating them with clubs. "But I wanted my daughter (and) my sister to be with me here 48 years later."

Biden said not coming to Selma to support the civil rights activists was one of the regrets in his life.

International News

Embattled Scottish Cardinal O'Brien apologizes for 'my sexual conduct'
By Josh Levs, Ben Wedeman and Mike Pearson

(CNN) -- A Scottish cardinal who had earlier challenged allegations of sexual impropriety -- claims that once again shined an international spotlight on alleged sexual abuse involving Roman Catholic clergy -- reversed course Sunday and apologized.

"I wish to take this opportunity to admit that there have been times that my sexual conduct has fallen below the standards expected of me as a priest, archbishop and cardinal," Cardinal Keith O'Brien said in a statement.

Until days ago, O'Brien was the archbishop of St. Andrews and Edinburgh.

He has been dogged by allegations he abused four men studying to be priests in the 1980s.


Queen Elizabeth II hospitalized for stomach bug
By Matt Smith, CNN

(CNN) -- Britain's Queen Elizabeth II was hospitalized Sunday after experiencing symptoms of gastroenteritis that had already sidelined her weekend plans, Buckingham Palace announced.

The 86-year-old monarch was taken to King Edward VII's Hospital in London "as a precautionary measure" and is expected to stay for two days, said a palace spokesman, speaking with customary anonymity.

"She is otherwise in good spirits and good health," the spokesman said.

Gastroenteritis is an inflammation of the lining of the stomach and intestines. Though commonly known as "stomach flu," it is not caused by the influenza virus, according to the U.S. Centers for Disease Control and Prevention.


Welcome to the year of the comet (we hope)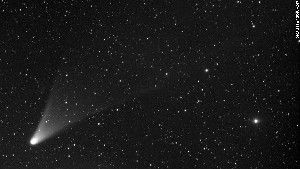 By Amanda Barnett, CNN

(CNN) -- First a meteor exploded over Russia, followed closely by an asteroid fly-by. Now, two comets are expected to put on a naked-eye spectacle for sky watchers in the Northern Hemisphere.

Up first is Comet Pan-STARRS, which gets its funky name from the telescope credited with discovering it in June 2001: the Panoramic Survey Telescope & Rapid Response System in Hawaii.

The comet is already visible through telescopes in the Southern Hemisphere, and it should swing into view over the Northern Hemisphere beginning around March 8.

It's hard to predict exactly how bright Pan-STARRS will be, but you should be able to see it without binoculars or telescopes, said Don Yeomans of NASA's Near-Earth Object Program. It should be about as bright as the stars in the Big Dipper.


Add 'North Korea Expert' To Dennis Rodman's Resume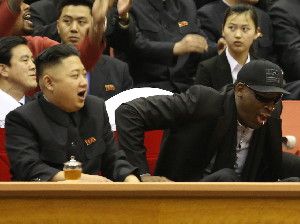 by Scott Neuman

Strange as it may seem, a pierced, tattooed and occasionally cross-dressing former basketball star is now one of the West's leading experts on North Korean leader Kim Jong Un.

Former NBA star Dennis Rodman, following his improbable visit to Pyongyang this week, has become the only Westerner to have had a one-on-one with the reclusive Kim, who by all accounts enjoys basketball at least as much as testing nuclear weapons and ballistic missiles.

China's Xinhua news agency reports that Rodman and Kim sat together Thursday watching a basketball game involving North Korea's top players and three members of the Harlem Globetrotters, who were part of the tour. Xinhua reports:

"During the match, Rodman, who wore dark glasses and a hat, sat to the left of Kim Jong Un. Without any translators, the two talked directly to each other and laughed, witnesses said."
"Certainly he's had the most extensive interaction with Kim of any American," says Victor Cha, a North Korea expert at the Center for Strategic and International Studies.


In Kenya, Political Puppets Give Voice To Satire
by Gregory Warner

Kenyans go to the polls Monday to pick a new president. The last election, in 2007, was followed by weeks of tribal violence, in some cases orchestrated by politicians themselves. This time around, one of the presidential candidates is accused of war crimes and many are accused of land grabbing and corruption.

The XYZ Show, Kenya's version of The Daily Show, is making it all a laughing matter. The TV show uses puppets to poke relentless fun of Kenyan politicians. While fueled by the public's frustration, the show is also an example of the free speech the citizens have not always had.

In the mock XYZ Show presidential debate in February, which aired the night before the real presidential debate in Kenya, the puppet moderator asked pointed factual questions. The moderator prods the character of presidential candidate Raila Odinga about the doubling of interest rates during his time as prime minister.

But the puppet politicians never answer the questions asked. They just give speeches.