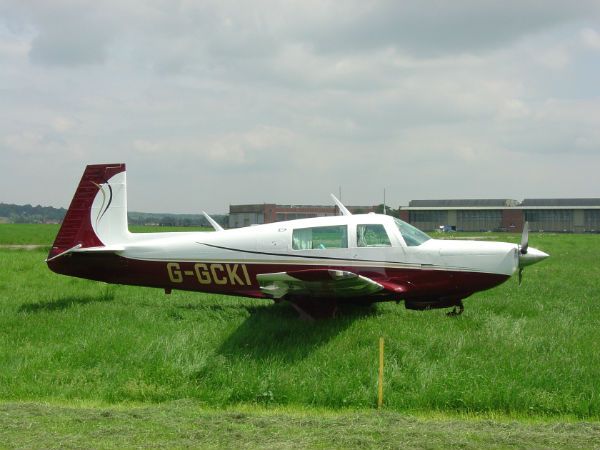 In 1929, two brothers, Albert and Arthur Mooney formed a company to build light aircraft. It was just the wrong time to found ANY business venture, and the brothers quickly went bankrupt. This would be the first of several bankruptcies which followed the company name around, it seemed. Trying once again, after WW2, with new capital, the single-seat Mooney M18 Mite was quite successful with returning G.I.s, but the Mooney luck ran out again, when their principal investor died, just as they were about the launch their masterpiece - the Mooney M20, which first flew in 1955.
Essentially, the company, which ran into and out of financial difficulties many times, based their whole 'product line' on just this one model, for over 50 years. Mooney aircraft have a reputation for speed and range that is well deserved. This particular Mooney M-20K (Mooney 231) , G-GCKI, has appeared at quite a number of events; here we see it at Hullavington, with some of the Second World War hangars in the background.
The Mooney appears to have a forward-swept fin, but that is an optical illusion – the leading edge is actually vertical, with a highly-swept trailing edge. This means that at high angles of attack, when the probability of a stall is high, then the whole rudder is directly in line with the airflow, making it much more effective. As for trimming the aircraft in pitch, the complete empennage is moved, rather than using trim tabs which induce drag. The Mooney M20 is built around a core of a welded chrome/molybdenum steel alloy frame, clad in non-loadbearing aluminium alloy sheeting, and has a single, wingtip to wingtip spar which the flush-rivetted laminar flow wing is built around.
The Mooney was initially powered by a 210hp Continental TSIO-360-6B, which gave it a cruising speed close to 200mph, and a range of over 1,000 miles. However, this supercharged engine had NO intercooler, which meant that there was a tendency to overheat, without very careful engine management. The next generation Mooney of this type had an intercooler. Most Mooney's are classified as 'complex aircraft' (like the Beech Sierra) due to the nature of their systems, and as such can be used for part of the training towards a Commercial Pilot's Licence.
The first M20K was built in 1979, and this attractive aircraft was priced at $63,500, with 200 being built in this first model year. At one stage the M20K had a large '231' painted on the fin, to indicate their claimed maximum speed, and also the fact that the '231' claimed the record for "Fastest U.S. transcontinental flight in a single-engine, piston-powered production aircraft". By 1984, the engine had been changed for a TSIO-360-LB1, with nitrided cylinders, and many other improvements to the aircraft, but sales were falling (only 61) due in part to a much bigger price tag - $139, 915. The end for the M20K came the next year, with the price climbing almost as fast as the Mooney to $169,925 - only 48 were sold.
In general, Mooney's have had a good safety record, despite the complex nature of the aircraft. There seems to have been only one major FAA Airworthiness Directive (issued 20th March, 2012), in this case for the M20B, involving the failure of the tail trim pitch assembly.
The Mooney run of bad luck continues; despite launching new versions of their classic, the bad news is that, even after re-organization, Mooney had to let go all but 50 of their workers in December 2008 due to unsold inventory. The very latest news is that the company management is still selling spares and supporting Mooney's. They are hoping to revive the production line at some point in time.