Familiar image, isn't it. I came VERY close to making my US since 1865 diary this week about this and another well-known American painting but I realized with horror at about 1 PM yesterday I didn't have time to do that, and anyway, I didn't want all the "Is that really history?" comments it would have earned me. As it happens, this painting figured in the cultural history of the 1930s and it raises issues you'll be very surprised it raises. So follow me below the great orange palette, where all will be revealed.
But First, A Word From Our Sponsor:
Top Comments recognizes the previous day's Top Mojo and strives to promote each day's outstanding comments through nominations made by Kossacks like you. Please send comments (before 9:30pm ET) by email to topcomments@gmail.com or by our KosMail message board. Just click on the Spinning Top to make a submission. Look for the Spinning Top to pop up in diaries posts around Daily Kos.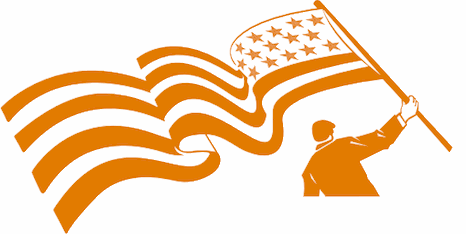 Make sure that you include the direct link to the comment (the URL), which is available by clicking on that comment's date/time. Please let us know your Daily Kos user name if you use email so we can credit you properly. If you send a writeup with the link, we can include that as well. The diarist poster reserves the right to edit all content.
Please come in. You're invited to make yourself at home!
Yes, that's Whistler's Mother. At least, that's what we've come to call it. Its painter, James Abbott McNeil Whistler, called it Arrangement in Gray and Black, No. 1: The Artist's Mother (1871). He painted a second Arrangement in Gray and Black too, a portrait of Thomas Carlyle, the Scottish writer, philosopher and essayist, in 1873.
Also seated, also serious.
Whistler's work, certainly, but not necessarily characteristic of it. The Whistlers that stick in my mind are portraits as well, but much more stylized and, well, fashionable. Later in his career as well. These hang at the Frick collection in New York.
(
Arrangement in Black and Gold: Comte Robert de Montesquiou-Fezensac
, 1891-2)
(
Harmony in Pink and Grey: Portrait of Lady Meux
, 1881-1882) These are two of a very few paintings that brought me to the Frick at least once every three months when I lived in Manhattan.
I also discussed Whistler and his nocturnes (another one of the musical terms he used to title his paintings) in a diary about Claude Debussy and his Nocturnes for the Thursday Classical Music series, and here's the one that led Whistler to sue John Ruskin who disliked the painting SO much he described it as
flinging a pot of paint in the public's face.
(Whistler won, but was awarded pennies for damages).
(
Nocturne in Black and Gold: The Falling Rocket,
1877, Detroit Institute of the Arts). But, as I usually do, I digress.
So to our actual topic. The biggest art event of the 1930s was Whistler's Mother's visit to the United States. The impetus came from the founding director of New York's Museum of Modern Art, Alfred H. Barr, Jr. One of the museum's major benefactors, Lizzie Bliss, had died in 1931, leaving a major bequest to the Museum on condition that the museum build an endowment of a million dollars to show it could survive. Barr understood this meant a blockbuster exhibition, and he needed a centerpiece for it: Whistler's Mother, then in the collection of the Louvre in Paris. It was the first painting ever to be lent abroad by the Louvre and the loan was largely dependent on the fact that France wanted to improve its image among the American people.
The exhibition, Seventy Years of American Painting and Sculpture, 1862-1932, opened November 2, 1932 with Whistler's Mother as its centerpiece. By December, museum directors all over the United States were asking if the painting could visit their museums, and the French extended the loan to May 1934 which meant it traveled to the Century of Progress World's Fair in Chicago, with stops in (not in this order) Baltimore, Boston,Cleveland, Columbus, Dayton, Kansas City, Los Angeles, St. Louis, San Francisco, and Toledo. When it left New York in February 1933, over 100,000 people had visited MoMA to see it.
Huge media hype made the painting into œan American holy icon of sorts as the newspapers promoted its maternal theme at the expense of the painting's formal qualities. All the press could complain about was the fact that this major American painting was owned by a French museum, as a good deal that got away. On March 24, 1934, James A. Farley, the Postmaster General, announced that FDR himself had selected the subject for the 1934 Mother's Day stamp:
The tour allowed MoMA to raise $600,000 at the height of the Depression and established it as the major institution it is today. It also established Whistler's
Mother
as an unquestioned masterpiece of American art and Whistler as a major American artist. It's here that the questions of identity come up. It's mostly about
Whistler's biography
, although there's another painting that raises my suspicions about using "American" to describe this absolutely expatriate artist.
Whistler was born in Lowell, Massachusetts, then known as a mill town, in July 1834; his father, a railroad engineer, took the family to Russia when James was eight years old, because he had been invited to build a railroad from St. Petersburg to Moscow. His father died in 1849. The family returned to the United States, James received an appointment to and attended West Point for three years. He was dismissed from West Point in 1854. A year later, using his inheritance, he left for Paris where he became a painter and where he became well-acquainted with the French painters of the time. So well-acquainted and so well-respected that he appears front and center in this French painting:
(
Hommage a Delacroix
, Henri Fantin-Latour, 1864)
That's Whistler, standing, to the left of the portrait of Delacroix in the frame, and on the right side of the portrait, but not as conspicuous, is Edouard Manet. Charles Baudelaire, the poet, is seated on the far right. (Follow the link above the painting for the rest of the people. Um, yes.) Whistler died in London in 1903. He
never
went back to the United States. This might just be my craziness, but I think "American" artist is a reach here.
And now for the stuff that makes this Top Comments:

TOP COMMENTS
March 16, 2013
Thanks to tonight's Top Comments contributors! Let us hear from YOU when you find that proficient comment.
From LilithGardener:
In theOpen Thread for Night Owls curated by Meteor Blades, annieli posted a photograph of the hall in which Donald Trump was speaking, and middleagedhousewife showed that words could be as good as pictures in describing an event.
From Dave in Northridge, your intrepid diarist:
After all those diaries on Rob Portman's "conversion," stormicats gets it right, pitch-perfectly right, in fact, in Ticorules almost as spot-on "so what" assessment of Portman.
In Hunter's goldmine for snark, JML9999 sums up Pamela Geller and Orly Taitz in one musical line.
TOP MOJO
March 15, 2013
(excluding Tip Jars and first comments)
Thanks, mik!
1) Gee, and I thought booing gay soldiers by Free Jazz at High Noon — 179
2) Betty White is very popular by NMDad — 166
3) Before this dovetails into an irrelevant by Grizzard — 148
4) STANDING OVATION! by BroadwayBaby1 — 144
5) Is it even possible to by JayRaye — 118
6) ... With One of Their Elegant Bumper Stickers by JekyllnHyde — 118
7) From cosmic debris' sig line... by One Pissed Off Liberal — 114
8) And the white guy CONTINUES TO SCREAM by MinistryOfTruth — 107
9) How to identify if you are a racist by MinistryOfTruth — 107
10) This story is just so very horrible. by Penny GC — 102
11) Missing from the CPAC Guest List by JekyllnHyde — 101
12) It must hurt republicans when they have to by theKgirls — 99
13) We hold these truths to be self evident: by nzanne — 96
14) He's a Tech writer, not a Technical Writer by efrenzy — 95
15) I'd pay big money to see Betty White kick his ass. by jwinIL14 — 91
16) Coming tomorrow by Tara the Antisocial Social Worker — 89
17) I have little doubt by Hunter — 88
18) Not a lawyer, but... by Korkenzieher — 84
19) Does this mean by Penny GC — 77
20) The problem with rolling over... by dance you monster — 76
21) Undercover police? by Shockwave — 76
22) In the early 70s by david mizner — 76
23) My two sons are both working jobs by Shelley99 — 76
24) As one brilliant Kossack once stated by MinistryOfTruth — 75
25) Yes, it is by Frankenoid — 74
26) Does this mean that if some sh** doses a woman by JenS — 74
27) Only thing that would be "better" by allergywoman — 71
28) Where do you get by AkaEnragedGoddess — 70
29) The more I think about it by AkaEnragedGoddess — 69
30) Without Democrats by Words In Action — 69
For an explanation of How Top Mojo Works, see mik's FAQing Top Mojo



TOP PHOTOS
March 15, 2013
Enjoy jotter's wonderful PictureQuilt below. Just click on the picture and it will magically take you to the comment that features that photo. Have fun, Kossacks!