Daily Kos is political website and, also, a network of digital campfires, each with its own circle of regulars who gather to be enlightened, challenged or entertained by the keeper of the flame. When an author dies, a campfire goes cold and the community that formed around it is displaced.
In Memoriam creates a new campfire where displaced communities of friends and admirers may gather to share memories of the fires that brought us together; of flamekeepers who linger in our minds and hearts. In Memoriam gathers individual memorial diaries for republication and publishes the Memorial Roll Call, a comprehensive list of deceased Daily Kos members and links to their memorials. (Thank you, In Memoriam group members, for your efforts that helped to bring this project to life.)
In the tradition of placing a pebble or flower on a gravesite, I invite all to post comments in remembrance of those listed below the fold.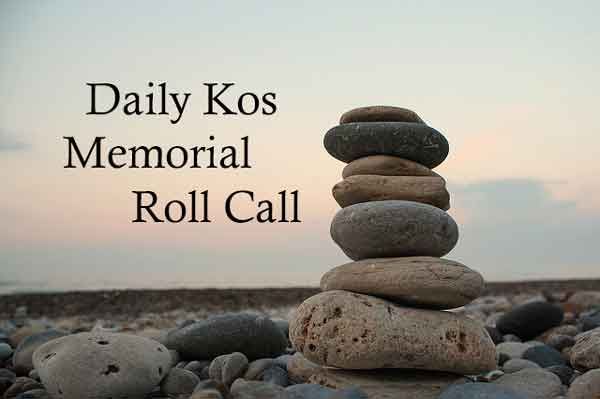 And another regrettable thing about death
is the ceasing of your own brand of magic,
which took a whole life to develop and market--
the quips, the witticisms, the slant adjusted to just a few...
their response and your performance twinned...
Who will do it again? That's it: no one;
imitators and descendants aren't the same.
-- from "Perfection Wasted" by John Updike,
in Good Poems by Garrison Keillor (2002)
The Magic Makers
Aeolus
alliedoc
AntKat
Arthur Wolf
badabing
bamabikeguy fka Theghostofkarlafayetucker
barbwire
beagleandtabby
Ben Masel
Big Dan
Charlotte Lucas
drchelo
Elizabeth Edwards
exmearden
Fred in Vermont (profile tombstone pending)
Granny Doc
GreenMountainBoy02
grndrush
HylasBrook
ibonewits
jaysea
Jeff Huber
jimreyn
JohnnyRook
Julie Waters fka juliewolf
matt n nyc
moe999
NewDirection
nudger
Othniel
Richard Meyers
SciMathGuy
shadowplayer
station wagon
Steve Gilliard
stumpy
Translator
ulookarmless
willb48
william f harrison











Index of Memorial Diaries





Aeolus
An Orange County Progressive Giant Gone (aeolus) by joeesha, posted 2/13/2013
I lost a dear friend today by Ellinorianne, posted 2/13/2013

alliedoc
RIP alliedoc (Monday Night Cancer Club)
by peregrine kate, posted 9/17/2012

AntKat

RIP AntKat by Sara R, posted 11/5/2012

Arthur Wolf

GUS: RIP Arthur Wolf
by aoeu, posted 8/3/2009

badabing

Badabing Has Passed Away
by slinkerwink, posted 1/4/2013

bamabikeguy aka theghostofkarlafayetucker

In memoriam: bamabikeguy (theghostofkarlafayetucker) 1956 - 2010
by JaxDem, posted 3/17/2010

barbwire

Kossack Barbwire has Passed Away
by TheFatLadySings, posted 12/18/2011

beagleandtabby

In Memoriam: Donovan Barks
by pegleghippie, posted 2/14/2008

Ben Masel

Big Dan

R.I.P. Dan Champion
by folkbum, posted 8/16/2005

Charlotte Lucas

Charlotte Lucas, 1913 to 2012
by Emmet, posted 5/20/2012

RIP, my dear friend, Charlotte Lucas
by luckylizard, posted 5/20/2012

drchelo

Condolence Thread--drchelo
by blue jersey mom
posted 6/27/2009

Elizabeth Edwards

exmearden

Fred in Vermont

Fred in Vermont
by kos, posted 6/17/2008

Granny Doc

R.I.P. Granny Doc
by leftcenterlibertarian, posted 1/20/2012

GreenMountainBoy02

Terun Sabre Weed aka GreenMountainBoy02: 1964-2013
by commonmass, posted 2/8/2013

Where Things Are Now: Friday, 3pm, Cathedral Church of St. Luke by common mass, posted 2/11/2013

grndrush

GOTV for Grndrush- it's what he would have wanted
by Spedwybabs, posted 10/27/2010

HylasBrook

Nurse Kelley Sez: RIP - Anne E. Reuter
by KelleyRN2, posted 9/15/2011

ibonewits

In Remembrance of One of Our Own: Isaac Bonewits
by smellybeast, posted 8/12/2010

jaysea

jaysea's obituary
by Renee in Ohio, posted 5/26/2007

Jeff Huber

The Passing of a Kossack ~ Jeff Huber
by TheMomCat, posted 3/4/2012

jimreyn

Attention Kossacks.. I rec'd a Kos mail Jimreyn passed away
by Vetwife, posted 3/4/2012

Thank You Isn't Enough
by tngirl, posted 4/19/2012

JohnnyRook

R.I.P. JohnnyRook
by Meteor Blades, posted 3/5/2009

Julie Waters fka juliewolf

matt n nyc

RE: matt n nyc
by matt n nyc, posted 8/9/2007

"matt-n-nyc at your service"
by Marie, posted 8/10/2007

moe999

Nurse Kelley Sez: RIP, moe99
by KelleyRN2, posted 4/14/2012

NewDirection

We mourn as a community
by kos, posted 9/26/2007

An open letter to DailyKos from Newdirection's wife
by Randgrithr, posted 10/12/2007

nudger

nudger, our dear friend has left us
by N in Seattle, posted 2/25/2011

Othniel

RIP Othniel
by Sandia Blanca, posted 9/15/2012

Richard Meyers

SciMathGuy

SciMathGuy Has Died
by Yasuragi, posted 7/22/2011

shadowplayer

Monday Night Cancer Club: Sad News about shadowplayer, Plus and Open Thread on Cancer Advocacy
by peregrine kate, posted 7/9/2012

station wagon

Brothers and sisters (Updated w/SW Memorial Information)
by pastordan, posted 6/3/2007

station wagon bids us farewell
by smintheus, posted 6/3/2007

Steve Gilliard

Steve Gilliard has died
by Rosebuddear, posted 6/2/2007

Steve Gilliard - R.I.P.
by Meteor Blades, posted 6/2/2007

One Great Piece from Steve Gilliard
by Meteor Blades, posted 6/2/2007

Steve Gilliard's "I'm a Fighting Liberal"
by PsiFighter37, posted 6/2/2007

Steve
by kos, posted 6/3/2007

Steve Gilliard Writing About Brooklyn
by mole333, posted 6/3/2007

Steve Gilliard: Proposed Deletion from Wikipedia as "Non-Notable Blogger"
by dave1021, posted 6/3/2007

Steve Gilliard's "Colonial Warfare" Series
by boor, posted 6/3/2007

How Steve Gilliard Changed My Life
by grog, posted 6/5/2007

Susan Nunes wants Steve Gilliard's Wikipedia entry deleted.
by seronimous, posted 6/5/2007

Steve Gilliard's NY Times Obituary
by kos, posted 6/6/2007

D-Day, a New Yorker's Story - for Steve - UPDATED
by sponson, posted 6/6/2007

Steve Gilliard Obituaries
by Pacific John, posted 6/6/2007

"The Gilliard Family's Obituary for Steve" now up on The News Blog
by PLS, posted 6/7/2007

A Show For Steve: Radio Tribute To Steve Gilliard Friday At Noon.
by jamesboyce, posted 6/7/2007

Endow a 'Steve Gilliard' chair for Daily Kos?
by Shadan7, posted 6/8/2007

Preserving Steve Gilliard's Legacy
by LunkHead, posted 6/18/2007

Steve Gilliard's family seeks to gather and publish his work
by louisville lisa, posted 6/21/2007

Steve Gilliard's Online Family: We Fight On!
by Terri, posted 7/2/2007

Happy Rememberance and Birthday Steve Gilliard, wherever you are...
by the littlest gator, posted 11/14/2007

Steve Gilliard in the NYT's "The Lives They Lived"
by kos, posted 12/29/2007

A year without Steve Gilliard
by desmoinesdem, posted 2/27/2008

Top Comments: Steve Gilliard on Daily Kos, part 1
by sardonyx, posted 3/19/2008

Top Comments: Steve Gilliard on Daily Kos, part 2
by sardonyx, posted 3/21/2008

Top Comments: Steve Gilliard on Daily Kos, part 3
by sardonyx, posted 5/20/2008

Top Comments: Steve Gilliard on Daily Kos, part 4
by sardonyx, posted 5/30/2008

Blast from the Past: Steve Gilliard, June 1, 2003
by Meteor Blades, posted 6/1/2008

Top Comments: Steve Gilliard on Daily Kos, part 5
by sardonyx, posted 6/3/2008

Steve Gilliard on Daily Kos, part 6
by sardonyx, posted 6/3/2008

Steve Gilliard on Leaving Iraq
by Meteor Blades, posted 6/19/2008

For Steve Gilliard
by RKS, posted 11/3/2008

In Honor of Steve Gilliard
by The Truth, posted 11/5/2008

Steve G. -- I wish you could have seen this.
by Upper West, posted 11/6/2008

Two years without Steve Gilliard
by desmoinesdem, posted 2/19/2009

On This Historic Day: Steve Gilliard's "I'm A Fighting Liberal"
by sponson, posted 3/25/2010

Remembering Steve Gilliard (RIP)
by tbrucegodfrey, posted 6/6/2010

I'm a Fighting Liberal
by LunkHead, posted 3/10/2011

Steve Gilliard's Message for President Obama and the Democratic Party
by Angie in WA State, posted 4/13/2011

In memory of Steve Gilliard, 1966 - 2007: FTFY
by Richard Cranium, posted 10/6/2011

stumpy

Celebrating the life of Gerry "stumpy" Richardson, 1947-2010
by Sara R, posted 10/28/2010

We buried Stumpy with Honors....
by Otteray Scribe, posted 1/30/2011

Translator

Dave Smith (Translator) Has Passed
by zircon the twisted, posted 1/22/2013

Favorite Songs: Tribute To Translator Edition
by blueoregon, posted 1/22/2013

Happy birthday, Translator...
by 1864 House, posted 3/2/2013

ulookarmless

Nurse Kelley Sez: ulookarmless has passed away
by KelleyRN2, posted 9/30/2012

KosAbility: The Astonishing Life of Colin John Campbell, 1944-2012 by KelleyRN2, posted 10/7/2012

willb48

Nurse Kelley Sez: R.I.P. Will Barber (willb48)
by KelleyRN2, posted 12/11/2010

william f harrison

RIP, Dr. William Harrison
by Tenn Wisc Dem, posted 9/24/2010

R.I.P. Dr. William F. Harrison, Hero
by Meteor Blades
posted 9/25/2010

"Reports of my death are greatly exaggerated." - Mark Twain

Questionable or Premature Death Reports:

kwickkick (2009)

.


To live in hearts we leave behind is not to die."
― Thomas Campbell





To suggest the addition of a name or memorial diary to the list, send a KosMail message to In Memoriam. To help others find your memorial diary, please add an "in memoriam" tag.


Credits

Thank you to all of the In Memoriam team and especially VetGrl, who compiled the list of memorial diaries.


Photo Credits (from top):
Campfire by ranchseeker at Flickr (CC license)
Stone cairn by Mrs. Logic at Flickr (CC lic.)
Eternal Flame by ghbrett (George Brett) at Flickr (CC license)
Marble sculpture by Loco Steve (Steve Wilson) at Flickr (CC lic.)
Visiting stones by Threthny at Flickr (CC lic.)