Yesterday Federal District Judge Shira A. Scheindlin began the long-awaited trial of New York City's 'Stop & Frisk' policy, now approaching its 5,000,000th stop on the streets of the Big Apple since 2004.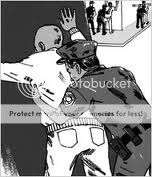 'Stop & Frisk' has been condemned as a violation of our civil rights by civil libertarians and those affected by it on a daily basis. It has been denounced as racist, insofar as the vast majority of those stopped are people of color. It has been praised by police (and deemed a necessity by William Bratton, one of America's most famous police chiefs) as an effective tool in reducing violence and keeping citizens safe.
'Stop & Frisk' has just days ago again come into question in the shooting death of Kimani Gray, a 16-year old black youth, gunned down by two NYC police officers after they decided to stop and question him and his friends as they were walking along for no obvious reason other than that fact that they were young, black and male.
'Stop & Frisk' is in theory based on the premise that an officer must have a 'reasonable suspicion' (as defined by Terry v Ohio) that someone has committed or is about to commit a crime. Yet in New York City, 88% percent of 'Stop & Frisk' incidents "end with the person's walking away without a summons or an arrest." Many of those summons/arrests are due to finding marijuana or some other petty violation (e.g, condoms), hardly something an officer could 'reasonably suspect' by observation from afar; only an insignificant fraction of stops result in finding concealed weapons (0.15%).
The Center for Constitutional Rights brought the lawsuit as a class action in 2008 on behalf of hundreds of thousands of New Yorkers stopped, questioned and searched by NYPD. Only now, five years and millions of 'Stop & Frisks' later, has it managed to come to trial.
This lawsuit was proceeded by Daniels v City of New York, the first attempt to curb NYPD's 'Stop & Frisk' practices. New York City agreed to a settlement in 2003...

The settlement required that the NYPD maintain a written anti-racial-profiling policy that complies with the U.S. and New York State Constitutions and is binding on all NYPD officers. The policy requires that officers who engage in stop-and-frisks be audited, and for their supervisors to determine whether, and to what extent, the act was due to reasonable suspicion, and whether it was being documented.
However, much to no one's great surprise, NYPD was not deterred in its
crime fighting
criminal activities.
Due to an increase in stop-and-frisks and non-compliance with the decree, the Center for Constitutional Rights later filed a new class action lawsuit, Floyd v. The City of New York.
The
Floyd
plaintiffs are seeking at least three things,
according to the New York Times
.
1) ...plaintiffs hope to convince Judge Scheindlin that officers are under pressure to make stops as part of a quota system, and that police supervisors use subtle hints and coded language to encourage officers to stop young minority men...

2) The lawsuit... asks Judge Scheindlin to create "a process for obtaining community input" to change the stop-and-frisk practices and to...

3) appoint a monitor to ensure that the department's policies comply with the Constitution.
During the first day of the trial the first plaintiffs' witnesses testified (including Mr. Floyd, presumably the person the suit is named after).
Devin Almonor was 13 when he was stopped and cried when he was handcuffed. "I don't want anyone else to go through this," he told the court. David Floyd relayed his experience: "I felt frustrated, humiliated. It was on my own block, I wasn't doing anything, I was just heading home."

Floyd will be in the witness stand again in the morning, on cross examination. Deon Dennis and Nicholas Peart are both expected to testify about their experiences of being stopped. And two whistleblower officers, Adhyl Polanco and Pedro Serrano, are scheduled to testify to the existence of stop-and-frisk quotas.
This trial is often referred to as "historic" and indeed that label may be appropriate. For the first time the world will be presented with sworn testimony to the effect of this policy on individuals stopped, the effect of such stops on communities of color,
the statistics - unspun by NYPD - demonstrating the racist nature of the policy
, and the violations by NYPD of the consent decree they signed onto in
Daniels
as presented by former NYPD officers and as evidenced by recordings of conversations between superiors and officers.
... a lawyer for the plaintiffs, Darius Charney of the Center for Constitutional Rights, said police officers were stopping people without any legitimate grounds for suspecting them of criminal behavior.

"What the N.Y.P.D. calls proactive, the black and Hispanic residents of this city have experienced as arbitrary, unnecessary and unconstitutional harassment," Mr. Charney said.
It's time for 'Stop & Frisk' to be found guilty as charged.
8:21 AM PT:
"If you don't meet the quota, they will find [activity] for you," another veteran officer explained to The Nation. "The sergeant will put you in his car and drive you around until whatever he sees he will stop and tell you to make an arrest or write a summons, even if you didn't observe what he said it was."

Sometimes these are legitimate stops, but other times, they're bogus: "The sergeant told me to write two minorities for blocking pedestrian traffic," the anonymous officer said, "but they were not blocking pedestrian traffic."
http://www.thenation.com/...