I don't know what I was thinking, certainly not with my head, probably with my heart.
I had a dog that I couldn't afford to help and it broke me, literally I think for a bit. I was so sad. People here tried to help and yet it wasn't enough. She died in late 2011, not from what was ailing her but from old age. We loved her so, but the feeling of helplessness was so overwhelming and so shaming. It was one of the worst feelings of my life.
So when someone called me and asked for help, I had to help. It wasn't rational of me to step in like this but I thought, I will raise money if I need to.
Pesto the Doxie is a sweet little girl,about five years old and a black and tan doxie. She had a very bad hernia and one of the other dogs in her house was viciously aggressive towards her, to the point where he was drawing blood. She needed a new home and she needed surgery.
So I said I would help.
At first I was told the surgery would be about $300 and with a spay, about $450. I could handle that, put it on my care credit and pay a bit off each month. I wanted to help.
I called my vet and they waived the examination fee. I adore my vet.
But when I picked up Pesto I knew it was so much more complicated than that. The hernia was the size of a lemon and on a Doxie this small, it was serious and it was life or death.
Dr. Fyke examined her and I left her with my vet until they could determine the cost of the surgery and the spay. It would be $2,2000 all together. They needed to bring in a specialist. The hernia was so bad they would need to use mesh to close the wound where her intestines were hanging out. She was in dire need of help.
I said yes.
What was I thinking?
I put half on my Care Credit and tried raising some money. I've raised $450 so far, amazingly generous of people to give. But I was hoping to raise the half that was needed to pay for the surgery. The surgery went perfectly and she's recovering well.
So this is my last resort. I am hoping that this community will help me. I know I haven't been here much. But I am coming here as a last resort.
If you want to check and see if Pesto was treated at Laguna Beach Animal Hospital, you can call them.
460 Forest Ave Laguna Beach, CA 92651
(949) 494-9721
Here are photos of Pesto:
And if you want to help, you can send money to my Paypal at: Ellinorianne@hotmail.com or checks to Laguna Beach Animal Hospital with Pesto in the notes area.
I have no regrets, I took this on myself and I will manage this, my care credit is zero interest and we will be able to pay it off. But I know it never hurts to ask for help. I was touched and honored that this family reached out to me for help. To me that is actually quite a compliment. I was glad I could step up.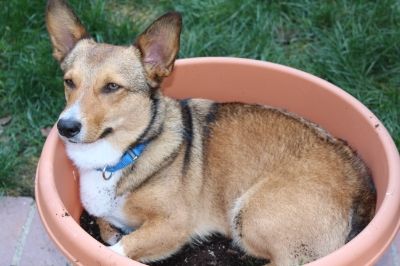 And as a bonus, here is our latest rescue, Calvin the Corgi. So much fun, an amazing dog and we love his stumpers, his fun detectors and his proud tuft!