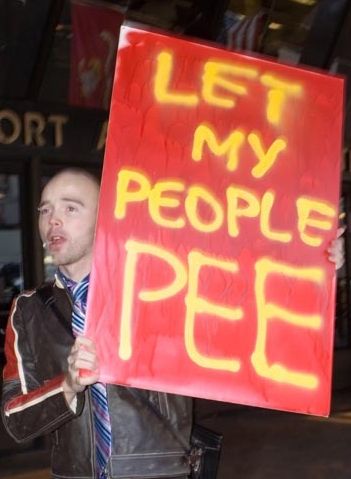 It really is a predicament...an eye-rolling monster of a predicament...for people who are transgender, anyway. When we appear to be male, having been born female, or appear to be female, having been born male, what restroom is it appropriate for us to use?
This isn't just a matter of convenience. When one has to go, one has to go. But someone who appears female entering a men's room is a recipe for assault...especially if one is then identified as being a transwoman. And similarly, someone who appears male who uses a women's restroom will definitely not be peaceable accepted.
So we think it out and try to take what we perceive to be the path of least resistance. And, yes, we do hope that the law can be modified in order to make our lives easier.
That last thing is more difficult than one might think.
There is a segment of society who perceives us as perverts, seeking to prey on whoever might be vulnerable. Oh, sure, those who oppose us sometimes mention that they do not believe we are perverts, but that actual perverts might take advantage of anything that makes our lives easier in order to perform their nefarious deeds, but since when do we punish one group pf people because of the potential actions of a totally different group?
Is that the kind of country this is?
I have three stories, from Arizona, Oregon, and Colorado, on the inside.
Arizona Representative John Kavanaugh (R-Fountain Hills) who recently sponsored a bill to make it illegal for transgender people to use the public bathroom of their choice got too much unexpected pushback, so he is rewriting the bill.
Since the earlier version of the bill was a rewrite of a totally unrelted bill, he's allowed to do that. The new version of Senate Bill 1045 is due later this week. Kavanaugh says he will remove any potential criminal penalties.
The present version would have made it a misdemeanor for a person to use a bathroom, locker room, or dressing room not in accord with the sex listed on that person's birth certificate…which would have therefore required all citizens to carry their birth certificates on their person at any time one might need wash up. Violators would be guilty of disorderly conduct and face up to 6 months in jail and a $2500 fine.
The bill sparked an effort to recall Kavanaugh.
On Monday Kavanaugh announced that he wants to remove the government entirely from the business of regulating bathroom privileges. His new proposal would prohibit local governments from passing ordinances that would subject businesses to lawsuits or other criminal penalties if they prohibit a transgender person to use a restroom.
Recently Phoenix passed a human rights ordinance prohibiting discrimination on the basis of gender identity and sexual orientation in public accommodations, housing and employment.

Kavanagh said he changed his mind about the original bill after it drew criticism from transgender advocates across the country and some of his fellow lawmakers, who felt it unnecessarily extended the reach of state government into bathroom stalls.
Basically he would like to forbid a class of people the right of redress if they are victims of discrimination. Hell, that seems fair. Right?
It's no better to deny anyone the basic right of being able to use the restroom. I really don't think there's anything behind it except for fear and possibly hate.

--Rebecca Wininger, Equality Arizona
Supporters of the Phoenix initiative say Kavanaugh's bill is "a solution in search of a problem. They point out that 16 states and more than 166 local governments have passed similar legislation.
Kavanaugh's supporters say the women's bathroom door will be open to sexual predators. Every so often they add that they do not believe that transpeople themselves are sexual predators, though they normally forget to do that.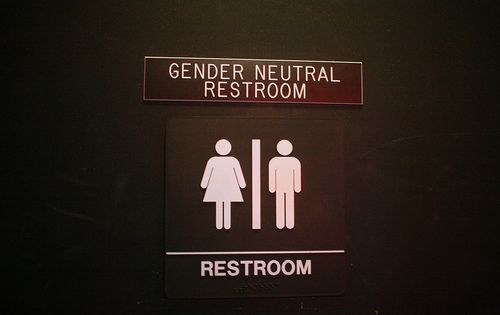 At Grant High School in Portland, OR there are "somewhere in the neighborhood of 10" out transgender students. So they addressed the "problem" of bathroom usage by converting six existing bathrooms (four for students and two for staff) into gender neutral facilities. Total cost was less than $500. What they did was put new signs on the doors and add locks to the inside of the doors.
Prior to the conversion, students, whether transgender or not, could request keys to staff bathrooms for their privacy needs.

Some of our gay and lesbian students said they were appreciative and more comfortable going into a different bathroom.

--Kristyn Westphal, Vice Principal
LGBT [students] had expressed that they didn't necessarily feel safe in the restrooms, which sparked the school's student-support team (school counselors, the school psychologist, and the two vice principals) to find a solution to that problem.
Westphal said she even head a report of a student who was teying to avoid drinking liquid the entire day so he wouldn't have to use the restroom.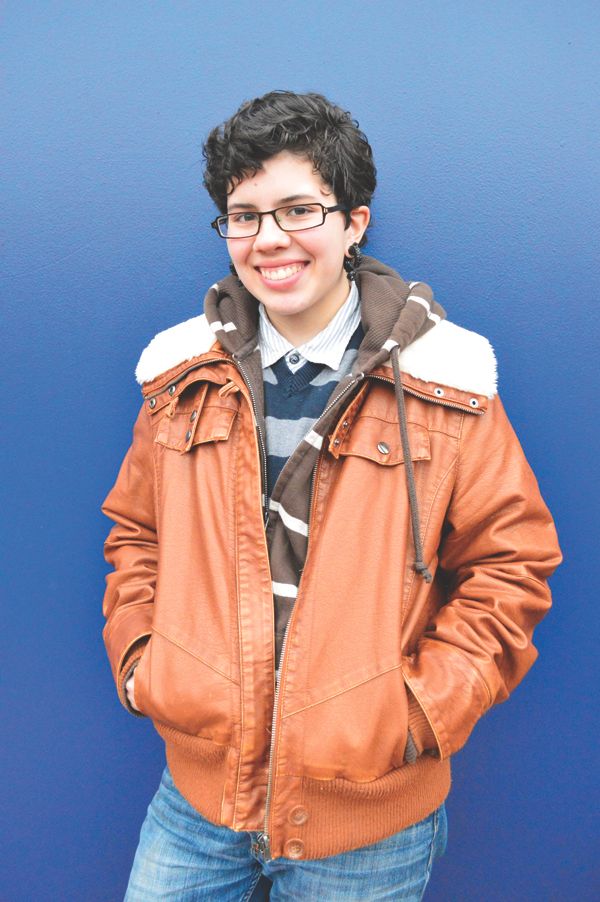 Scott Morrison, 17, who was listed as female at birth but now identifies as male, told the Oregonian he stopped drinking water to avoid choosing between the boys or girls bathrooms.
General counsel for Public Portland Schools distributed guidelines earlier this year referencing the Oregon Equality Act of 2007 in regard to transgender issues:

This (bathroom) issue requires us to consider the need to support our transgender students, while also doing our best to ensure the safety and comfort of all students.
The guideilnes said the "best practice and desired outcome" for transgender students would be for them to use the bathrooms designated for their current gender, but allow them to use unisex restrooms or health office restrooms if they chose.
Meanwhile in Colorado, the grups-in-charge at the Fountain-Fort Carson School Board have refused to mediate a resolution of the Coy Mathis case. Coy was accepted as a girl in kindergarten and allowed to use the girls room but was told this year that she was no longer allowed to use the girls room. She has been withdrawn from the Eagleside Elementary, along with her two siblings (they are triplets) and is being home-schooled.
Members of the Pikes Peak Safe @ School Coalition addressed board at its most recent meeting and issued the following statement:

All students deserve the right to be safe and welcome in school so they can be academically successful.
Not "all but the transgender students"…ALL.
We know from the work we do that it is very important for transgender students to feel accepted and to feel their identity is being respected.

--Brett Gray, Pikes Peak Safe @ School Coalition
Transgender students, nine in 10 who already suffer harassment for their nonconformity, should not have to live under magnified difference and discrimination. Singling out a transgender student and requiring them to use a gender-neutral restroom in a separate area from the student population prompts feelings of isolation and difference.
The group urged the school board "to teach through more than class work, and to stand up on behalf of all students and create safe space."
School board members refused to comment on the Mathis case.
The background of the case is available in this recent article in the NYTimes.

In most cases, when you're dealing with children this age, nobody is usually fussing about this sort of thing. The schools are much more willing to work with families to ensure that their child is successfully integrated.

--Michael D. Silverman, Transgender Legal Defense and Education Fund
I have been stunned over the last three years by the explosion of concerns and interest and outreach coming from educational professionals around transgender issues.

--Eliza Byard, executive director, Gay, Lesbian, and Straight Education Network
Transgender students are particularly vulnerable to harassment and bullying. A 2012 study by GLSEN found that elementary school students are highly likely to hear comments about how fellow students act and look. A third of teachers admitted that elementary school students who did not conform to gender norma would be uncomfortable at their schools.
Coy says she would rather be back in school with her friends, but she knows why she is not.

They're being mean to me. And they're telling me that I'm a boy when I'm really a girl.

--Coy Mathis