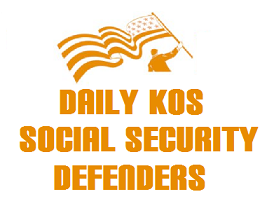 There seems to be a lack of understanding of the fundamental foundation of Social Security. It is wage insurance. Each participant insures a portion of their wages or salary depending on their income level and the payments made by each individual and their employers. Those insurance benefits are paid based on a formula depending on the payments made during their working life and age of the person at the time of retirement. What Social Security is not is an income redistribution program to transfer income from high earners to the less fortunate. FDR was very clear on this point and that is why Social Security has its own funding mechanism, separate from the income tax, and its own Trust Fund, separate from the general fund. It was FDR's view, which I share, that Social Security should be an earned benefit and should never be allowed to be characterized as welfare. As FDR noted. "not the dole, never the dole". The concept of wage insurance is a primary reason there is a cap on earnings subject to Social Security payroll taxes. The theory is that at higher incomes those individuals likely have other retirement income, pensions and investments, in addition to Social Security so there is an income amount above which "insurance" isn't needed, and that's why their is a cap. It's also the reason that investment income isn't subject to Social Security taxes. Investment income doesn't stop when our wages or salary stop so it does not need to be "insured". As FDR said "from capital nothing is asked and to capital nothing is given".
There is significant sentiment here at DKOS for removing the cap and a characterization that the cap is unfair to lower income workers and ultimately retirees. There are two primary issues with raising the cap; the first is that higher income earners may not need the additional "insurance". Second, we would have some Social Security recipients with six figure (or more) benefit payments. Others have argued that we should eliminate the cap, but cap the benefits. This is often referred to as "one small change" that would significantly benefit the Social Security Trust Fund. Such a change would end Social Security as we know it, and violate several of FDR's founding principles. I certainly understand in this era of declining middle class incomes, and significant income inequality, why people would propose a fundamental change in Social Security. However, I would ask people to be honest about the fact that this would be a fundamental change in Social Security shifting it to an income redistribution program, and in no way should be characterized by the term "one small change". The reality is that removing the cap, without a corresponding increase in benefits, would be a substantial second, "back door" income tax on high income earners, particularly the self employed who pay both the employer and employee portions of the Social Security payroll taxes. While many here at DKOS would favor any additional income tax on high income earners, let's at least be honest about what it would be.
There has also been much discussion about the cap and "fairness". Social Security has several fairness qualities. First, everyone who pays in the same amount receives the same benefit. So if we have one person who earns at the cap amount and one who earns twice the cap amount their benefits will be the same because they paid in the same amount into the system. The fact that the person who earned twice the cap amount paid a much reduced percentage of their income is an interesting fact, but the reality is that they both paid in the same and both earn the same benefit. Surly people should not have to pay more for the same benefit. There is also fairness in how payments are determined. The benefit algorithm is highly weighted in favor of low income earners. The "return" on the first dollar contributed by a low income worker is six time higher than the "return" earned by those contributions at the top of the cap amount. In addition, the benefits are not subject to income tax for lower income beneficiaries, while taxed for high income beneficiaries. I favor raising the cap, and substantially, with a corresponding increase in maximum benefit payments. To capture 90%, of salaries and wages, the recent stated goal for a sound Social Security system, it is estimated that the cap amount should be approximately $200,000. I think higher income workers would embrace the higher Social Security amounts and benefits. With traditional pensions evaporating, and 401Ks a less reliable retirement vehicle, a new top benefit of approximately $60,000 for people at the new cap amount would be significant.
The political optics of Social Security are very important. The system was specifically designed so that it would be perceived by the public as a "you get what you pay for" system, and specifically so that it could not be painted as "welfare for the elderly," where the rich subsidize everyone else. FDR correctly recognized that a welfare system is much easier for the opponents to kill than a system where the middle class perceived it as "you get what you pay for" system that would be much more difficult to kill. How many times have you heard seniors say, "I earned my Social Security benefits" or "I only want what I paid for" when talking about Social Security? It was this genius of FDR that allows them to say that. We should not allow wage insurance to become a dole through the mingling of insurance and relief. It must be financed by contributions to the Trust Fund, not general revenue taxes, or a back door tax on high incomes raising the cap without a corresponding increase in benefits, breaking that tie between contributions and benefits.You would be "ending Social Security as we know it." Democrats would be attacked for violating fundamental principles of Social Security, and substituting a welfare system. And to support that argument, the opposition would cite FDR. It is the nature of the Social Security system that has resulted in the broad support, just as FDR intended.
If you want progressivity, the income tax system is the place for that. Do not threaten the existence of Social Security by ending the program as it has existed for decades and substituting a welfare program ("the dole"). That is the quickest way to put the program in jeopardy.
Unfortunately I will be on an airplane when this diary is published and not able to respond to questions and comments until Friday evening, on the West coast.
My thanks to coffeetalk, who contributed to this diary, however all the errors are mine.
"HandsOffMySS" Blogathon: March 25th thru March 29th, 2013
Diary Schedule - All Times Eastern Standard
---
IT IS TIME TO TAKE A STAND
Social security is a concept enshrined in Article 22 of the Universal Declaration of Human Rights which states that Everyone, as a member of society, has the right to social security.
A limited form of the Social Security program began, during President Franklin D. Roosevelt's first term, as a measure to implement "social insurance" during the Great Depression of the 1930s, when poverty rates among senior citizens exceeded 50 percent.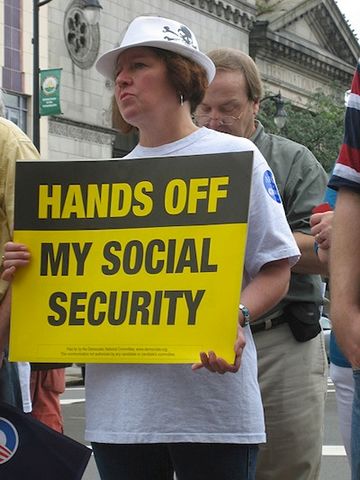 Let your voice be heard.
Members of the Daily Kos group Social Security Defenders have organized this bogathon to promote the truth about the financial condition of the Social Security trust fund, and the impacts of various so called reforms and fixes.
Understanding how benefits are calculated, the History of Social Security, where the Wisconsin Idea came from, and how over the years changes have been made to Social Security, all increase awareness and hopefully improve the discussion.
---
11:00am:Roger Fox
1:00 pm: Joan McCarter
3:00 pm: Roger Fox
5:00 pm: KitsapRiver

11:00am: joanneleon
1:00 pm: joe shikspack
3:00 pm: Arshad Hasan DFA
5:00 pm: Roger Fox
1:00 pm: teacherken
3:00 pm: Jamess
5:00 pm: Bruce Webb
1:00 pm:
3:00 pm: One Pissed Off Liberal
5:00 pm: floridagal
10:00am:Roger Fox
11:00 am: Economist Dean Baker
1:00 pm: VCLib
3:00 pm: Armando
5:00 pm: Liberal Thinking
---
Please remember to republish these diaries to your Daily Kos Groups. You can also follow all postings by clicking this link for the Social Security Defenders Blogathon Group. Then, click 'Follow' and that will make all postings show up in 'My Stream' of your Daily Kos page.