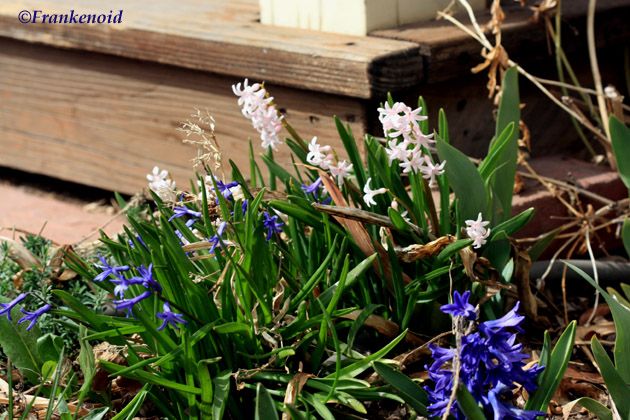 Good morning, and it's here! Welcome to Saturday Morning Garden Blogging.
Denver started out the week cold — the overnight low on Sunday was 2°, and the high on Monday didn't break freezing.
But gradually the temperatures warmed… the 10+ inches of snow from last weekend's storm melted rapidly… and by Friday, with the high in the mid-60s, the scent of the opening hyacinth was wafting on the air.
These are roman hyacinth — and I highly recommend them. They're a very old variety and close to species so, while the initial purchase price of bulbs (from Old House Gardens) is high, they multiply — this little clump started as 2 bulbs several years ago.
And the scent is amazing. There's an under-layer of clove scent which is very different from other, modern hybrids; rather like a cross between hyacinth and Sweet William.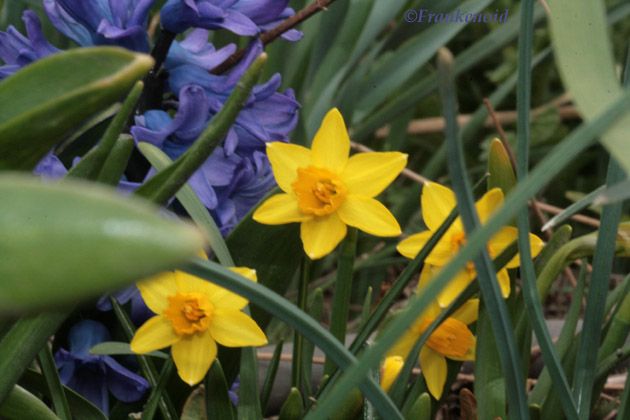 Even better, the forecast is for continued warmth — with the possibility of a bit of wet on Monday. I guess I can finally start sprouting the snap pea seeds.
And, if I'm going to do that, I'd better get out this weekend and ready the veggie patch for planting. Mostly that will entail picking up and putting out of the way all the stuff the guys threw on the veggie patch last fall as they were "cleaning up" and pulling aside the straw mulch where I'm going to be planting things. But I also need to replace one of the soaker hoses that sprang a bad leak last year, and I'm going to lay down some wire fencing to keep Arwen the Terrible from digging out the pea seedlings. I lost about a third of the peas in the veggie patch last year due to Arwen's digging.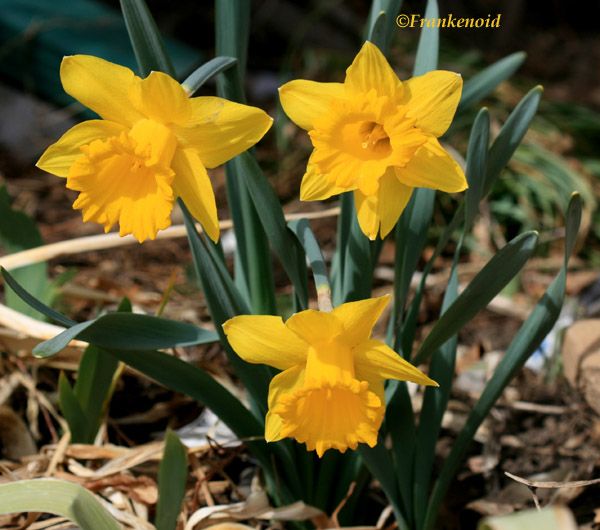 Also need to empty the compost tumbler and spread the contents around, and then re-fill it with the winter's collection of kitchen scraps. I've a pretty good collection of dry stuff to mix in, so the new batch should get to cooking pretty fast.
I also have some short wire border fencing to place along the stepping stones through the front flower beds — I'm trying to find something that will keep the damned mail carriers from stomping on little growing things. The stuff I used last year wasn't sturdy enough — the mail carriers just bent it over when they stepped on it.
I'm sure we'll get a few more blasts of snow (or at least I hope we do — reservoir levels are so low we're already on restricted water use); but from here on, the cold days will be the exception, rather than the rule.
Whoo hoo!
That's what's happening here. What's going on in your gardens?