This is really disturbing, if not unexpected.

Obama Budget to Include Cuts to Programs in Hopes of Deal">Obama Budget to Include Cuts to Programs in Hopes of Deal

By JACKIE CALMES

WASHINGTON — President Obama next week will take the political risk of formally proposing cuts to Social Security and Medicare in his annual budget in an effort to demonstrate his willingness to compromise with Republicans and revive prospects for a long-term deficit-reduction deal, administration officials say.
....Instead it will embody the final compromise offer that he made to Speaker John A. Boehner late last year, before Mr. Boehner abandoned negotiations in opposition to the president's demand for higher taxes from wealthy individuals and some corporations.

Congressional Republicans have dug in against any new tax revenues after higher taxes for the affluent were approved at the start of the year.
This announcement isn't President Obama's opening position, this is complete capitulation to the Republicans demand to slash Social Security and Medicare. What significant concession did the Republicans have to give up to secure Obama's capitulation on Medicare and Social Security? Exactly nothing. That right NOTHING! The President is merely hoping the Republicans will deal in good faith.
That right. Lucy doesn't even have to hold out the football any more for Charlie Brown to try and kick it.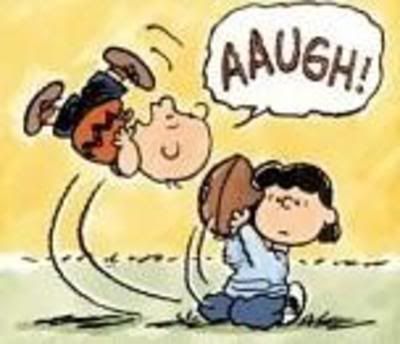 As Mr. Obama has before, his budget documents will emphasize that he would support the cost-of-living change, as well as other reductions that Republicans have called for in the popular programs for older Americans, only if Republicans agree to additional taxes on the wealthy and infrastructure investments that the president called for in last year's offer to Mr. Boehner.
Obama's "Grand Bargain" deal accepts Social Security cuts formulated by the Republicans including the chained CPI that cuts everyone's benefits across the board, instead of proposing a more equatable cut for these programs using means testing that could be more palatable to many Democrats.
So now Obama is seeking a fix to the short term budget impasse with the intransigent Republicans by hurting retirees over the long term. This deal should be a nonstarter for Democrats in congress, but will it? Let your congress members know that shouldn't bargain away American's increasingly bleak chances to retire someday.
LIST OF TOLL FREE CONGRESSIONAL SWITCHBOARD PHONE NUMBERS
1-800-828-0498
1-800-459-1887
1-800-614-2803
1-866-340-9281
1-866-338-1015
1-866-220-0044
1-877-851-6437