DK Quilt Guild: A place for quilters to gather, share ideas, projects, and to make the world a better place, one quilt at a time. Join us and share your thoughts, projects, questions, and tips. Quilters here are at many different levels of skill. Beginners and non-quilters are welcome, too!
Okiciyap 2013 Quilt
REMINDER BIDDING CLOSES AT 8 PM EDT, 7 PM CDT, 6 PM MDT, 5 PM PDT



CURRENT HIGH BID IS $6,600.00 + BY QUILT MATCHING FUNDRAISERS
gratitude |ˈgratəˌt(y)oōd|
noun
the quality of being thankful; readiness to show appreciation for and to return kindness : she expressed her gratitude to the committee for their support.
ORIGIN late Middle English : from Old French, or from medieval Latin gratitudo, from Latin gratus 'pleasing, thankful.'
Gratitude for all of the wonderful people who helped raise awareness and funds for the
Okiciyap Food Pantry
.
I want to first thank Melanie in IA and BeadLady who coordinated the quilt blocks, sewn the fantastic quilting & final binding to the quilt. Thank you to these DK Quilt Guild Members; Florene, frosti, kitchen table activist, Melanie in IA, glorificus, leu2500, vtgal, winifred3, Proud of My Bleeding Heart, Embee who donated the quilt blocks, and helped to create this beautiful quilt. My pinwheel block looks awesome next to these other fabulous blocks.
I want to thank glorificus & weck for organizing & leading the quilt auction. They made this all look very easy. Kudos for all of your hard work. Thank you to Trix the Silly Rabbit of Sunday Talk, and other Open Thread writers who allowed me to shamelessly promote the DK Quilt Guild Service Projects especially the Okiciyap Quilt Auction.
Thank you to nomandates & GreyHawk for the nifty codes to allow the diaries to look professional. Thank you to the writers, who wrote beautiful poignant diaries to bring awareness of the Food Pantry and inspired us. All of the comments, ideas, challenges, cheerleading, nudging and donations for this effort.
The Okiciyap Diaries have been educational, inspiring & just plain fun.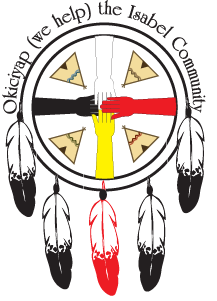 ~~~~~~~~~~~~~~~~~~~~~~~~~~~~~~~~~~~~~~~~
Food, Healing and a Quilt Auction: Okiciyap ~ betson08
Where are You, when "Okiciyap (we help)" needs you? ~ mimi
Okiciyap Quilt-Final Auction Soon, but not Your Last Chance to Help!! ~ weck
Okiciyap, we help bidding diary ~ mollyd
Okiciyap Quilt Auction, Wish Lists, and Challenges ~ nomandates
Okiciyap Quilt Auction, plus a Youth Library ~ nomandates
Okiciyap: When We Help, the Transformative Power of Compassion ~ Grizzard
Okiciyap Quilt Auction: It's All About Community ~ Smoh
New Day - Quilt Matching Funders seek your help in raising $6,000 for Okiciyap ~ navajo
Quilt Matching Funders seek your help in raising $6,000 for Okiciyap ~ Meteor Blades
Okiciyap Quilt Auction: We Are All Responsible ~ peregrine kate
Okiciyap Quilt Auction: Strength in Numbers, Synergy and Symbols ~ GreyHawk
Okiciyap Food Pantry Still Needs Us, Please Donate or Bid Today~ weck
Okiciyap- Why a food bank, by the numb3ers ~ ZenTrainer
Okiciyap Quilt Auction benefit: Help the people of Cheyenne River ~ Dave in Northridge
Okiciyap: Feeding The Hungry ~ glorificus
Okiciyap Quilt Auction: Thanking DK Quilters Who Share Their Quilt Story~ Patriot Daily News Clearinghouse
Two-Spirit and Okiciyap ~ Horace Boothroyd III
This quilt is not invisible- Okiciyap is Lakota for 'we help' and we can help auction it ~ Denise Oliver Velez
Okiciyap Quilt Guild Auction. We Help. That's What It's All About. ~ radical simplicity
Okiciyap Quilt Auction: Let the Bidding Begin ~ GreyHawk
Okiciyap Quilt Auction benefit begins Wednesday. Help the people of Cheyenne River ~ Meteor Blades
Okiciyap - We Help ~ OPOL
DK Quilt Guild & Okiciyap Quilt Auction: Why this Quilt ~ leu2500
Okiciyap Dkos Auction Quilt ~ BeadLady
Of Quilts and History: The Okiciyap Quilt Auction ~ winifred3
DK Quilt Guild: Okiciyap Quilt Auction~We Quilt For Others ~ Pam from Calif
Feeding the Body, Feeding the Spirit: Okiciyap (We Help) ~ Aji
Twelve is a community number ~ GreyHawk
Helping the Helpers Who Helped the Helpers ~ Glen The Plumber
DK Quilt Guild: The Okiciyap Quilt ~ BeadLady
TIME FOR THE BIG SHOW!!!! ~ glorificus
DK Quilt Guild: Quilting for a Good Cause ~ weck
~~~~~~~~~~~~~~~~~~~~~~~~~~~~~~~~~~~~~~~~~~~~~~~~~~~~
If you cannot afford to bid on the quilt, or if you were outbid, you can contribute here:
Okiciyap Food Pantry
P.O. Box 172
Isabel, S.D. 57633
~~~~~~~~~~~~~~~~~~~~~~~~~~~~~~~~~~~~~~~~~~~~~~~~~~~~~

Holiday, U.S.A.~ Ruth Bloomfield

Cherry Blossoms~ Kim Butterworth

Birches by the Lake ~ Diane Land

The Resilience of McCathy Creek~ Karel K. Hendee

More than a Memory in this Old Tree~ Kathy McNeil

Leaves of Spring~Letitia Chung

Life Tree~Alethea Ballard

Images of New Zealand~ Holly Casey
Natures Backyard~ Vicki David & Terry Breazeale
~~~~~~~~~~~~~~~~~~~~~~~~~~~~~~~~~~~~~~~~~~~~~~~~~~~~
DK Quilt Guild
DIARISTS NEEDED!!
After doing quite well with scheduling for awhile, there are open dates. Would you like to write a future DK Quilt Guild diary? Please join in! Please volunteer within the comments. If you have volunteered for a date & you're not listed; Please indicate within the comments. Thanks

The schedule:
4/14 -- OPEN
4/21 -- leu2500
4/28 -- leu2500
5/05 -- OPEN
5/12 -- OPEN
5/19 -- OPEN