If you're reading this diary today, the last day of the quilt auction, you're probably aware of the Okiciyap (we help) the Isabel Community food pantry on the Cheyenne River Sioux Reservation, which began last week.
So before I get to the meat of the auction diary, I want to cut to the chase:
Thanks to this fantastic community, we have raised over $6360 for Okiciyap . (it seems like the WePal total jumps every 5 minutes)
If we can raise about another $2640 today, an anonymous donor will give $1000, for a grand total of $10,000. If you can help, even with $5, please do. It is all significant, believe me.
UPDATE 1: I just received this video thank you from Emily, who is in NM coordinating activities remotely: This was a cell phone video so it's a little low in volume, but I hope you can hear her.

UPDATE 2 I just received these photos from the kids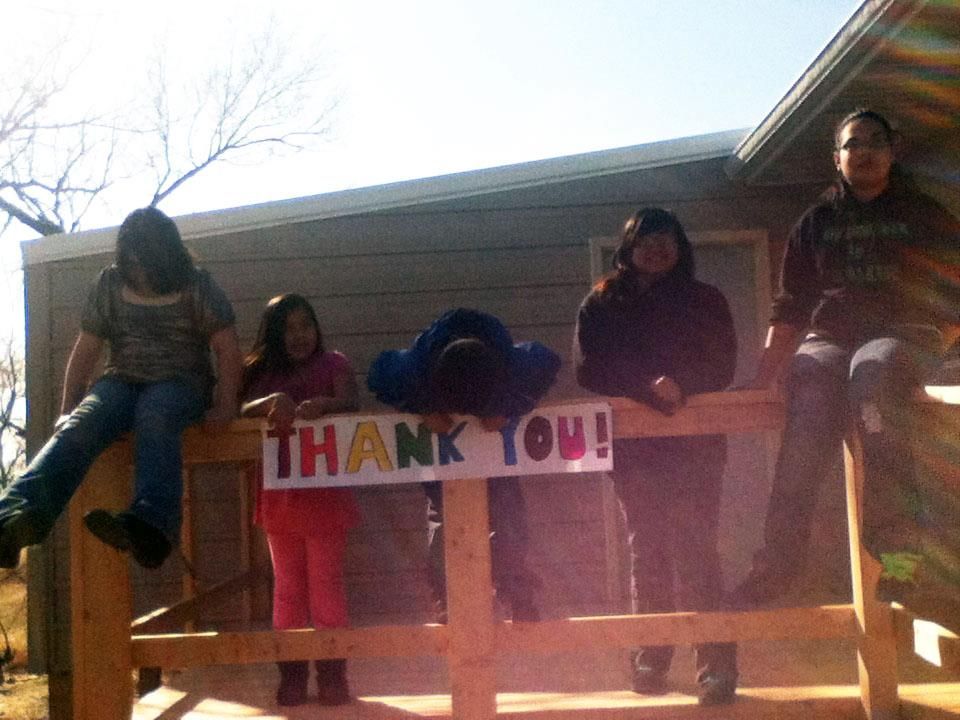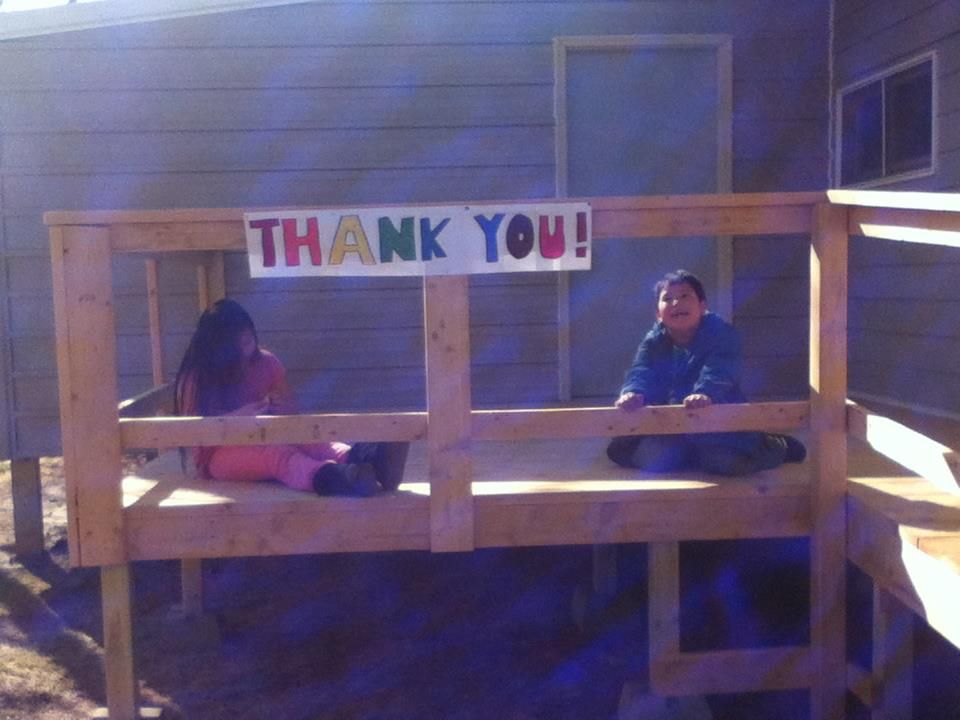 Thanks to you, the pantry is not only up and running, but attracting in-kind donations from near and far, which you can read about below the fold.
In fact, between the fundraiser and a few developments this weekend, the pantry is now stable enough for the group to start to put together what I'd call Stage II of Georgia's dream: an after school program for Isabel's youth that provides them with a safe, health environment.
Georgia wanted to make sure that Isabel's youth can avoid or heal from some of the horrendous abuse she suffered as a child, and that nobody ever has to go hungry. How is this too much to ask in the 21st Century?
Before continuing, I wanted to add a video from a Frontline special called, A Kind-Hearted Woman. Cindy told me that it was a lot like Georgia's story, so if you really want to see and feel on a gut level the kinds of things people are overcoming on reservations, you can watch a few minutes of this.
Watch Kind Hearted Woman Part One on PBS. See more from FRONTLINE.
The first line the woman profiled in the movie says is "I was torn to pieces by people I called "dad," "uncles".
Georgia suffered horrendous physical and verbal abuse by her father, which led to a host of other problems, including suicidal ideation an alcoholism. She was determined to help others avoid this fate, and overcame the alcoholism and suicidal thoughts, but her body just could not heal enough from its other ailments for her to see all of this come to fruition.
So, in he honor, we do this: okiciyap. How could we not?
The Quilters Guild auction was a brilliant idea and will be the large chunk of money they have needed to be be on a firm footing for the summer, when school is out.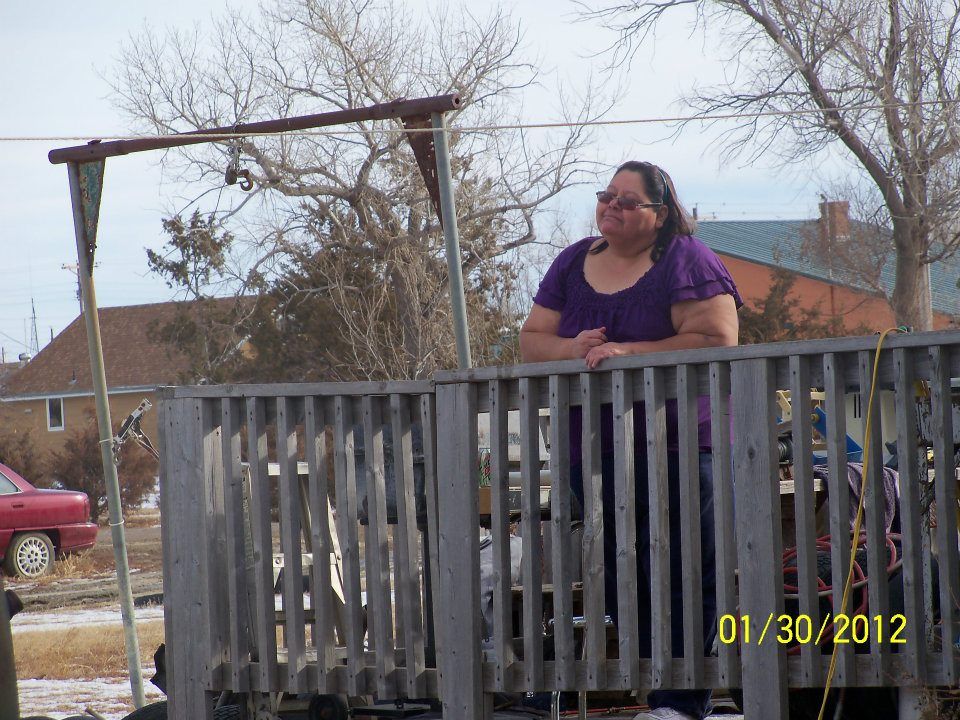 Pantry News
Here are some of the great developments from the past couple of months. This fundraiser is going to help them get much farther along with a lot of things.
The first one illustrates why this community's support is so important to the pantry. Okiciyap has received some food from the food pantry in McIntosh.
Why?
Cindy....
A food pantry in McIntosh was literally forced to close because of the one store there and he has no support system. He brought us all he had plus other stuff so we really dont need rice and soy mix for a while.
Rice and soy mix, you say? That was in response to an offer that had come over the Okicyap (we help) the Isabel Community Facebook page to deliver rice and soy mixture and some children's clothing. It seems to me that we've even got an uneven distribution of resources - that donor's items were needed in McIntosh but because it wasn't well enough known, that pantry closed its doors.
Related to this kind of inspiration - a Kossack who has been lurking in the Okiciyap diaries decided to do a project with his local pantry to ship a TON of chili mix (beans, lentils and a flavor packet, broken into 1 lb packages) to the pantry. His local paper even did a story about it. Thank you, this was awesome and got there in the middle of the winter.
This is what it looked in part of the building when they got done loading it; these two helpers were buried under a literal hill of beans: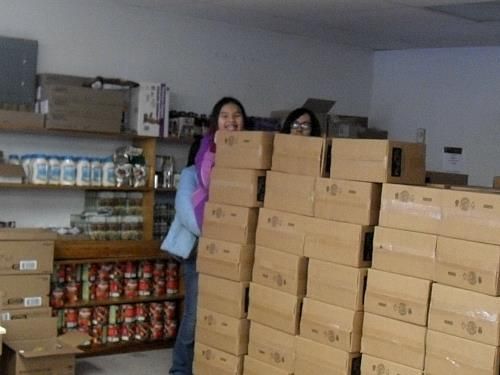 Partly because of all the space the beans took up in the pantry, Okiciyap recently built an addition onto the building for storage. It was paid for by a small community grant from the Tribe. Your donations leveraged this, by the way.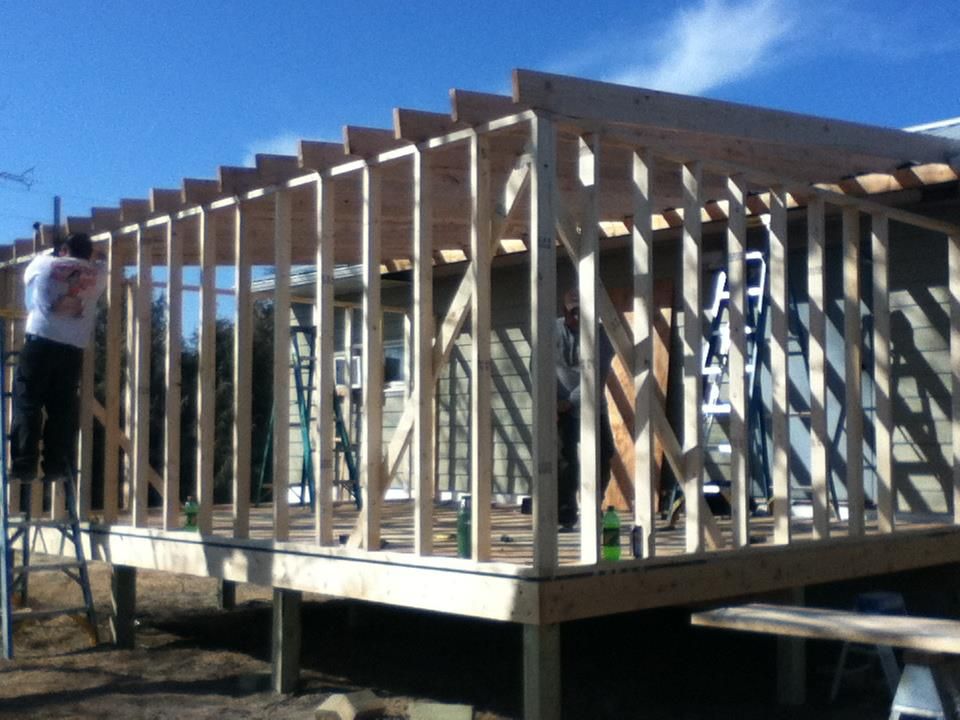 The Tribe will most likely also put up a playground on the pantry's grounds, since Okiciyap is the only group with a lot of ideas, according to the Tribal Council. More leverage.
In February, a 5-week series of parenting classes also took place.
Just this past Friday, the Okiciyap also received another truckload full of donations from the group, One Nation Walking Together. Besides furniture, kitchen supplies, appliances, and clothing, the shipment contained several computers, which they requested so they can start the after school program.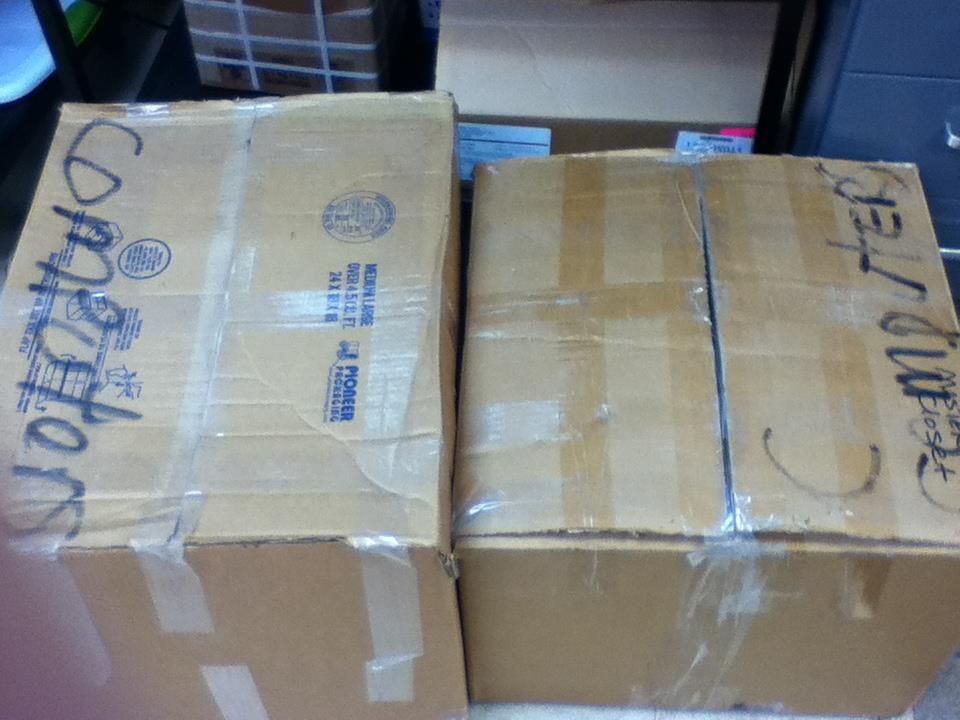 Hard to believe all this fits in that truck.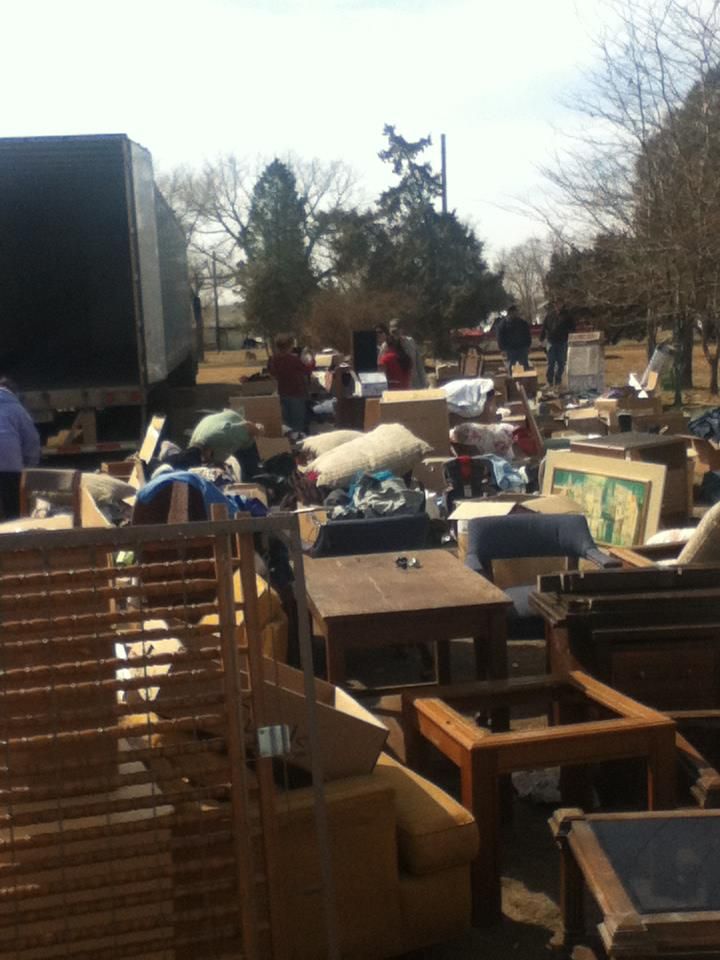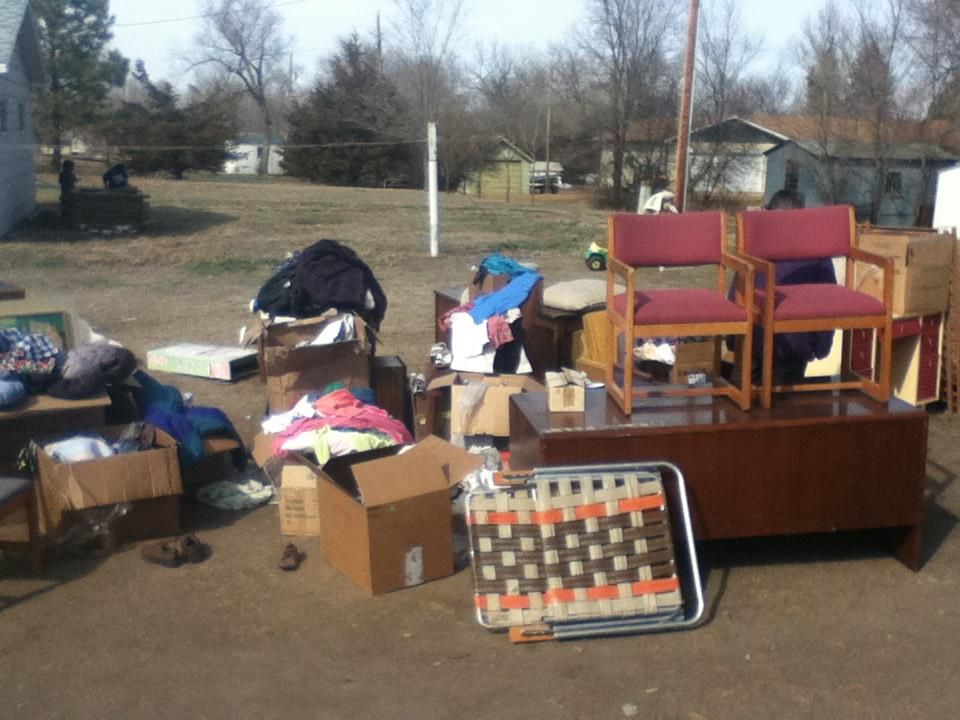 Cindy has put in an order for $2500 worth of food from the food bank ALREADY - BECAUSE of THIS fundraiser. Yes, I'm yelling. I'm psyched.
So, in service to this project, I leave you with mimi's words (by the way, you can go into her diary and donate $70 to get some of her mom's silver spoons):

Do you know how many of the best writers dailykos has to offer have written their hearts out, collected every fact there is, analyzed each of the quilt blocks from every view point you can think of, poured their souls out and opened up to you about the most intimate feelings they have ... just to MAKE YOU to PUSH the WE PAY Button
TOUCH YOUR HEART?
Here's the quilt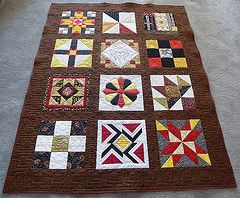 Here's how you can donate:
Send a check or money order here:
Okiciyap Pantry
Box 172
Isabel, SD 57633
Click on the button below the logo here:

I just wanted to leave you with this: Georgia Little Shield was a big deal in her community because she has helped so many people during her life.
This year Isabel's pow wow is in her honor: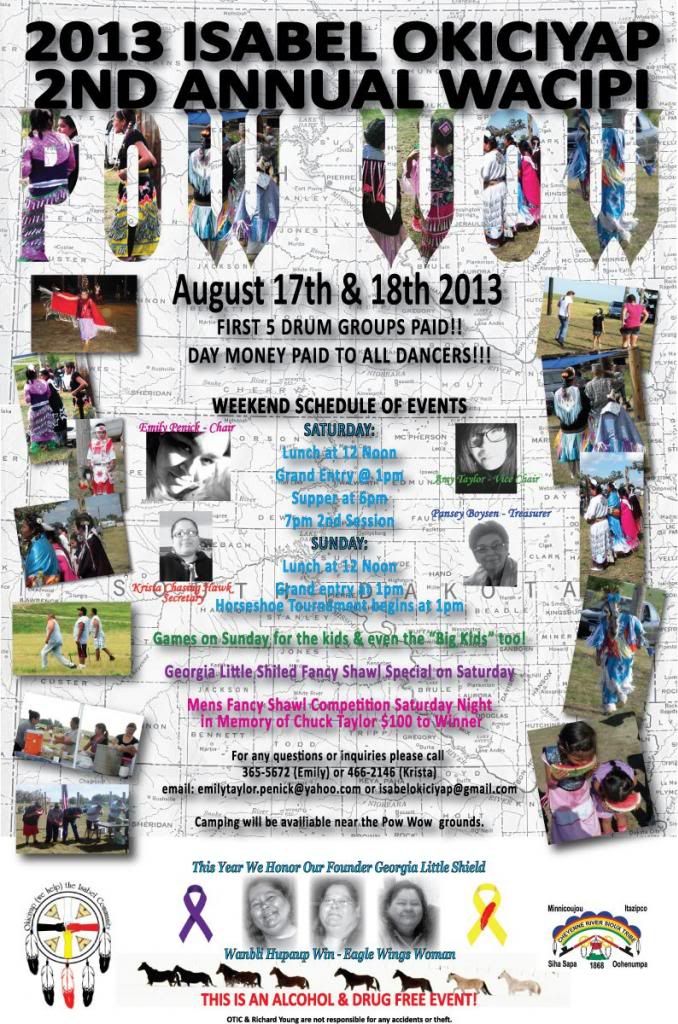 Here is the obituary her family wrote for her. It gives you a good idea about her life:

Georgia Lynette Taylor was born in Rapid City December 10th, 1959 to Charles and Angeline Taylor. After growing up in Iron Lightening and Isabel she left to find work when she was 18. She worked in a computer chip factory in Rapid as well as in the oil fields and coal mines near Gillette, Wyoming. Georgia married and adopted a baby girl named Crystal Lee and after living in Gillette for several years moved back to Isabel and completed her GED.

She then went on to college at Presentation in Eagle Butte and received a Bachelors Degree in Nursing and Social Work. She then moved to Canby, MN where she worked as a nurse. She then decided to move back to Isabel to try and help make the reservation better. She began her work at the Cheyenne River Housing Authorities Single Mothers Program that was stationed in Isabel at the Manor. There she helped many young women get on their feet and find their way in life. She was their mentor and friend. When they needed something that the program could not provide she helped them and many of them are still her friends today. When she finished her work here she then went on to be a Domestic Violence Counselor in Eagle Butte where she helped many families stop domestic violence and to see that it is not part of the Lakota culture. While employed here she took a stand against authority when she and her co-workers locked themselves in their office for several days because the Administrative Officer of the tribe wanted to view their confidential files. She and her 2 other co-workers ended up going to jail but they succeeded in keeping their clients identities safe from prying eyes and they were praised for their efforts. Unfortunately, the program eventually ran out of funding. After this, because of what she knew, she was asked by the South Dakota Coalition against Domestic Violence to start a program in McLaughlin. Pretty Bird Woman House was created and this was Georgia's baby. She received her Masters from the University of California at Berkley while working here. She did for Standing Rock what she did on Cheyenne River in helping as many people as she could.

Over the years while helping the people in her programs she had taken in many foster children and helped them to realize that they do not need gangs or drugs and alcohol to be happy and enjoy life, and that education and helping others was the best way to better yourself. She volunteered to work with the Isabel Lakota Youth Group and was their mentor for many years.

Throughout her career she has made many friends in many places across the country because she went to many conferences and workshops for her job. This is the reason she was given the Lakota Name of Eagle Wings Woman, because she was "always flying somewhere". She hung up her wings and decided it was time to retire back in 2010 and moved to the country with her current husband Norman Little Shield where they raised horses together. Here they helped to raise their grandchildren Isis and Talib Smith, and Krystal Brings Plenty. She was volunteering as President of the Isabel Okiciyap which created a food panty and started the Isabel Community Pow Wow in 2011. She was still helping everyone she could up to the time of her death.
Just because.....
a href="
http://s192.photobucket.com/...
target="_blank">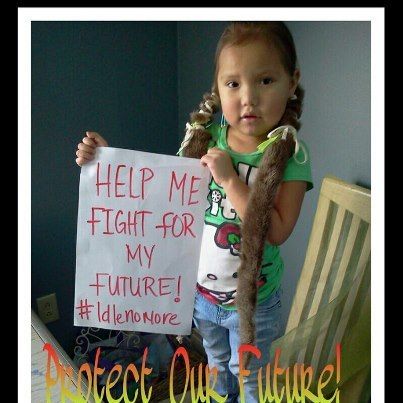 MAKE WECK DIG COMPLETED!!

MAKE WECK DIG up this pickle jar from her back yard! COMPLETE