Spring has sprung in Possum Valley as the daffodils are blooming and the days lengthen one by one. Monday is here one more time and the opportunity for science talk is here again. Time to brighten your day with selections from science sites around the globe. New discoveries, new takes on old knowledge, and other bits of news are all available for the perusing in today's information world. Today's tidbits include invasive crabs help Cape Cod marshes, how life may first have emerged from a high salt environment, 3-D printer can build synthetic tissues, and bumblebees use logic to find the best flowers.
Pull up that comfy chair and grab a spot near the window. There is always plenty of room for everyone. Another session of Dr. Possum's science education, entertainment, and potluck discussion is set to begin.
Featured Stories
Under most circumstances biologists are wary of invasive species. But the invasion of Cape Cod marshes by the Asian shore crab has benefits to the native species.
...the Asian shore crab took advantage of the moist, shady environment created by the cordgrass and the mussels. In ecological terms, the researchers found a "facilitation cascade." The cordgrass attracts ribbed mussels by giving the molluscs something to attach themselves to as well as a shady spot; the mussels, in turn, give the crabs crevices in which to avoid predators as well as the harsh sun. The cordgrass also provides valuable shade for the crabs.

The team found that the crabs' exploitation of their habitat did not crowd out native species, such as the common periwinkle, small crustaceans, blue mussels and barnacles. Indeed, the field studies showed the more invasive crabs, the greater the number of native species.

In other words, the cordgrass-ribbed mussel environment has enough room to accommodate another tenant.
The
origins of life on Earth
pose an ongoing question which scientists continue to explore.
The widely accepted view among scientists is that RNA, found in all living cells, would have likely represented the first molecules of life, hypothesizing an "RNA-first" view of the origin of living systems from non-living molecules. (Researcher) Blaber's results indicate that the set of amino acids produced by simple chemical processes contains the requisite information to produce complex folded proteins, which supports an opposing "protein-first" view.

Another prevailing view holds that a high-temperature (thermophile) environment, such as deep-ocean thermal vents, may have been the breeding ground for the origin of life.
Progress in medicine comes with news of a
3-D printer than can build synthetic tissues
.
The new type of material consists of thousands of connected water droplets, encapsulated within lipid films, which can perform some of the functions of the cells inside our bodies.

These printed 'droplet networks' could be the building blocks of a new kind of technology for delivering drugs to places where they are needed and potentially one day replacing or interfacing with damaged human tissues. Because droplet networks are entirely synthetic, have no genome and do not replicate, they avoid some of the problems associated with other approaches to creating artificial tissues – such as those that use stem cells.
Bumblebees are smarter than we might give them credit sometimes.
Despite their tiny brains, bees are smart enough to pick out the most attractive flowers by watching other bees and learning from their behaviour. By using simple logic, they see which coloured flowers are the most popular, and conclude that those of the same colour must also contain lots of energy-rich nectar.
Knucklehead's Photo of the Week
Tidal Asteroid
©Knucklehead, all rights reserved, presented by permission. Click on the image to see more in the series.
Other Worthy Stories of the Week
New giant tarantula discovered in Sri Lanka
Flushed drugs may threaten stream ecologies
Supernova remnant 1987A continues to reveal its secrets
Meta-screen forms ultra-thin invisibility cloak
Quantum light cryptography
An inside look at carnivorous plants
A meteorite mystery from Mercury?
Ancient climate questions could improve today's climate predictions
Temperature differences between hemispheres could shift rainfall patterns
Coral reefs can be tougher than they look
1800-year-old 'Rosetta Stone' for tropical ice cores
DNA shows 'extinct' turtle never existed
The snakelocks anemone bred in captivity for the first time
Ancient pool of warm water questions current climate models
For even more science news:
General Science Collectors:
Alpha-Galileo
BBC News Science and Environment
Eureka Science News
LiveScience
New Scientist
PhysOrg.com
SciDev.net
Science/AAAS
Science Alert
Science Centric
Science Daily
Scientific American
Space Daily
Blogs:
All-GeoGeology and Earth science
Cantauri Dreams space exploration
Deep Sea News marine biology
List of Geoscience Blogs
Science20.com
Science Blogs
Space Review
Scientific Blogging.
Space.com
Techonology Review
Tetrapod Zoology vertebrate paleontology
Wired News
Science RSS Feed: Medworm
The Skeptics Guide to the Universe--a combination of hard science and debunking crap
At Daily Kos:
This Week in Science by DarkSyde
Overnight News Digest:Science Saturday by Neon Vincent. OND tech Thursday by rfall.
All diaries with the DK GreenRoots Tag.
Astro Kos
SciTech at Dkos.
NASA picture of the day. For more see the NASA image gallery or the Astronomy Picture of the Day Archive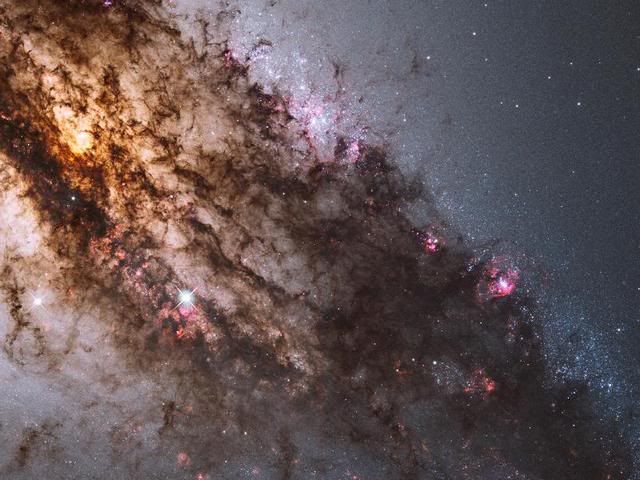 Centaurus A-1, NASA, Public Domain