I Got The News Today (IGTNT) is one of the oldest continuous series on Daily Kos. It is a way for our community to pay respect to those who have died as a result of war.

The beautiful logo was created by Timroff
Last weekend, in Afghanistan, a goodwill mission went bad. A heavily-armored convoy was delivering textbooks to local children when a suicide bomber drove into the midst of it. The attack killed three US service members, a young US diplomat from suburban Chicago, an Afghan doctor and an American civilian who worked with the State Department. The Taliban claimed responsibility for the attack. The soldiers killed that day were:
• Staff Sergeant Christopher M. Ward, who was from Oak Ridge, Tennessee
• Specialist Wilbel A. Robles-Santa, who was from Juncos, Puerto Rico
• Specialist Deflin M. Santos Jr, who was from San Jose, California
Four other US State Department staffers were injured in the bombing, and at least one of them was critically wounded.
Staff Sergeant Christopher M. Ward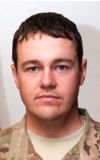 Christopher Ward was born in Arcadia, Florida but moved to Tennessee with his mother, Nancy. He attended Desoto County High School in Florida and Oak Ridge High School in Tennessee before getting his GED and joining the Army in 2005, when he was just 17.

Staff Sergeant Ward was serving as a cavalry scout with the 5th Squadron, 7th Cavalry Regiment, of the 3rd Infantry Division's 1st Armored Brigade Combat Team, which is based in Georgia at Fort Stewart.

Ward had served two deployments in Iraq and had been stationed in Afghanistan since October. This mother spoke to WBIR News:
"I'm going to be thinking of his smile, "said Ward. She describes her son as a man with a confident attitude.

"Ladies loved him, and men respected him," said Ward.

She says he was a man who took care of his family and his country.
"He has always said 'I don't work for the government, I work for the people."
Exactly two weeks before his 25 birthday, Ward was helping to escort a military convoy on a goodwill mission. A suicide attack on the convoy killed Ward and two other soldiers — Spc. Wilbel A. Robles-Santa, and Spc. Deflin M. Santos Jr. Two civilians, one from the State Department and one from the Defense Department died in the attack. The blast also seriously wounded Kelly Hunt, a public diplomacy officer for the State Department. She is a fellow Tennessean.
Ward's funeral arrangements are being handled by Weatherford Mortuary in Oak Ridge, Tennessee. Services will be held with full military honors.
~+~+~+~+~+~+~+~+~+~+~+~+~
Specialist Wilbel A. Robles-Santa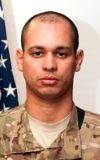 Wilbel Alexander Robles-Santa was originally from Juncos, Puerto Rico. The Juncos native joined the Army in October 2010. He was assigned to the 5th Squadron, 7th Cavalry Regiment, 1st Armor Brigade Combat Team, 3rd Infantry Division, in February of 2011. The squadron is based at Fort Stewart in Georgia.
The only personal quotes about Robles Santa, online are in Spanish. The following are statements on the
Primera Hora
website, from his wife, Kimberly; his brother, Wilberto; and from an instructor who taught him Tae Kwon Do, Julio:
"Mi esposo cumplió con su promesa ante Dios, la jueza y todo testigo que estuvo en la boda... Hasta que la muerte nos separe. Te amaré por el resto de mis días Wilbel", escribió la viuda en su página de Facebook.

El único hermano de Robles Santa, Wilberto, también militar, adscrito a la Fuerza Aérea de Estados Unidos, llegó ayer en la tarde a la Isla. "Puedo decir tantas cosas de mi hermano que no terminaría. Éramos como dos mejores amigos. Para dondequiera que iba él iba yo", dijo a Primera Hora el joven de 23 años de edad.

Indicó que, una vez llegue el cuerpo de Wilbel al país, el soldado será velado en Arecibo, pueblo natal de la viuda, y en Humacao. El sepelio será en el Cementerio Nacional para veteranos en Bayamón.

"Wilbel era tremenda persona, humilde, servicial y bien jocoso. Se daba a querer. Tenía un montón de amigos que han quedado consternados", dijo Julio Carcaño, quien fue su maestro de artes marciales.

[Basically - Kimberly says she will love him until the end of her days; Wilberto says that his brother was his best friend; and Julio says Wilbel was a tremendous person - humble and helpful and funny.]
Specialist Robles-Santa was on his second deployment and was serving as a cavalry scout in Afghanistan. On April 6th, he was working to help guard a convoy when a car bomb blast went off near him. He died from his wounds. He was 25 years old. The suicide bombing also killed a young American diplomat and a Defense Department civilian worker.
Among those surviving Wilbel are his wife and two young children (ages 2 and 3); his mother, Maribel Santa-Rivera and his brother, Wilberto.
Robles-Santa's funeral services will be held in Puerto Rico and he will be buried in the national cemetery for veterans at Bayamon.
~+~+~+~+~+~+~+~+~+~+~+~+~
Specialist Deflin M. Santos Jr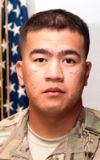 Deflin Santos, Jr. was born in the Pampanga province of the Philippines. He moved to California in the early 1990s to live with his father. He attended schools in San Jose and Santa Clara before returning to the Philippines for high school.

He had just graduated from the prestigious Saint Dominic Academy in Bulacan when his elderly father summoned him and his youngest sister back to the United States to ask them to join the military. Santos joined the Army in February 2007.

According to the NBC Bay Area news site:
Santos' family said he was the youngest of 17 children. They said his father was a POW in World War II and was part of the Bataan Death March.

His father was buried in the Philippines. Deflin Santos's family said his body will be flown to the Philippines as well so that he can be buried next to his father.

He sent a :16 holiday greeting to his family in 2008. You can view that here.
With the Army, Santos traveled from South Carolina, to Virginia, and then to Germany. After a 15-month tour in Iraq, he went to Fort Sill, Oklahoma. In May of 2011, as a cavalry scout, he was assigned to the 5th Squadron, 7th Cavalry Regiment, 1st Armor Brigade Combat Team, 3rd Infantry Division, based out of Fort Stewart, Georgia.
After finishing his time in the military, Delflin planned to use the G.I. bill to become a psychologist and help his fellow servicemen who were returning home from duty with PTSD.
On April 6th, Santos was one of the soldiers accompanying a group of US officials and their Afghan counterparts who were on their way to donate books to a school in Qalat, the Zabul province's capital. Specialist Santos was one of three soldiers who died when the unit was attacked by a "vehicle-borne improvised explosive device". He was 24 years old.
Staff Sgt. Christopher M. Ward, of Oak Ridge, Tenn. and Spc. Wilbel A. Robles-Santa, of Juncos, Puerto Rico were also killed in the attack. Deflin M. Santos, Jr. is survived by two sisters and 13 half-siblings from his father's first marriage.
**********************
Helping our troops:
If you wish to assist our military and their families, consider contributing to Fisher House. Donating to Netroots for the Troops provides care packages that make a real difference in a military person's life. To assist the animal companions of our deployed military, information is available here. Also, you could visit:

When our veterans come back home, they need jobs. Look at the programs of Hire Heroes USA and Welcome Back Veterans to see if you can help out.
About the IGTNT series:
"I Got the News Today" is a diary series intended to honor, respect, and remember the fallen, and to remind us that each casualty has family and friends who received the terrible news that their loved one has died. US service members whose names have been released by the US Department of Defense will usually be diarized two days after the official announcement on the DoD website. This allows the IGTNT team to cover each person more fully, but still in a timely manner.Click the IGTNT tags below to see previous diaries in the series, which was begun by i dunno, and is maintained by Sandy on Signal, Monkeybiz, Noweasels, Blue Jersey Mom, Chacounne, Twilight Falling, Joyful, Roses, SisTwo, a girl in MI, Spam Nunn, JeNoCo, True Blue Majority, CalNM, Wide Awake in Kentucky, Maggiejean, JaxDem, TheFatLadySings & Ekaterin. These diaries are heartbreaking to write, but show our community's respect for those who have died.
Please bear in mind that these diaries are read by friends and family of the service members mentioned here. May all of our remembrances be full of compassion rather than politics.