The Pushing Back at the Grand Bargain blogathon grew out of the Social Security Defenders blogathon, March 25th thru the 29th. The starting point was an email between myself and joanneleon and Bruce Webb. I asked joanneleon if she was willing to do it all again, and she said yes. From there I created the group Pushing back at the Grand Bargain last Sunday, and we started recruiting writers. We just barely filled the schedule for Monday, but we pulled it off.
By Monday night we nearly had Wednesday squared away. We got word that petitions would be delivered to the White House Tuesday, and scrambled to get a live blog dairy up that included the Livestream, Lady Libertine did a great job managing that. On Wednesday Joanne covered the White House Budget press conference with a dairy that had the Livestream and eventually the transcript.
I would like to thank joanneleon and Lady Libertine for working so hard under the gun. We really threw this together in less than 36 hours. And without these 2 ladies dogged perseverance, long hours worked to meet deadlines, this blogathon doesn't happen.
There are a few dairies that stood out in my mind. I asked jamess to investigate the group Fix the Debt, their corporate and political connections. Fix the Debt is a major advocate of the Chained CPI, and this sort of background reporting is essential when looking to motivations. Jamess ran with the idea and flat out hit a home run.
Letsgetitdone wrote a superb Tour De Force taking a financial perspective, explaining in some depth how the falsehood of Debt is Important Issue... is fabricated. And how the Grand Bargain is just a single cog in a much larger whirring bit of machinery built by the corporate elite.
Tool revisited the original intentions of the 2 guys who wrote the Social Security law (Edwin Witte & Wilbur Cohen) and FDR, that Social Security should be one part of a two part plan. This is a solid policy dairy, if you haven't read it, please do so.

* [new] Right on Tool. (32+ / 0-)

Thanks brother.

Please sign the petition to pardon Gov. Don Siegelman.

by One Pissed Off Liberal on Wed Apr 10, 2013 at 06:03:16 PM EDT
Of course without writers, we'd have no content. Maybe I could have written 4 dairies per day, I am a bit prolific, but readers would have tired of my data geeky take.
I should also thank the blogathon elves who work into the wee hours, updating the schedule template, and adding links to all the dairies. This is important because it creates an archive of all the blogathon dairies, which I've included here:
Thanks to all those who gave Mojo, Rec'ed dairies and commented. I'll leave you with one last note, a graphic from the SSD Blogathon: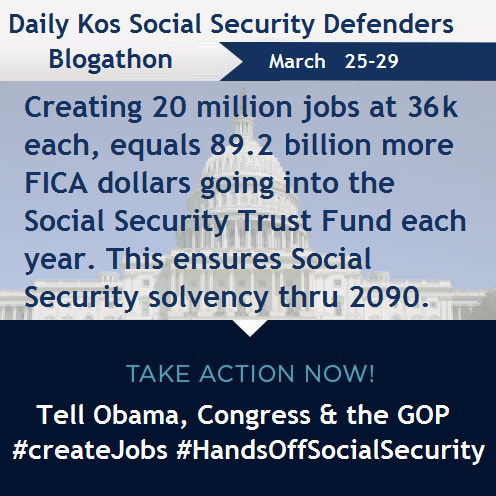 5:47 PM PT: Thanks to all who rec'ed these dairies, you kept this issue on the front page of DK for the nation to see. Together we changed the face of the blogosphere, and the discussion. And maybe kicked the Overton Window back a few inches.
Thanks again.
6:46 PM PT: Just to be clear, joaneleon and Lady Libertine did the vast majority of the work. They deserve the Lions Share of credit.