Overnight News Digest is a community feature on Daily Kos, consisting of news stories from around the world, sometimes coupled with a daily theme, original research or commentary. Editors of OND impart their own presentation styles and content choices, typically publishing each day near 12:00 AM Eastern Time.
OND Editors consist of founder Magnifico, regular editors jlms qkw, maggiejean, wader, Oke, rfall, and JML9999, alumni editors palantir, BentLiberal and ScottyUrb, guest editor annetteboardman, and current editor-in-chief Neon Vincent. We invited our readers to comment & share other news.
.
Tonight's featured stories are along the lines of "OMG -- We are all gonna die!!!!!" because I am in just that sort of mood. Perhaps it was inspired by my seeing an image of a New York City in flames, not in a modern film, but in a propaganda poster from World War I. I was looking at posters in our archives with the goal of putting together an exhibit of them for the centennial of the war. The image is by Joseph Pennell, and is strikingly modern and shockingly apocalyptic.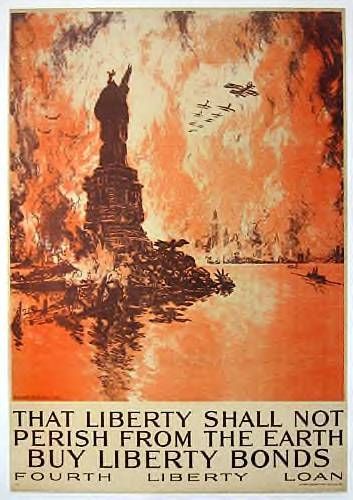 So here are some of the warnings of disaster from among the stories in our collection tonight:
1st Case of New Bird Flu Reported in Beijing
Jeanna Bryner, LiveScience Managing Editor
13 April 2013
A new bird flu virus that has taken 11 lives and infected 37 other individuals in eastern China has now been confirmed in Beijing where a 7-year-old girl was diagnosed Saturday (April 13) with the flu called H7N9, according to the Associated Press.
.
'Dark Lightning' Zaps Airline Passengers with Radiation
Charles Choi, LiveScience Contributor
10 April 2013
"Dark lightning" that is almost invisible within clouds may regularly blast airline passengers with large numbers of gamma rays, scientists find.
However, these outbursts do not seem to reach truly dangerous levels, researchers added.
More than a decade ago, researchers unexpectedly discovered thunderstorms could generate brief but powerful bursts of gamma rays, the highest-energy form of light. These so-called terrestrial gamma-ray flashes are so bright that they are able to blind sensors on satellites many hundreds of miles away.
.
But to end (start) with, here is a much MUCH cheerier topic:
Image Gallery: How Technology Reveals Hidden Art Treasures
Marc Lallanilla, Assistant Editor
Date: 12 April 2013
And more pretty art to look at before the world ends:
Ancient Roman Man Hidden Beneath Famous Painting at the Louvre
Apr. 10, 2013 — In the latest achievement in efforts to see what may lie underneath the surface of great works of art, scientists have described the first use of an imaging technology like that used in airport whole-body security scanners to detect the face of an ancient Roman man hidden below the surface of a wall painting in the Louvre Museum in Paris.
They described unveiling the image, which scientists and art historians say may be thousands of years old, during the 245th National Meeting & Exposition of the American Chemical Society.
.
More cool stuff below the folded orange goodness. Follow me below the croissant.
Astronomy
IAU Speaks Out Against Planet Naming Site Uwingu
April 12, 2013
Lee Rannals for redOrbit.com – Your Universe Online
A few months ago, a new space website opened up its doors for the public to start selecting the names of other planets. Now, the International Astronomical Union (IAU) has stepped up and pointed out this isn't exactly the protocol for the scientific process of naming cosmic bodies.
Over 800 planets have been detected outside the Solar System so far, and thousands more are still waiting to be confirmed. Recently, the website Uwingu launched, inviting the public to purchase nomination proposals for exoplanets, and the rights to vote for the suggested names. The site said the Uwingu Fund will receive the bulk of the proceeds, some of which will go to fund space exploration, research and education.
.
Mathematical method for simulating evolution of solar system improved
April 11, 2013 (Phys.org)
In order to improve a simulation designed to study the evolution of the solar system through time, numerical mathematical methods have been developed at the Computing Faculty of the University of the Basque Country (UPV/EHU). Specifically, the methods proposed enable the simulation calculations to be done faster and more accurately.
The methodology developed at the UPV/EHU's Computing Faculty is a clear example of interdisciplinarity and collaboration. Indeed, mathematicians, computer scientists, physicists and astronomers have been working together on this task, and even though a large proportion of the work was done at the UPV/EHU, the Universities of Valencia and Castellon and the Paris Observatory were also involved.
.
Herschel Observes Dust Belt around Kappa Coronae Borealis
Astronomers using ESA's Herschel Space Observatory have captured the first images of a dust belt orbiting a subgiant star known to host a planetary system.
"This is the first 'retired' star that we have found with a debris disc and one or more planets," said Dr Amy Bonsor of the Institute de Planétologie et d'Astrophysique de Grenoble, lead author of the study accepted for publication in the Monthly Notices of the Royal Astronomical Society (arXiv.org version).
After billions of years steadily burning hydrogen in their cores, stars like our Sun exhaust this central fuel reserve and start burning it in shells around the core. They swell to become subgiant stars, before later becoming red giants.
.
Black Hole Seen 'Eating' Planet Believed To Be Rogue 'Super-Jupiter' (VIDEO)
By: Mike Wall
Published: 04/09/2013 SPACE.com
In a cosmic first, astronomers have discovered a black hole chowing down on what may be a giant rogue planet.
The supermassive black hole didn't finish off its meal, which scientists say was either a huge Jupiter-like planet wandering freely through space or a brown dwarf, a strange object that's larger than a planet yet still too small to trigger the internal fusion reactions required to become a full-fledged star.
.
NASA spots change of seasons on Titan
Saturday, 13 April 2013
Written by Adam West
NASA recently released photos taken by the Cassini spacecraft with its wide-angle camera. These photos show what looks to be a vortex on one of the planet poles.
The combination of red, green and blue images don't give to many details in regards to what might be happening at the planet's South Pole but NASA was able to also detect an ice cloud by using infrared wave-lengths.
NASA thus concluded that the phenomenon is nothing more than a change of seasons. CIRS Co-Investigator at one of NASA's biggest space flight centers explained: "We associate this particular kind of ice cloud with winter weather on Titan, and this is the first time we have detected it anywhere but the North Pole"
.
Lemmon's green halo set to dazzle Northern Hemisphere
BY MARK ARMSTRONG
ASTRONOMY NOW
Posted: 10 April 2013
2013 is set to be the year of the comets with 2011 L4 (Pan-STARRS) having already made a decent appearance and set to remain a fading circumpolar object during the spring months into summer, and the very exciting prospect of 2012 S1 (ISON) later in the year. Muscling in on the show is comet 2012 F6 (Lemmon), originally thought likely to be a modest, run-of-the-mill comet on show first in the Southern Hemisphere, it has delighted comet enthusiasts there by becoming far more impressive and it's now set to wow north of the equator.
.
Hawaiian Officials Okay Plans To Build 30-Meter, $1.3 Billion Telescope Atop Mauna Kea
By Tamarra Kemsley
Apr 13, 2013 01:45 PM EDT
The Hawaii Board of Land and Natural Resources gave the green light for the $1.3 billion Thirty Meter Telescope (TMT) to be built atop the Big Island's Mauna Kea, according to Pacific Business News.
The decision came after the telescope's main sponsor, the University of Hawaii at Hilo, provided what the board said was satisfactory answers to all eight criteria that, under the state's laws, must be appeased in order to allow construction on conservation land.
.
Physics

Mysteriously shrinking proton puzzles physicists
By Stephanie Pappas, LiveScience
DENVER — The size of a proton, long thought to be well-understood, may remain a mystery for a while longer, according to physicists.
Speaking Saturday at the April meeting of the American Physical Society, researchers said they need more data to understand why new measurements of proton size don't match old ones.
"The discrepancy is rather severe," said Randolf Pohl, a scientist at the Max Planck Institute of Quantum Optics. The question, Pohl and his colleagues said, is whether the explanation is a boring one — someone messed up the measurements — or something that will generate new physics theories. [Wacky Physics: The Coolest Particles in Nature]
.

Archaeology
Humanity's Closest Ancestor Was Pigeon-Toed, Research Reveals
Charles Choi, LiveScience Contributor
Date: 11 April 2013
The most complete investigation of the anatomy of what may be the immediate ancestor of the human lineage is now shedding light on secrets about how it might have behaved, researchers say.
For instance, the human ancestors may have moved in an entirely new way, with a somewhat pigeon-toed gait with a twisty trunk, the researchers added.
.
Sea Of Galilee's Underwater Stone 'Monument' Puzzles Archaeologists In Israel
Posted: 04/10/2013
By: Owen Jarus, LiveScience Contributor
Published: 04/10/2013 on LiveScience
A giant "monumental" stone structure discovered beneath the waters of the Sea of Galilee in Israel has archaeologists puzzled as to its purpose and even how long ago it was built.
.
Egypt: Archaeologists uncover world's oldest port, hieroglyphic papyri
April 11, 17:20
Cairo, 11 April (AKI) - A team of archaeologists in Egypt has unearthed what is believed to be the world's most ancient harbour and precious hieroglyphic papyri dating to the third millennium BC, the government said on Thursday.
"The port of Wadi el-Jarf located on the Red Sea. 180 kilometres south of Suez dates to around 2,600 BC and the reign of King Khufu," Egypt's minister for antiquities Mohammed Ibrahim said in a statement.
Is is considered one of the most important ancient Egyptian ports because it was used to transport copper and other minerals from the Sinai peninsula, Ibrahim noted.
.
Art, bodies found in ancient caves
By GLEN HUMPHRIES (Illiwarra Mercury)
April 11, 2013
Archaeologists at the University of Wollongong will soon be collaborating on discoveries in a cave in Indonesia.
Professor Truman Simanjuntak from the Jakarta-based National Research and Development Center for Archaeology was at the university yesterday to address academics in the recently-established Centre for Archaeological Science (CAS).
.
Archaeologists on front lines of protecting ancient culture in turbulent regions
April 11, 2013
J. Mark Kenoyer stands on a windswept peak in Logar Province in eastern Afghanistan, his head wrapped in a traditional scarf against the harsh sun.
As he chats in a mixture of Urdu and Pashto with an Afghan archaeologist, it's easy to see why documentarian Brent Huffman wanted the University of Wisconsin-Madison professor of anthropology to appear in his upcoming film about Mes Aynak, a 2,600-year-old Buddhist monastery.
.
Archaeologists find 10,000 objects from Roman London
Discoveries include writing tablets, thousands of pieces of pottery and a large collection of phallus-shaped luck charms
Maev Kennedy
The Guardian, Tuesday 9 April 2013
Scores of archaeologists working in a waterlogged trench through the wettest summer and coldest winter in living memory have recovered more than 10,000 objects from Roman London, including writing tablets, amber, a well with ritual deposits of pewter, coins and cow skulls, thousands of pieces of pottery, a unique piece of padded and stitched leather – and the largest collection of lucky charms in the shape of phalluses ever found on a single site.
Sophie Jackson, of Museum of London Archaeology, said: "The waterlogged conditions left by the Walbrook stream have given us layer upon layer of Roman timber buildings, fences and yards, all beautifully preserved and containing amazing personal items, clothes and even documents – all of which will transform our understanding of the people of Roman London."
.
Injured veterans get rehab from Caerwent Roman dig
Sunday 7th April 2013 (South Wales Argus)
INJURED veterans from across the UK have been taking part in an award-winning rehabilitation project based in Gwent.
Soldiers and veterans injured on operations in Afghanistan are taking part in the groundbreaking project in Caerwent which uses archaeology to help their recovery.
The military personnel, supported by Defence Infrastructure Organisation (DIO) archaeologists, the Defence Archaeology Group and University of Leicester (UofL) have created an innovative programme to excavate a substantial Romano-British stone building on Caerwent Training Area.
.
Truth Behind Gospel of Judas Revealed in Ancient Inks
Stephanie Pappas, LiveScience Senior Writer
Date: 08 April 2013
A long-lost gospel that casts Judas as a co-conspirator of Jesus, rather than a betrayer, was ruled most likely authentic in 2006. Now, scientists reveal they couldn't have made the call without a series of far more mundane documents, including Ancient Egyptian marriage licenses and property contracts.
The Gospel of Judas is a fragmented Coptic (Egyptian)-language text that portrays Judas in a far more sympathetic light than did the gospels that made it into the Bible. In this version of the story, Judas turns Jesus over to the authorities for execution upon Jesus' request, as part of a plan to release his spirit from his body. In the accepted biblical version of the tale, Judas betrays Jesus for 30 pieces of silver.
.
Archaeologists hoping cricket pitch dig runs into fine catch of Roman relics
Wednesday, April 10, 2013
Derby Telegraph
By cjones@derbytelegraph.co.uk
Yesterday, archaeologists began an intensive dig to discover Roman remains in Chester Green. Chris Jones reports.
PERCHED on a carefully peeled-back roll of turf were several muddy bits of orange pottery which are some of the oldest objects in Derby – dating back 1,500 years at least.
.
The River Thames, A Not-So-Secret Treasure Trove
by Christopher Werth
April 04, 2013 2:01 PM
In the United Kingdom, British archaeologists have made a number of significant discoveries as of late, from the battered remains of King Richard III — found — to, more recently, a for plague victims in London.
British soil is, in fact, full of traces of the past. And in London, one has to look no farther than the banks of the Thames, the river that runs through the heart of the British capital.
.
Northampton Castle dig reveals Saxon past
The site of the medieval Northampton castle Various historical artefacts have been found during the archaeological dig at the Northampton station site
A "rare" Saxon brooch, a medieval harness, pottery and animal bones are among items found by archaeologists at Northampton's medieval castle site.
A survey of the land is taking place ahead of work to build a new £20m railway station in the town.
Tim Upson-Smith, from Northamptonshire Archaeology, said the team had discovered elements of the site's Victorian, medieval and Saxon past.
He said he hoped the finds could be displayed in the new station.
.
Study debunks lead poisoning theory in Franklin mystery
Research suggests lead did not come from tin cans
The Canadian Press
Apr 8, 2013
A long-standing Arctic mystery has become even more baffling with research that appears to debunk a common theory about the demise of the Franklin expedition.
Chemists at the University of Western Ontario used an array of the latest analytic techniques to conclude that poorly made cans of food were not responsible for the lead that poisoned the officers and crew of the doomed 19th-century voyage to explore the Arctic.
"We'll probably never know what happened to the crew of the Franklin [expedition], so it will remain one of the great mysteries of Canadian history," said Prof. Ron Martin.
"Our resources fail to support the hypothesis that the lead in the bones came from tins, and I certainly believe it didn't."
.
Grave Robbers and War Steal Syria's History
Bryan Denton for The New York Times
Published: April 6, 2013
TELL MARDIKH, Syria — Ali Shibleh crawled through a two-foot-high tunnel until reaching a slightly larger subterranean space. He swung his flashlight's beam into the dark.
A fighter opposed to President Bashar al-Assad, Mr. Shibleh was roaming beneath Ebla, an ancient ruin that for several decades has been one of Syria's most carefully studied and publicly celebrated archaeological sites. He had just made another of his many finds: he lifted something resembling a dried stick, then squeezed it between his fingers and thumb.
It broke with a powdery snap. "This is human bone," he said.
.

Climate and Environment
Clamshells Reveal Secrets of Pre-Columbian Society's Decline
Changes in the environment likely made life too difficult for Peru's Moche.
Apr 4 2013
By: Joel N. Shurkin, ISNS Contributor
(ISNS) -- Dramatic changes in the ocean's environment could be one of the reasons why the Moche, an early pre-Columbian civilization in Peru, fell apart over 1000 years ago.
Upwelling of cold, deep water diminished because of changes in El Niño in the Pacific, and interrelated climate changes upset the life of the Moche (pronounced Mo-CHAY) in ways that undermined their social structure and life so badly that within a few generations, their society collapsed.
The history of that social catastrophe is told in clamshells, which reveal the local climate much like tree rings can.
.
British global warming scientist killed in cycling accident
Dr Katharine Giles, 35, an expert in global warming at UCL in London, died after colliding with a lorry on her way to work
Press Association
The Guardian, Wednesday 10 April 2013
A scientist who has done pioneering work on global warming has been killed in a road accident, it has emerged.
Dr Katharine Giles, who worked at University College London (UCL), was involved in a collision with a lorry while cycling to work on Monday.
The 35-year-old had carried out important research relating to the Arctic and Antarctic.
Her death comes just three months after a senior colleague, Prof Seymour Laxon, 49, died in a fall, hitting his head and suffering a brain haemorrhage.
.
Dirty Water: Can US Clean Up Its Act?
Trip Van Noppen, Earthjustice
11 April 2013
Trip Van Noppen is president of Earthjustice, a nonprofit, public-interest law organization dedicated to environmental protection. Van Noppen contributed this article to LiveScience's Expert Voices: Op-Ed & Insights.
More than half of our nation's waterways are in "poor condition."
So said the "National Rivers and Streams Assessment", a recent report from the Environmental Protection Agency (EPA).
As the weather warms and minds turn to spring and summer recreation, waterways in poor condition affect you directly. If you are planning to swim, fish, or boat in a local body of water, that statistic affects you. If your expectation is only to drink clean, safe water, that statistic affects you.
The extent of pollution and degradation in our waterways is alarming. Two decades ago, the EPA found that 36 percent of the waterways they monitored were in poor condition. Because the EPA only assessed a small number of waterways at that time, the actual percentage of pollution-impaired waters may have been greater.
.
Geology
Ants Lead the Way on Earthquake Prediction
Becky Oskin, OurAmazingPlanet Staff Writer
11 April 2013
Ants with the world's worst taste in real estate seem to sense earthquakes before they strike, according to research presented today (April 11) at the European Geosciences Union annual meeting in Vienna.
Active faults, fractures where the Earth violently ruptures in earthquakes, are the preferred housing site for red wood ants in Germany. Researcher Gabriele Berberich of the University Duisburg-Essen in Germany has counted more than 15,000 red wood ant mounds lined up along Germany's faults, like candy drops on a conveyor belt.
.
Old Faithful's Underground Cavern Discovered
OurAmazingPlanet Staff Writer
Date: 12 April 2013
Old Faithful's underground plumbing looks more like a bagpipe than a flute, a new study of the Yellowstone National Park geyser finds.
A big chamber sits about 50 feet (15 meters) underground, located southwest of Old Faithful, researchers report in a study published online March 30 in the journal Geophysical Research Letters. The exact size can't be determined, but they estimate the egg-shaped void is at least 50 feet (15 m) tall and 60 feet (18 m) wide. The cavern connects to a pipe angled about 24 degrees that feeds Old Faithful's maw.
.
Animals
Historic Marine Mammal Protection Act Worked, Scientists Say
Megan Gannon, News Editor
12 April 2013
In the fall of 1972, then-President Richard Nixon signed the Marine Mammal Protection Act, providing sweeping protections for whales, dolphins, seals and other species swimming in U.S. waters whose populations had dwindled due to commercial fishing and accidental killing.
The law invigorated conservation efforts and prohibited hunting, killing, capturing and even harassing marine mammals (which we're reminded of when beachgoers in Florida get caught riding manatees or sickly sperm whales.)
.
Why Do Earthworms Surface After Rain?
Accuweather.com
12 April 2013
Earthworms laying on sidewalks or streets after a heavy spring rain has become commonplace, but why do they do this ... and could they be a travel hazard?
Researchers hypothesize several reasons why heavy rain storms bring crawlers out of their soil homes.
For years scientists seemed to think the only reason earthworms came to the soil surface after a good rain was to prevent drowning in their water-filled burrows.
"This is not true as earthworms breathe through their skins and actually require moisture in the soil to do so," said Dr. Chris Lowe, Lecturer in Waste and Environmental Management, University of Central Lancashire in Preston, United Kingdom.
Earthworms are unable to drown like a human would, and they can even survive several days fully submerged in water.
.
Secret Population of Orangutans Found
by LiveScience Staff
10 April 2013
A population of 200 of the world's rarest orangutans was found tucked away in the forests of the island of Borneo, according to the Wildlife Conservation Society (WCS).
All subspecies of Bornean orangutans are listed as endangered by the International Union for Conservation of Nature. But scientists estimate just 3,000 to 4,500 individuals are left in the subspecies known as Pongo pygmaeus pygmaeus, making them the most severely threatened.
.
Anatomy and Health
Study Tracks Science of Penis Preference
Scientists say women's preferences played role in evolution.
A muscular man lifts his arms.
Christine Dell'Amore
National Geographic News
Published April 8, 2013
Bigger is better—at least when it comes to a woman's penis preferences, a new study says. The findings suggest that female choice may have driven the evolution of larger penises in humans.
Past psychology studies that have asked women about their preferences for penis size have produced mixed opinions, with some saying they don't care about the size, while others say they prefer larger penises. (Also see "Why Human Penises Lost Their Spines.")
But those women may have felt pressured to say the politically correct thing: That size doesn't matter, said study leader Brian Mautz, a biologist at the University of Ottawa, Canada.
.
In addition to the penis story, there are more interesting items here:
Weird Science retracts its penis to keep everyone guessing
And, scientific achievement goes hand-in-hand with beer consumption. Duh.
by John Timmer - Apr 13 2013, 3:30pm CDT
Ever wonder about the consequences of your penis not being retractable? Wonder no more. Fortunately, a team of Australian researchers are willing to lay it out for us: "Before clothing, the nonretractable human penis would have been conspicuous to potential mates." Since clothing is a relatively recent development, there's a chance that its conspicuousness made a mark on human evolution, either in terms of male anatomy or in terms of female tastes. The authors grabbed a database from a study of the Italian male population and used it to make computer-generated male bodies. They showed them to a mixture of university students, campus staff, and random volunteers they recruited.
.
Game Theory Tackles Rising Health Care Costs
Joel N. Shurkin, ISNS Contributor
Date: 12 April 2013
(ISNS) -- A new army is marching into the war against rising health care costs: engineer-mathematicians.
These individuals occupy a field called operations research, also known as advanced analytics. A subset is game theory, a way of modeling complex human behaviors and decision-making to produce the best outcomes. Applied to health care, the work includes scheduling operating rooms, setting fees, training technicians and deciding where to build hospitals.
.
Brain's music pleasure zone identified
The most popular songs elicit the strongest response in the nucleus accumbens – the brain's reward centre – say scientists
Alok Jha, science correspondent
The Guardian, Thursday 11 April 2013
Scientists know that music can give intense pleasure by delivering chemical rewards in the brain that are equal to the joy of good food or even sex, but now they think they may have identified the part of the brain where this pleasure starts.
Researchers scanned the brains of subjects while they listened to new songs and asked how much they would spend on buying the tracks. They found that the most popular songs - those which people were prepared to pay more for - were also the ones that elicited the strongest response in the nucleus accumbens, a structure in the centre of the brain that is involved in reward processing.
"This area is important because it's involved in forming expectations and these are expectations that could be rewarding," said Valorie Salimpoor of McGill University in Montreal, Canada. "What makes music so emotionally powerful is the creation of expectation. Activity in the nucleus accumbens normally would indicate that expectations are being met or surpassed."
.
'Patent medicines' study X-rays old-time remedies
By Jason Palmer Science and technology reporter, BBC News, New Orleans
The long-lost secrets of "patent medicines" - products that claimed health benefits in the era prior to regulation - are being revealed.
Scientists reporting at the American Chemical Society meeting have examined the contents of dozens of century-old remedies held at a US museum.
Some contained high levels of "helpful" elements such as iron or calcium, while others contained arsenic or mercury.
The exact recipes are still to be determined by the ongoing project.
.
Science Education:
Why does social science have such a hard job explaining itself?
Contrary to US Senate rulings, we need more and better funded social science, not less, says Ziyad Marar – without discussing how it differs from natural science, it remains easy to relegate
So it has finally happened. After years of failed attempts by senators Tom Coburn and Jeff Flake to defund political science from the US National Science Foundation (NSF) budget, March's breakthrough 'voice vote' gave them most of what they wanted.
The amendment passed was designed "to prohibit the use of funds to carry out the functions of the Political Science Program in the Division of Social and Economic Sciences … of the National Science Foundation, except for research projects that the Director of the National Science Foundation certifies as promoting national security or the economic interests of the United States".
.
Law and Public Policy:
Suzuki: Muzzling scientists an assault on democracy
David Suzuki
Access to information is a foundation of democracy.
Canada's Charter of Rights and Freedoms also gives us "freedom of thought, belief, opinion and expression, including freedom of the press and other media of communication."
We must protect these rights. As we alter the chemical, physical and biological properties of the biosphere, we face an increasingly uncertain future, and the best information we have to guide us comes from science. That scientists --and even librarians --are speaking out against what appear to be increasing efforts to suppress information shows we have cause for concern. The situation has become so alarming that Canada's Information Commissioner is investigating seven government departments in response to a complaint that they're "muzzling" scientists.
.
Auction of Hopi Masks Proceeds After Judge's Ruling
By TOM MASHBERG
A contested auction of sacred Hopi Indian artifacts went forward on Friday in Paris and generated more than $1 million in sales, despite the presence of protesters inside and outside the auction house who urged patrons not to take part.
One featured item, a headdress known as the Crow Mother, drew intense interest. Bidding on this 1880s artifact, which had a high estimate of $80,000, soared to $210,000, drawing applause from a crowd of some 200 people in the sales room and protest from a woman who stood up and shouted: "Don't purchase that. It is a sacred being."