How much more gun violence will this nation tolerate?
And now THIS . . .

A Port Canaveral police sergeant was fired Friday after an internal investigation showed he offered other officers a target resembling Trayvon Martin to use for shooting practice.

Sgt. Ron King, a firearms instructor and two-year veteran of the force, offered the target of a hoodie-wearing figure at the range near Cocoa during the first week of April, Rosalind Harvey, a port spokeswoman, said Saturday.

The other officers, who were on duty, refused, officials said.
Orlando Sentinel
Well, thank goodness those officers refused. And thank goodness that sergeant was fired. But what was he thinking in the first place?
And why on earth is there is a target like this on the market?

The Trayvon target, which features a bull's eye over his heart, a package of Skittles in his pocket and a beverage can in his right hand, is sold online.
Orlando Sentinel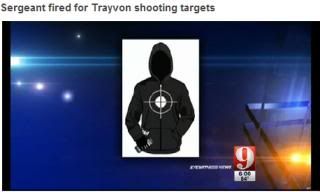 People are marketing a TARGET featuring the silhouette of a murdered teenager? And other people are buying it?

"It is absolutely reprehensible that a high-ranking member of the Port Canaveral Police, sworn to protect and serve Floridians, would use the image of a dead child as target practice," said Benjamin Crump, an attorney for Trayvon Martin's parents. "Such a deliberate and depraved indifference to this grieving family is unacceptable. The citizens of Port Canaveral deserve better."
USA Today
Reprehensible is too mild a word for it.
Unless, of course, one is at Free Republic, where the miasmatic hatred has already begun to ooze:

What's the problem here?
Seems right to shoot at thugs.
Here's hoping the guy can get his job back over this BS charge.
For those that can't see it, target is a hoodie with no face holding Skittles and an Arizona Iced Tea.
Who's selling them? I could use a few. Always cared about st. trayvon the martyr.
This is simply sickening.
My prayers tonight for all parents of children murdered with guns. And my prayers that we may finally put an end to all of this with better gun safety laws.