Many here, and not only seniors, are angry about Chained CPI. According to one poster on DailyKos this morning commented:

Based on the ANGRY callers I'm dealing with at Social Security's 800 number, Obama is going to get a very rude wakeup call on November 5th 2014 when the Republicans get the Senate and gain a bunch of seats in the House.I haven't heard so much anger directed at a President since the Catastrophic Care fiasco. And this is dwarfing the Teabaggers opposition to Obamacare. The anger is non-stop and it's really at a toxic level. Caller after caller goes into overdrive with racial slurs and profanity aimed at Obama and the Democrats.

Me? Lets just say I have no love left in my heart for a man who froze my pay for the past three years, cut my pension by 13% by eliminating locality pay from my Civil Service pension calculation, and now wanting to increase the amount thaen out of my paycheck to pay for my pension from 7 to 12%.
This is annectodal and surely the poster highlights the worst of what he's hearing.
I also read that AARP has a survey showing that majority of seniors polled are opposed to the Chained CPI

AARP Home » Politics » Government & Elections »Older Voters Oppose Sw...
Older Voters Oppose Switch to Chained CPISurvey shows overwhelming majority wants Social Security 'off the table' in budget talks
and as Joan showed on the FP this morning they don't just get mad they get even.
Lets put the rabbits on the run!
Thanks to Joan for reminding me of the power of seniors.
My anger at Obama and the corpadems has been eating away at me since the tax deal and the sequester. Got to channel that into action.
After reading numerous explanations of how Chained CPI could become law even though some are saying it could never happen (heh. See sequester) have been looking for some ways to push back.
What are your favorite ways of pushing back against the Chained CPI budget fail?
Please share them in the comments below.

Some AARP Tools / Graphics
I 'like' this Facebook post :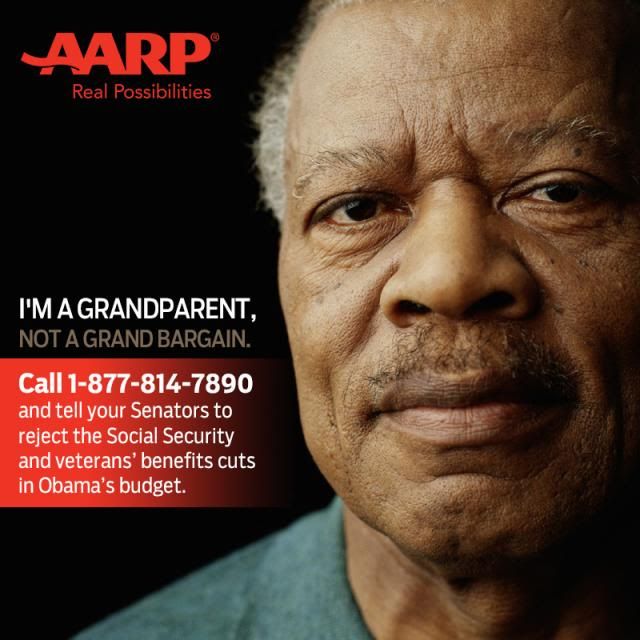 http://blog.aarp.org/... HT to Jim P for this find.
###
Paste it on your Facebook newstream?
No do Facebook? Understand.
Let your fingers do the walking and call your Senators!
Here's an ad to inform Vets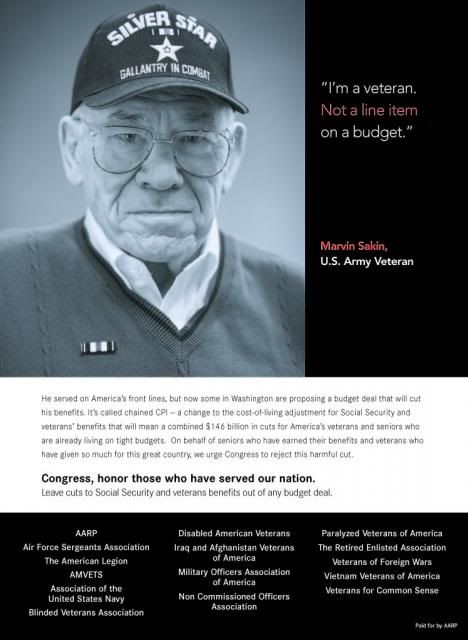 Let's do this, stop this fail. Senators can, and should, get the Pres to walk this back.
For the sake of our party. Today, in The Nation
Obama's Chained-CPI Social Security Cut is Smart Politics... For the GOP
For the sake of seniors, their kids and grandkids who will be paying the price in suffering with these cuts.
Even many recent college grads forced to live at home will be VERY aware of the meaning of these cuts if we don't stop them.
11:53 AM PT: I put it in the comments, but include it here as well. In addition to Senators, kos has a good idea about letting the Dem leadership know as well
Sign the petition telling Democratic Party committees to stop supporting chained CPI and other cuts to Social Security. http://campaigns.dailykos.com/...