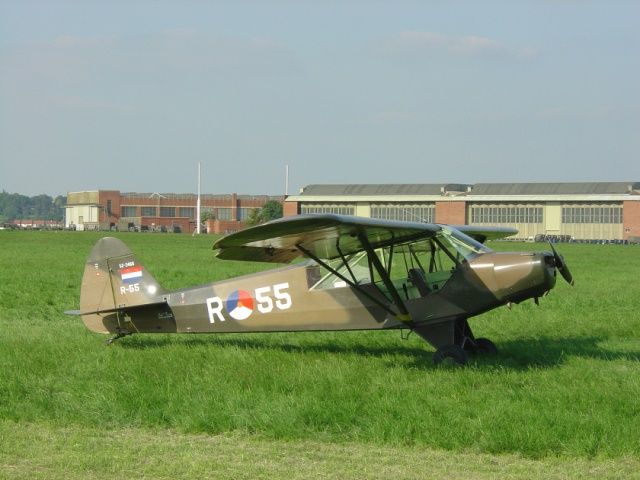 The Piper Aircraft Corporation had, during World War Two, made an outstanding contribution to the Allied war effort by producing their standard J3 two-seat Cub for the Civil Pilot Training Program, and the L-4 / O-59 / NE versions for the US Army and Navy. The military L-4, sometimes called a 'Grasshopper', was seen over every front on observation work, air ambulance duties and even on one or two occasions as a 'light strike' weapon, carrying multiple bazooka tubes lashed under its wings!
After the war, it was found that the only way of replacing a Cub was with another Cub. Developments by Piper gave rise to a new military version of the PA-18 Super Cub, the L-18C. With a lower thrust-line to the Continental Motors Corporation C90-12F (rated at 95hp), and side windows extending beyond the trailing edge of the wing, this was a more capable Cub. Over 830 aircraft were built by Piper, and the type was selected to be supplied to NATO armed forces which were just starting to be rebuilt after WW2. Here we see '52-2466′, built in 1952, and supplied to the Royal Netherlands Air Force (Koninklijke Luchtmacht) at the Great Vintage Flying Weekend, Buckley Barracks, Abingdon. When 'demobilized' from the RNAF, the aircraft was bought and placed on the German register as D-ENWI. The L-18C is coded 'R-55′, but the civilian registration is G-BLMI, and it is owned by the 'G-BLMI Flying Group'.
NATO had received these L-18s under the Mutual Aid Defence Program, a US-funded and directed effort to ensure that the countries of Western Europe, many of which had suffered extreme economic damage due to WW2, could be made strong enough to resist a perceived threat from the Warsaw Pact forces. In a way, therefore, 'R-55′ is a small piece of Cold War history.