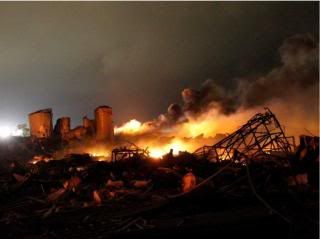 After having heard the explosion, they ran into the fire to help get people out. Ran in to the fire. The streets of heaven are too crowded with angels tonight.
~
Twenty Hours in America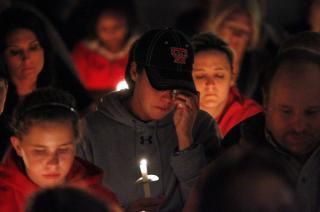 Morris Bridges, 41. Fire sprinkler technician for Action Fire Pros. Member of West Volunteer Fire Department.


A fearless firefighter and dedicated family man, Bridges, 41, wasn't always as focused as he had been in recent years. He bounced around a lot for a while. He lived in Pleasant Grove, Mesquite, Sunnyvale, Sulphur Springs, Greenville and finally West.

He tried on several careers: house-building, massage therapy, nursing, electrician's helper.

Not until he got to West three years ago did he settle into a good job as a sprinkler fitter at Action Fire Pros, a commercial fire protection company in Waxahachie, said Daryl Barber, his friend of 21 years and co-worker.

For Bridges, the tight-knit community was also the perfect place to raise his 18-year-old son, Brent; his 17-year-old daughter; Brittany; and his baby boy, 2-year-old Jaimeson. This is also where he started his life with his wife, Carmen; the couple rekindled an old relationship at the pair's 20th Bruceville High reunion in 2010.
Two months later, they were married and headed to West.

(snip)

With strawberry blond hair blowing in the afternoon breeze, Carmen Bridges remembered the last time she saw her husband.
They were playing with the baby outside their house — which she has not been allowed to see since the blast — when Bridges got a call about the fire at the fertilizer plant.

Bridges gave his baby one last twirl, kissed him and said, "Daddy loves you. I'll be right back."

"That's the last time we saw him," she said.
Source
Perry Calvin, 37. Student at Hill College Fire Academy. Member of Mertens and Navarro Mills volunteer fire departments.


Calvin is a resident of Emmett, and is married to Becky Calvin. They have two sons, aged 5 and 9, and another child due around Thanksgiving. He did not have any life insurance.

Calvin worked as a rancher, carpenter, welder and mechanic, but was in training to become an Emergency Medical Technician, which is why he was training with the West Ambulance service. It was also why he and his partner were called upon when the fire began.

"He was at EMT class at West last night," explained Perry's father, Phil Calvin. "He and another boy responded to the fire alarm for West fire department and they got at the fire scene before the explosion. They were both right there at the explosion site."
Source
Perry Calvin leaves behind two young sons, 5 and 9, and a wife who found out a few weeks ago that she is due around Thanksgiving.

"He was going to be in the middle of everything," Phil Calvin said. "He was going to be the last one on the hose."
Source
Jerry Chapman, 26. Worked as a server. Member of Abbott Volunteer Fire Department.


At the Black-eyed Pea off Interstate 35, the servers looked stricken and sad as they worked through Friday's lunch rush without Chapman, a Hillsboro resident who had served in the nearby Abbott Volunteer Fire Department and was taking an EMT class in West.

Chapman's life ended between two milestones: He had turned 26 earlier this month, and he was a week away from taking his final EMT exam, friends said.

He had worked at an ice cream shop, a convenience store and Wal-Mart over the years, but he found a kind of second home at the restaurant where he worked on and off for six years, said General Manager Fatima Creamer. The staff is like a family, she said, and Chapman was the guy they all knew they could count on in a crisis.

"If you were stranded, you could call him at 2 in the morning, and he'd jump in his truck and come get you," she said.
Source
Cody Dragoo, 50. Foreman at West Fertilizer Co. Member of West Volunteer Fire Department.


He worked at the fertilizer plant for 17 years and was a volunteer fire fighter and first responder for 15.

Cody Dragoo, of Laurel, is confirmed to be among those killed in the fertilizer plant explosion on Wednesday.

Dragoo was in the plant when it exploded. He was 50.

The Laurel High School graduate moved to Texas in 1994 and married his wife Patty Mynar three years later.
Source
Kenny Harris, 52. Dallas city fire captain.


Capt. Kenny Harris, who lives in West, served as a firefighter at Station 30 in Dallas. Harris was not a volunteer firefighter for West but responded when he heard news of the fire that broke out Wednesday night at the plant, the statement read. Harris, 52, was a father of three grown sons.

"Captain Harris rushed to the scene compelled to provide assistance to his community during this crisis," said Mayor Mike Rawlings. "I want to express my deepest condolences to his family, friends and co-workers."
Source
Joey Pustejovsky. West City Secretary. Member of West Volunteer Fire Department.


Joey Pustejovsky, the popular city secretary for West and a member of the town's volunteer fire department.

"He was there doing his job, and he put his life in harm's way to protect the people that he needed to protect," said his brother-in-law, David Sebesta.

Pustejovsky's wife, Kelly, was driving past the town's American football field not far from the fertiliser company when the blast rocked her car.

David said: "It basically busted the airbags in her car. She had his son and her oldest with her. It was a pretty catastrophic event."
Source
"Joey was a very good person," said Bernice Pustejovsky, 82, a relative who was injured at her home near the plant. "He had a lot of friends. Anytime the fire bell went off, he was there. What else can you say that is any better than that? He was always there helping."
Source
Cyrus A. Reed, 29. Worked at Waxahachie plant. Member of Abbott Volunteer Fire Department.



"I've known him since 2007, and he was a firefighter when I met him," said Haley Watkins. "He loved firefighting with a passion."

He worked as an engineering mechanic for Titan Specialties Ltd. in Milford, north of Hillsboro.

Reed graduated from Alief Elsik High School near Houston in 2003.

It was no surprise to his friends that the man died trying to help people.

"Anyone who needed him, Cyrus was there," Watkins said.
Source
Robert Snokhous, 48. Central Texas Iron Works employee, West volunteer firefighter.
Doug Snokhous, 50. Central Texas Iron Works employee, West volunteer firefighter.


The two brothers were volunteer firefighters in West and had responded when the call on the fire came in.

Marqee Snokhous, the daughter of Robert Snokhous, said her father and uncle had been volunteering with the fire department since she was a young girl.

"They love doing this," said Snokhous, 23. "They love to go and help somebody. They were always one of the first ones there... It's something they put their heart into."

(snip)

Both were longtime West residents and employees at Central Texas Iron Works in Waco.

The company's president, David Harwell, said Doug had worked at CTIW for 31 years and Robert for 20. He said both men served as members on the emergency response team at the company.

"They were both amazing professionals at their respective responsibilities and not only long time employees but friends to everyone here at CTIW," Harwell said in an email.

"... Men of their caliber are certainly admired for always maintaining a high level of commitment to their jobs as well as helping others and we will dearly miss both of them on a daily basis as members of the CTIW family. Our deepest sympathies go out to all the members of their family as well as the entire community of West."
Source
Firefighters Robert and Doug Snokhous were second cousins of Raymond Snokhouse, the Czech honorary consul for Texas. Burly individuals, they became known as the chief "jaws of life" operators on the squad, and they were always racing to accidents and fires to get there first.

"They were always together in life, and they left this life together," says Mr. Snokhouse, who was accompanied to West on Friday by the Czech ambassador to the United States, Petr Gandalovič. He struck a resolute note, too: "We are survivors who came here to this country, and this is life. It's not what happens to us, but how we handle it. We will overcome this."
Source
Buck Uptmor, 45, Owner of fencing company. Lived near West. Ran to help trapped horses.


Buck Uptmor was the owner of Uptmor Welding and Fencing in Abbott.

Uptmor, who was not a volunteer firefighter, was trying to round-up horses near the fertilizer plant and get them away from the fire.

"He got there just when it just started," said Bill McKown, a former superintendent with the Abbott school district.

Uptmor was married and had four children, said James Miller, a volunteer firefighter. He said Uptmor used to work for his construction company.
Source
Family members said Buck Uptmor, who lived in nearby Abbott, died while helping herd horses away from the burning plant.

(snip)

"He was a little short, feisty fellow, but you couldn't help but like him," said Ernest Uptmore, a distant relative. "He was a cowboy at heart."

Uptmor graduated from West High School and was the drummer in a family band, Billy Uptmor and the Makers.

The former rodeo cowboy coached youth baseball and was on the board of the West Fair and Rodeo Association. Friends said he had a magnetic personality.

"You could almost pick up a phone and look in the West phonebook and literally pick a number, and they would know him," said Shelly Moore, a family friend.

Uptmor is survived by a wife, daughter and two sons.
Source
___

From the Comments:

The National Fallen Firefighters Foundation has set up a fund for the families of these brave men, all of whom were volunteers. h/t Dallas L