In this weekly series we have been discussing the benefits of a vegetarian/vegan diet including: better health, animal rights, food safety , frugal living, global food crisis, public health and the staggeringly huge contribution of meat/livestock production to climate change/resource depletion.(pdf)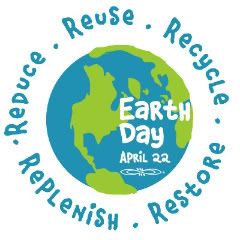 Earth Day is a day that is intended to inspire awareness and appreciation for the Earth's natural environment. Earth Day was founded by United States Senator Gaylord Nelson as an environmental teach-in first held on April 22, 1970.
I am convinced that all we need to do to bring an overwhelming insistence of the new generation that we stem the tide of environmental disaster is to present the facts clearly and dramatically. To marshal such an effort, I am proposing a national teach-in on the crisis of the environment to be held next spring on every university campus across the Nation. The crisis is so imminent, in my opinion, that every university should set aside 1 day in the school year-the same day across the Nation-for the teach-in.[8]
Earth Day worked because of the spontaneous response at the grassroots level. We had neither the time nor resources to organize 20 million demonstrators and the thousands of schools and local communities that participated. That was the remarkable thing about Earth Day. It organized itself.[18]
Fast forward forty-three years to today and the challenges have increased. We are now dealing with a limited time frame to solve
the most crucial environmental challenge in our planet's history, that of Climate Change.
. We have lost
precious time
and are needed to try to
influence policy changes
but we are also needing to make the changes that must be made in our own carbon intensive lives. We are fortunate in that the simple decision of
what to eat
that we make everyday can have tremendous consequences to our environment and can be part of the solution to
mitigating the worst effects of climate change
. The
Environmental Working Group
estimates that if everyone in the United States cut out meat one day a week, the greenhouse gas emissions reductions would be like cutting out 91 billion miles of driving.
This Earth Day, remember: Helping protect the environment starts at breakfast, lunch, and dinner!
Macca's Meatless Monday/Meatless Advocates is a solution oriented activist group, with solutions for some of the most pressing issues of our time including: climate change, global food/water insecurity and public health. Here we don't just talk about the severity of the crisis. Armed with knowledge about how our actions can contribute we become part of the solution.
I was inspired to create this series by former Beatle and vegetarian advocate Paul McCartney(Macca) who partnered with the Meatless Monday campaign to promote less consumption of meat. We not only discuss the advantages of a less meat diet we also do some cooking, share recipes and listen to great Beatle music!
Did you know that about 40% of food grown in US goes to waste? It's thrown away. It's a travesty in this age of national and global food insecurity and climate change. Today I will share some recipes that can help you to utilize the leftovers in your fridge. They're healthy, economical and delish!


WEEKNIGHT CURRY
Feel free to change out the veggies with any you have on hand. Green Beans are great sub. for asparagus and yellow squash can be added or subbed. In my area zucchini, green beans and yellow squash are in season and locally available so makes this dish an affordable, locally grown, Earth friendly meal. Adapted from Heidi Swanson
1 1/2 tsp extra-virgin coconut oil or vegetable oil
1 yellow onion, chopped
fine grain sea salt
2 zucchini, cut into 1/2-inch/1cm piece
2 ts red Thai curry paste
2/3 cup coconut milk (lite okay)
8 oz/225 gr firm tofu, cut into 1/2-inch/1 cm cubes
2 cups/8oz/225gr cauliflower (table.etc: i used broccoli florets here)
12 asparagus spears, trimmed and cut into 1-inch/2.5 cm pieces
1/2 cup/120ml vegetable broth or water
1. Heat the coconut oil in a large pot over medium heat. Stir in the onion and a big pinch of salt. Saute' until the onion starts to become translucent at the edges, a couple of minutes. Stir in the zucchini and cook for 1 minutes more.
2. In the meantime, in a small bowl, mash the curry paste with a few tbs of the coconut milk. Add this to the pot and stir until the onion and zucchini are well coated. Stir in the remaining coconut milk. Bring it to a simmer, then add the tofu to heat through and the asparagus and cauliflower to lose its raw edge, a couple minutes. Uncover and add the broth. Stir and taste. Salt appropriately. Serve over brown rice if desired.


JAMBALAYA
Take a look at all the veggies in this jambalaya! Swap out whatever you have on hand and enjoy! Serves about 12 and a great company dish but may half if you like or just have some leftovers.
1/2 cup olive oil
2 cups diced yellow onions
1 cup died red onions
1 cup diced bell peppers
1 cup diced celery
2 cups diced eggplant
1 cup diced yellow squash
1 cup diced Italian squash or zucchini
1 tbsp minced garlic
2 tbsp minced shallots
3 cups chopped tomatoes or 24 oz canned diced tomatoes
1/2 tsp cayenne pepper
2 tbsp creole seasoning (no salt)
1/2 tsp dried thyme
3 dried bay leaves
4 cups long grain rice rinsed
1 cup tomato paste
8 cups vegetable stock
Heat tomato paste in a sauce pan over medium heat stirring constantly until it changes to a dark rich red color. Add a little bit of the vegetable stock to deglaze and mix with the rest of the stock until blended. Set aside.
Heat oil in a LARGE (this makes 12 servings and remember, rice expands) pot over medium heat. Add onions, shallots, bell peppers, and garlic. Saute until tender and onions are transparent. Add eggplant, squash and thyme. Cook for 5 minutes or until veggies are tender. Add creole seasoning, bay leaves, and rice. Mix thoroughly and let it cook for another 5 minutes. Add stock, cover and cook for 35 minutes.
This is important. Never lift the lid while it's cooking. Set a timer. Once it's ready, immediately remove from heat and let it sit for another 20 minutes. There will still be a lot of liquid left so letting it cook in its own steam will make wonderfully fluffy rice.
Add salt and pepper to taste and enjoy it with a really cold glass of BEER!
BEST CREOLE RED BEANS
Terrific with the jambalaya above. One of my best bean recipes ever.
1 pound red kidney beans, dry
1 large onion, chopped
1 bell pepper, chopped
5 ribs celery, chopped
As much garlic as you like, minced (I like lots, 4 or 5 cloves)
1/2 to 1 tsp. dried thyme leaves, crushed
1 or 2 bay leaves
As many dashes Crystal hot sauce or Tabasco as you like, to taste
A few dashes Worcestershire sauce (or use vegan Worcestershire like Annie's brand)
Creole seasoning blend, to taste; OR,
red pepper and black pepper to taste
Salt to taste
Soak the beans overnight, if possible. The next day, drain and put fresh water in the pot. Bring the beans to a rolling boil. Make sure the beans are always covered by water, or they will discolor and get hard. Boil the beans for about 45 - 60 minutes, until the beans are tender but not falling apart. Drain.
While the beans are boiling, sauté the Trinity (onions, celery, bell pepper) until the onions turn translucent. Add the garlic and saute for 2 more minutes, stirring occasionally. After the beans are boiled and drained, add the sautéed vegetables to the beans, seasonings, and just enough water to cover.
Bring to a boil, then reduce heat to a low simmer. Cook for 2 hours at least, preferably 3, until the whole thing gets nice and creamy. Adjust seasonings as you go along. Stir occasionally, making sure that it doesn't burn and/or stick to the bottom of the pot. If it's still not getting creamy, take 1 or 2 cups of beans out and mash them, then return them to the pot and stir.)
If you can ... let the beans cool, stick them in the fridge, and reheat and serve for dinner the next day. They'll taste even better. When you do this, you'll need to add a little water to get them to the right consistency.


RIBOLLITA
This recipe comes from kossack rb137 and she uses it to clear out her fridge. She says use any veggies you have on hand. Thanks for sending this over rb!
1-2 cups dry cannellini beans (soaked overnight in cool water to rehydrate then drain)
2-3 medium zucchini
1 medium to large white or yellow onion
3-4 carrots
1 celery heart center plus a few stalks
5-6 largish kale leaves, any variety
salt and cracked pepper to taste
about 6-8 cups water or use vegetable broth
Boil the beans in water or veg. broth with pepper until the beans are tender and the liquid is getting a little starchy. Let rest.
Chop or slice the vegetables to your liking, and saute' them in a little olive oil, until they are starting to become translucent (or in the case of the carrots, just a little cooked on the outside.) The zucchini will be starting to get sweet at this point.
Combine all ingredients and simmer slowly for an hour or two. You can stop and let it rest every once in a while -- the flavor evolves as the day goes on. I call it "done" when the liquid is a little starchy from some of the beans bursting, and the vegetables are done through. Salt to taste.
Putting this stuff in the fridge overnight and getting it out the next day for dinner is a great thing to do. It is great "reboiled." That's not where the stew gets its name, though! I've read that it really is garbage soup -- servants reboiled bits of leftover food and bread that came from the noble's plates and ate them.
Anyway, it's "properly" served over thin slices of day-old bread or a crostini or such.


VEGAN SAUSAGE, ONIONS & PEPPERS
This is a new fave around here. Change out the color of peppers if you like; add green use all one color or mix
1 package vegan sausages (I use Field Roast Italian Sausage-yum)
2 yellow onions, sliced
2 red bell peppers, sliced
4 garlic cloves, chopped
tomato paste
red wine
1 15-ounce can diced tomatoes
oregano, basil, salt & pepper
- First cut up the sausages into bite size chunks and brown them up on a high heat for just a couple minutes in some olive oil.
- Remove the sausages and cook the onions and peppers with some salt and pepper and a little bit more olive oil for about 5 minutes.
- Then add the chopped garlic with 1/2 a cup of fresh basil and about 1/2 a teaspoon of oregano. Add between 1/2 cup to a cup of red wine and the diced tomatoes.
- After a few more minutes of cooking add a couple tablespoons of tomato paste to thicken the sauce.
- Finally, add the sausages back in and cook until the sauce is at your desired thickness.
We put ours on nice crunchy baguette bread and made a sandwich but you could also put this over pasta or have just on its own.


GRILLED POTATO SALAD
Perfect with the sausage & peppers above.
10 medium-sized new potatoes, unpeeled and quartered
3-4 small yellow summer pattypan squash, cut in half (swap this out with any veggie that can be grilled)
1 bunch of green onions or spring onions
a big splash of olive oil
2 lemons, cut in half
1/4 cup rice vinegar
1/4 cup olive oil
clove of garlic, mashed and chopped
a couple drops of toasted sesame oil
salt
1/2 a head of lettuce, washed and cut into bite-sized pieces (any lettuce but iceberg works well here)
Toss the potato wedges, squash, and green onions with a bit of olive oil and a pinch of salt. Place them on a medium-hot grill. Place the lemons on the grill as well, cut side down. Grill for 10-20 minutes or until golden and cooked through - moving around the grill if needed and flipping to get color on all sides. The squash will likely cook faster than the potatoes, remove pieces and place on a platter when they are done grilling.
While everything is grilling, whisk together the rice vinegar, olive oil, garlic, sesame oil, and a couple pinches of salt. When the onions come off the grill, let them cool for a couple minutes and then cut into 1/2-inch segments. Set aside.
Toss the lettuce with a splash of the dressing, and turn it out onto a large platter. Now toss the vegetables (but not the lemons) with a big splash of the dressing and arrange it on top of the lettuce sprinkled with the reserved grilled green onion segments. Garnish with the lemon (which I like to squeeze over my salad just before eating for an added layer of extra mellow tang that goes great with the potatoes.
Did you buy too many bananas last time you went to this market? If so, I have a treat for you! A one ingredient, sugar free, easy, fast and delicious homemade ice cream.


BANANA CHOCOLATE ICE CREAM
Here's all you do. All you need is three ripe bananas. Peel the bananas and cut them into 1-inch pieces. Put them in a tupperware container, pop them in the freezer and leave them overnight until they are frozen solid. The next day, break the pieces apart and put them in a blender or a food processor. Blend until totally creamy. It makes about three 2-scoop servings.
Here are some variations H/T Treehugger or try your own
Strawberry Chocolate Chip
Add 1 cup frozen chopped strawberries and 1/2 cup dark chocolate chips
Cinnamon Peanut Butter
Add 2 Tablespoons peanut butter and 1 teaspoon ground cinnamon
Cinnamon Pecan
Add 1 cup chopped pecans and 1 teaspoon cinnamon
Mango Peach
Add 1/2 cup frozen chopped mango and 1/2 cup frozen chopped peach
Raspberry Almond
Add 1 cup frozen raspberries and 1/2 cup chopped almonds
Chocolate Banana
Add 2 tablespoons of vegan chocolate sauce
"Give Peace A Chance" John Lennon

"Imagine" John Lennon

What have you all been cooking? Please share your recipes and fave Beatle music here!