I just turned 65 a couple of weeks ago. The bad part about getting older is the number of people in your life are getting older too and many of them are dying. Sometimes it feels like grief piling on top of grief.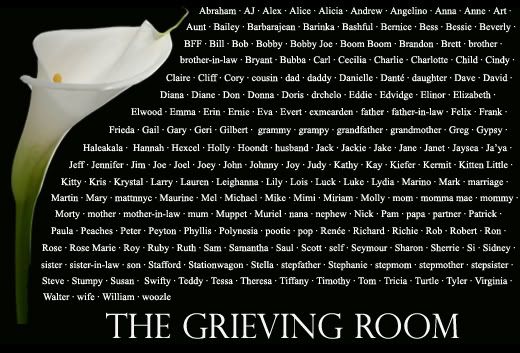 A special welcome to anyone who is new to The Grieving Room. We meet every Monday evening. Whether your loss is recent or many years ago, whether you have lost a person or a pet, or even if the person you are "mourning" is still alive ("pre-grief" can be a very lonely and confusing time) you can come to this diary and process your grieving in whatever way works for you. Share whatever you need to share. We can't solve each other's problems, but we can be a sounding board and a place of connection.
I married late and I thought I had found the perfect man. The problems in that marriage were horrendous. He was on medication when we met and after the marriage decided he knew more then the doctors and stopped taking them. I realized I was married to a psychotic. I suffered heart-breaking miscarriages in that marriage and as much as I wanted to be a mother I believe it was for the best that no child came out of that marriage. I was warned to get as far away from him as I could but to be careful that he would try to kill me if he knew I was leaving him. I still carry the emotional scars from that marriage and always will.
Another shock came on May 4,1999. My Dad was planting a bush and keeled over and was dead before he hit the ground of a massive heart attack. My marriage had just broken up and I was on my way out to the Midwest to be near my parents. I was an only daughter among four boys and Dad didn't know what to do with a daughter so he treated me like one of the boys. I was the only one who wanted to throw footballs and baseballs with him. I was the only one who was interested in his genealogy research. He died before he could explain what he had done and what still needed to be done.
I became my Mom's caregiver in 2005. Mom had always been the strong one in the family and never needed anyone to take care of her. She suffered a major heart attack in 1998 and almost died. Her heath was never the same. I had wanted to go out and be with her and Dad but my husband refused to let me go and made sure there was no money in the account to go. All my friends sent cards and emails to my Mom and Dad but my husband never sent one word to them.
Mom died in her sleep on May 26, 2010. Even though I knew she was living on borrowed time the death was still a shock. When your life for five years has been defined as a caregiver to your mother the shock of her not being there is intense. I suffered nightmares for a long time.
My brother Mike was supposed to get the house ready to sell and move down here to be near his only child and grandchildren. Instead the demons from Vietnam took over and he became an alcoholic. People knew and did nothing. So-called friends took advantage of him and bled him dry of money that should have gone to his daughter. Mike died on August 29, 2012. I had to clean a house full of blood and feces and get everything ready to sell on my own. My health has suffered because of it.
On April 10, 2013 I lost my companion of 15 years. Merlin was one of two things that was good in my marriage. I got him on Mother's Day in 1998. He was 4 weeks old. I nursed him through pneumonia. He helped me through Dad's death. He helped me through Mom's death. He helped me through Mike's death. It will be a long time before the tears stop flowing for him.
Through it all though I've always been expected by my family to be the strong one. After all I was the second child and the only girl. I was the big sister. I was the one who helped nurture Mike's only child. There are times when I wanted to just give up. I couldn't though. I had to keep going because there was no one to really lean on and their were too many people leaning on me.
When I got out of an abusive marriage I decided I was going to be strong for me. I knew that arthritis was crippling my ability to hold a pen or paintbrush so I learned to be a graphic artist. I won an award at my first art show for best graphic art. Art is in my soul. It has helped me through the hard times.
I made on line friends. I cuddle under the Community Quilt when things are bad and it helps me.
I cook and sew and make jewelry. I write. I try to do as much as I can to help with the homeless situation here in Winston Salem.
Through the pain I have learned that I can help others. I can share my story. I learned that I could give hope to others going through pain. Someone asked me recently if I had a song that I consider my anthem. I know it is chic to put down Barry Manilow but I've seen him perform and he is awesome. I know a lot of people find John Barrowman too flashy but I love him. He is funny and so talented and yeah sexy as all get out. My anthem is I Made It Through the Rain.
So if there is one thing I can leave here in the Grieving Room it is this. I made it through and you can also. If you need someone to lean on email me. I'll listen and try and help.