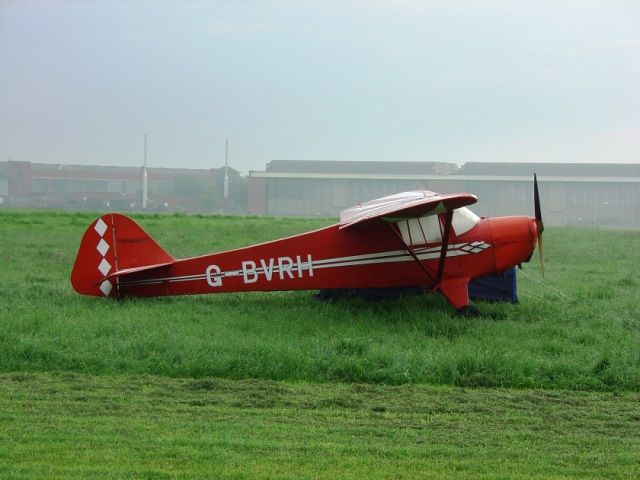 In the 1920s two brothers, Clarence and Gordon Taylor from Nottingham, the historic city better known for Robin Hood than engineering, left for the USA and better times. The brothers formed their own aircraft company to build a light, two-seat trainer and 'club' aircraft. Relocating to Ohio, from Rochester, NY, following a disasterous flood, they were joined by an oilman, William Piper. This sharp businessman quickly engineered a take-over of the company for his own benefit. Piper later renamed the firm, and the rest is, as they say, history. Clarence Taylor (his brother Gordon having been killed flying one of their aircraft) was forced out, mainly following an argument over changes which Piper had caused to be made, unilaterally, to an aircraft that Taylor had designed. Clarence, after leaving the company he had founded, went on to form a new company which became known as Taylorcraft. Always concentrating on two-seat, high-wing and fabric-covered machines, their product line was in direct competition with the much-more aggressively marketed Piper Cub, which quickly began to dominate the U.S. market for light aircraft. Both designs were to be used extensively during WW2 - the BL-65 shown here was known by the US Army as the L-2F - undertaking such tasks as artillery observation, liaison, medical evacuation, etc. As such, the Taylorcraft was known by the troops as a 'Grasshopper', a generic name for all the similar types which fulfilled the same function!
G-BVRH was built in 1940, and is powered by a Lycoming O-145-B2, a 2.4 litre engine putting out about 65hp (the same engine as used in some Piper Cubs). There are no less than 257 BL-65 survivors on the US register. This particular aircraft is seen in the early morning mist at the Great Vintage Flying Weekend, Abingdon, and you can see that the occupants have spent a rather damp night in a tent pitched on the port side of '-RH', opposite some of the WW2-era hangars at this former RAF station. There is another, personal, connection for me in that the owner of this particular Taylorcraft lives in Barry, South Glamorgan, a town where some of my family live; we had a nice chat!
In the 1930s, Taylorcraft returned to their roots in the East Midlands by founding a British subsidiary, British Taylorcraft Ltd, which they established at Thurmaston near Leicester in a former osier shed. This firm went on to produce Taylorcraft aircraft for the British Army under the name of Auster – and the rest, as they say, is even MORE history!