Crossposted from Hillbilly Report.
Rand Paul is moving ahead with his 2016 Presidential campaign right on schedule. Next stop, South Carolina. Yes, today Paul is making his presence felt in one of the early primary states. With his eye on the White House he is endorsing Mark Sanford for the 1st Congressional seat in that state. However, today he is not alone in his endorsement of Sanford and upon further review these two appear to be kindred spirits in more ways that just political.
First to the Rand Paul endorsement of Sanford, Conservative hypocrite and Argentinian womanizer:

GOP congressional candidate Mark Sanford was formally endorsed Tuesday by Sen. Rand Paul, a Tea Party favorite whose support could help in the final days of the special election for South Carolina's 1st District seat. The senator's father, former Texas congressman Ron Paul, threw his support behind Sanford last week.

"More than anything, Washington needs strong and consistent voices for fiscal responsibility and liberty," the younger Paul said in a statement. "Mark has proven during his time in office that watching out for taxpayers and holding the line on spending are his top priorities."
http://www.usatoday.com/...
Ah, but Sanford has shown that he is watching out for a lot more than the taxpayers, and that indeed he is holding onto "the line" He always has his eye out for Argentinian G-strings and is more than willing and ready to hold a tan line in a bikini.
Well, the Mad Doctor with the twisty curls was not alone in his endorsement of Mark Sanford. It appears as if the married but looking website Ashley Madison was all ready to endorse him to. To use their service:

The dating website AshleyMadison.com paid for a billboard with an image of former Governor and current 1st District Congressional candidate Mark Sanford that reads " Next Time Use AshleyMadison.com To Find Your Running Mate."

The sign takes a jab at Sanford's extra-marital affair with a woman from Argentina.

AshleyMadison.com Founder & CEO Noel Biderman said "Mark Sanford's overcome a series of personal and professional hurdles to earn his place back in public service. While he recognizes the consequences of his actions, he maintains that his affair refined his life, but should not define it."

The dating website is designed for people already in relationships.
http://www.wbtw.com/...
But hey as this picture shows Rand Paul and Mark Sanford have a hell of a lot in common: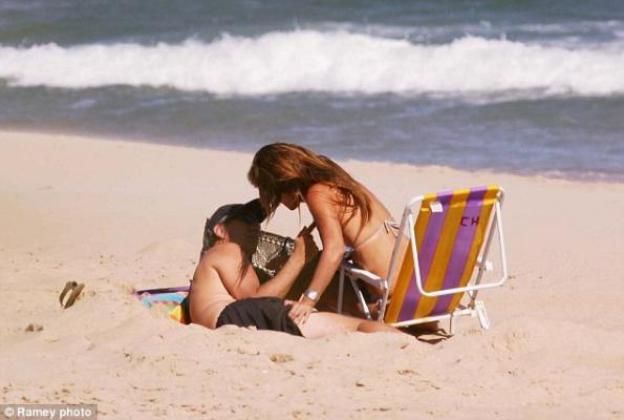 Yes, it appears that these two both like to take women to the waterfront for a good old fashioned dose of Aqua Buddha worship. Only in the case of Mark Sanford it does not appear as if he had to tie his up. That must come later.
Indeed, it is funny how politics does make strange bedfellows. Let us just hope in the case of Rand Paul, Mark Sanford and his Argentinian sweetheart they do not take the term literally. That would give a new definition to the term "thirteen hour filibuster".