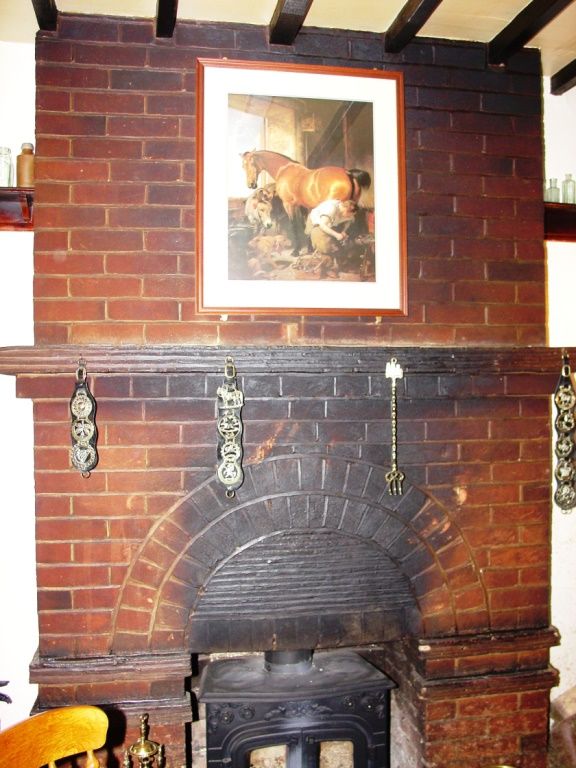 During my travels around the UK, I stay in a great variety of establishments , from four star hotels to modest 'bed and breakfast' accommodation. I am a great enthusiast for the 'village inn' type of public house, where the food is usually home-cooked and the company convivial. 'The Blacksmith's Head' at Lingfield on the Surrey border is convienient for both Gatwick Airport and East Grinstead, which has a useful train service into the centre of London.
Here we see the brick fireplace in the public bar of this Victorian building. It is somewhat isolated, but still on the direct road between East Grinstead and Lingfield. According to the owner of the inn, it was originally a forge (hence the name), and there are massive timbers in certain areas which would suggest that this is true. The Victorian addition to the rear has been turned into comfortable bedrooms - there is NO lift (elevator), mind, which is the only drawback to the whole establishment. If you like to relax, there is a pleasant garden and tables to the rear.
A modern stove sits where an open fire would once have done, but it still has some nice vintage touches. Horse brasses and a brass toasting fork hang from the mantle, and a set of brass fire tongs stand alongside the stove. On the shelves either side of the fireplace are displayed a number of Victorian glass bottles, and also a 'bottle' made from stoneware – many spirits were stored in such containers, including gin. The framed print depicts a blacksmith shoeing a horse, with a donkey close by; a donkey does have a genuine calming affect on a horse, which is why they are still sometimes used like this, today (and also travel with thoroughbreds to keep them calm). Please note the 'bobbed' tail on the horse in the print (it is a light bay). That, and the fact that it is made to look about 16 hands high, is typical of a hunter, ridden to hounds; this is something that would have been very common in this part of the world in Victorian times.
Although this building was extended in Queen Victoria's reign, the orginal forge on this site was considerably older. There is an ancient oak beam above the bar with the date '1676′ carved deeply into it.
I found the place to be quite enjoyable after the hustle and bustle of the city, and would not hesitate to stay again, if I am ever in this part of the world.