This is going to be a short diary. I wanted to tidy up the "Additional Resources" section that accompanies all of my diaries. This is also an opportunity to inform the community that my diary entry for May may not be available until the end of the month.
I depart for Järna, Sweden, tomorrow morning to attend my first Permaculture Design Course (PDC). A PDC is, traditionally, a two week, 72-hour intensive course. The course I am attending is one such course offered by Integral Permanence- an European based Permaculture Design firm headed by Richard Perkins. For two weeks, I will live, breathe, and study permaculture alongside students from around the globe. After completion, I will hold a Permaculture Design Certificate which will enable me to ethically advertise my design services as "permaculture." I say ethically because permaculture is not a trademarked term, which brings the potential for ...characters... to don the mantle without treading the "accepted" pathway.
I will be offline from May 3rd until May 19th.
Last Time Here...
Loess Plateau, early September 1995. Terraces were built by hand as well as machine. Photo Credit: Kosima Weber Liu, EEMP
My last diary in this series brought to the community a short discussion regarding shifting baselines before presenting John D. Liu's Green Gold. The documentary is well worth the watch, but if you are on limited bandwidth you can read the diary as I provided a summary along with high-resolution stills (which were provided by VPRO). Green Gold showcases examples of large-scale damaged ecosystem regeneration underway across the globe. John D. Liu poses a very simple question:

[...] so if we can rehabilitate large-scale damaged ecosystems, why don't we do that?
Anyone who believes that our world is doomed would do well to spend the 48 minutes watching what is possible when humans collaborate with natural processes rather than attempt to ignore them.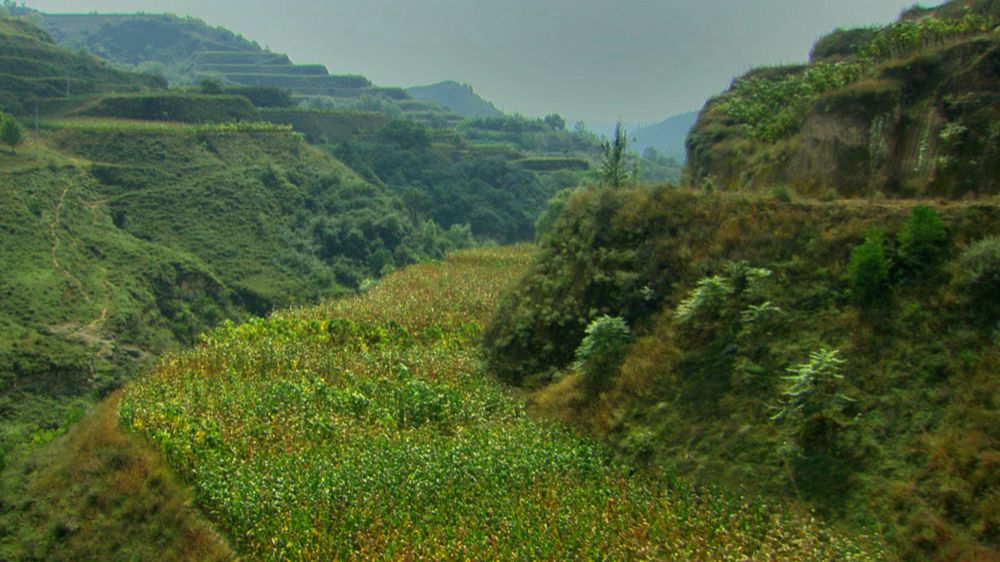 Loess Plateau, early September 2009. Photo Credit: Kosima Weber Liu, EEMP
Now follows a cleaned up version of the Additional Resources list. It is by no means comprehensive, but will continue to grow as time goes on.
Additional Resources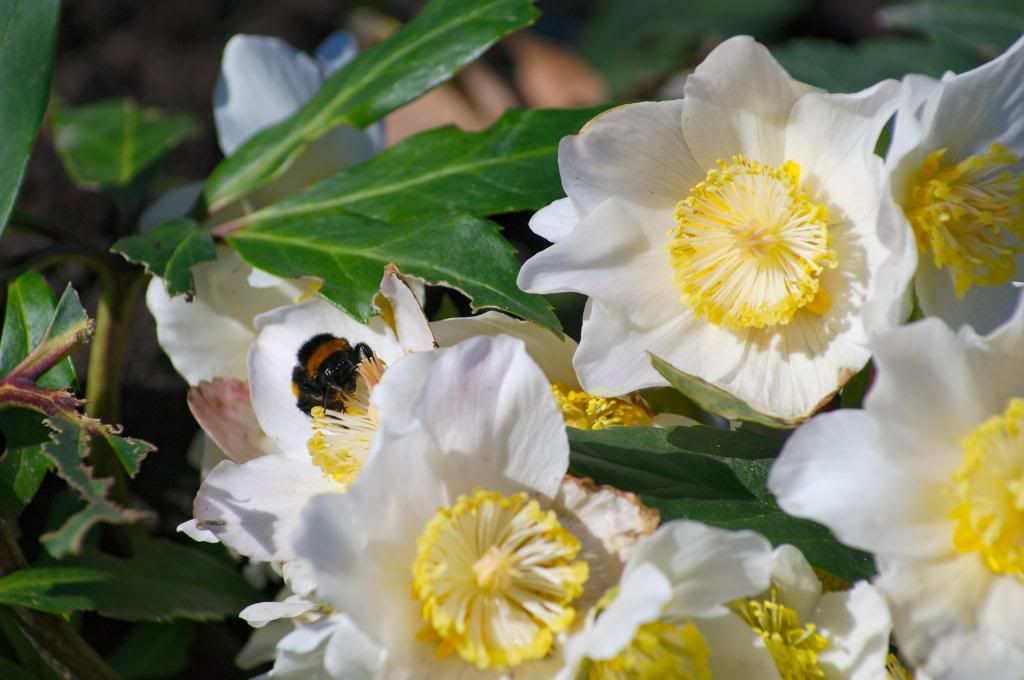 Bumblebee gathering resources in early spring. Helsinki, Finland
Large Scale Damaged Ecosystem Regeneration [Diary]:
Excellent, must see documentary: John Liu's Green Gold- extended version of "Hope in a Changing Climate" that was presented at the recent Rio summit.
Another good article by John D. Liu. Finding Sustainability in Ecosystem Restoration.
Holistic Management [Diaries: First, Second, Third]:
The Savory Institute.
The Africa Centre For Holistic Management.
Holistic Management International.
Seth Itzkan has put together a very good reference list for Holistic Management, here.
Permaculture:
The Permaculture Research Institute is excellent (Updated: formerly PRI Australia). With almost daily updates from the world of permaculture (an ethical design system that utilizes agroecology [diary]), this site is on my "must check list" daily. Good news to be found here.
There are some excellent video presentations from 2011's International Permaculture Convergence held in Jordan, which followed a permaculture design course taught at the world-renowned "Greening the Desert Part II" site in the Dead Sea Valley. Here is a link to the documentary about the site, and here is a photo update from Spring 2013.If you scroll to the bottom of this webpage, you will find links to video presentations given at the convergence.
Documentaries:
The first diary of this series revolves around three documentaries.
The first is a TED talk by Willie Smits about rainforest restoration to provide habitat for orangutans and a standard of living for the local people using agroecological methods. Not only was the project highly successful, but climate moderation was demonstrated via satellite imagery.
The second, The Rebel Farmer, is about Sepp Holzer, a very famous Austrian who practices his own version of permaculture. He has also written numerous books in addition to being in demand across the globe.
The third presents "Greening the Desert"- which covers both sites in Jordan where Geoff Lawton and the Permaculture Research Institute have been applying permaculture with great success.
YouTube Channels:
In no particular order:
John D. Liu: pioneering large scale damaged ecosystem restoration.
What If We Change: John D. Liu's project to inspire others to share their efforts to combat climate change and other problems.
Whole Systems Design: operating from Vermont, Ben Falk's permaculture design firm. Excellent site overview and talks on agroecology. Also a must see video from Hurricane Irene.
Permaculture News: PRI's YouTube branch
Permasolutions: Offering permaculture inspired solutions to problems
Toby Hemenway: Author of Gaia's Garden and permaculture designer. Great talk on horticultural society.
Al Baydha: Pilot project in Saudi Arabia to regenerate "bare bones" landscape for Bedouins.
Eric Toensmeier: Author of Perennial Vegetables, coauthor of Edible Forest Gardens, and plant guru. Has an upcoming book on perennial agricultural solutions to climate change.
Paul Stamets: World famous visionary mycologist who will change the way you see the world. You'll never forget fungi after his speeches regarding their potential use and place in the ecosystems.
Books:
My favorite books:
Edible Forest Gardens, Vol I and II. David Jacke with Eric Toensmeier. Chelsea Green, 2006.
Sepp Holzer's Permaculture. Sepp Holzer, translated by Anna Sapsford-Francis. Chelsea Green, 2010.
Gaia's Garden. Toby Hemenway. Chelsea Green, 2009 (2nd edition).
Let the Water Do the Work. Bill Zeedyk and Van Clother. The Quivira Coalition, 2009.
The One Straw Revolution. Masanobu Fukuoka. Link will point you to a decent review.
Akinori Kimura's Miracle Apples. By Takuji Ishikawa, translated by Yoko Ono. This is an absolutely fantastic story. My favorite part is towards the end, chapter 22, when Kimura is told of his family's first success. Give it a read!
For a much fuller list of books on the subject, see Toby Hemenway's Permaculture Reading List.
Other:
The Land Institute. Their goal is to develop highly productive perennial staple crops which will produce a living system as stable as natural prairies. This is the kind of pioneering research we should be funding. H/T to sfinx for bringing them up.