The Department of Commerce has not had a secretary since June of 2012 when John Bryson had his rather public seizure incidents. This vacancy preceeds the recent flurry to fill other more recent cabinet nominations since the election in Nov. 2012. Since last June, Rebecca Blank has been ably doing the job as acting secretary. On May 02, 2013 President Obama nominated Penny Pritzker for this cabinet position.
She contributed heavily in raising funds for Obama's first presidential run and she was also in the running for this position in 2008, but withdrew herself from consideration as a result of concern over her activities with Superior Bank of Chicago and her family ties to the Hyatt hotel chain.
She has degrees from both Stanford and Harvard, is very active in the charter school movement in Chicago, and is also active in the marathon running community.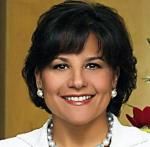 If she is confirmed by the Senate, Pritzker would become the fourth woman serving as secretary in Obama's current Cabinet. She also would be the wealthiest in the Cabinet by far, with Forbes estimating her net worth at $1.85 billion and ranking her as the 277th richest American.
If confirmed, she will take charge of a Department of Commerce that spends about half of its resources on scientific endeavors and not on business ventures. Many folks do not realize that the Department of Commerce is primarily a science agency and that international commerce is a small part of their bailiwick.
About half of the DOC budget is spent on science under the auspices of the National Oceanic and Atmospheric Administration. The bulk of the rest is spent on patents, the census, and the National Institute of Standards and Technology... Very little of the Commerce budget is actually focused on commerce!
US Commerce budget 2010:
National Oceanic and Atmospheric Administration 42
U.S. Patent Trademark Office 17
Census (economic stats. and decennial census) 9
National Institute of Standards and Technology 9
National Telecommunications and Information Administration 8
all other Bureaus (e.g., Minority Bus., International Trade) 15

I wish her the best of luck in the nomination process and if she clears that hurdle, I hope she embraces the scientific mission of NOAA, as that will constitute almost half of her portfolio! I also hope the Hyatt chain recognizes the inherent value of unionized employees and improves the quality of life for their employees.
For more on this nomination go to the Christian Science Monitor