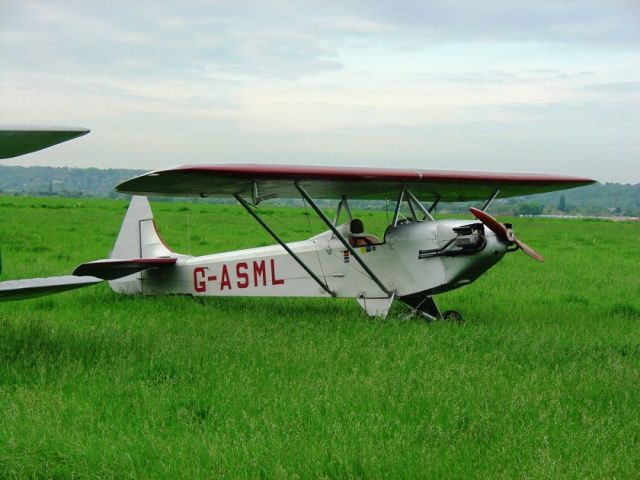 The RAF No. 1 School of Technical Training, Halton was, between 1922 and 1993, responsible for producing some of the most highly trained technical NCOs in the world; these Halton 'Brats' received, over a tough three year course, what many thought of as the most comprehensive aeronautical education outside of the Royal Air Force College, itself. Indeed, they became the 'glue' that held the peace-time RAF together, and a strong foundation for the technical side of that Service during WW2. Trainees were encouraged by one of the Education Officers, a Mr. Cecil Hugh (Chookie) Latimer-Needham, to join the Halton Aero Club, where they participated in the design and building of original aircraft such as the H.A.C. Mayfly and Minus. 'Chookie' was a gliding enthusiast and also founded the Dunstable Sailplane Company, when the area around Dunstable was in the process of becoming a very popular soaring venue.
By 1936, Latimer-Needham had founded Luton Aircraft Ltd, and one of his designs was a Pou du Ciel clone, the tandem wing L.A.2. Like the 'Pou', it wasn't successful, but by reusing many of the parts, including the fuselage (a simple spruce and plywood box structure) the petite parasol wing L.A.3 was constructed. This was later sold to a Mr A. Cook of Anstruther in Fife, Scotland, and was carefully stored in a hangar in Edinburgh during WW2. It might have gone on to have a long and enjoyable flying life - but it was destroyed, post-war, when a car reversed into it!
Following some careful consideration, Latimer-Needham modified the design, and the first L.A.4 (G-AFPB), powered by a 35 hp Anzani engine - very similar to the one used by some Bleriot aircraft - was built at the company's new works in Buckinghamshire. Unfortunately, the Phoenix Works was burnt down in the middle of the War in 1943, and G-AFPB was lost. The company began to sell sets of plans for a home-built version, and a number of these were very successful, including one that was rebuilt by my friend, Arthur Ord-Hume (G-AFIR) which he fitted first with a French 38 hp Menguin and then a more standard 40 hp J.A.P.
Arthur and 'Chookie' together formed Phoenix Aircraft Ltd in March 1958, at a time when interest in the light aircraft was growing in Britain. The aircraft was re-stressed, and made capable of accepting a wide range of engines, which was fortunate, as builders started to power this now classic design with everything from a 36 hp Aeronca E.113C to a 65 hp Continental C65-8F. The newly-founded Light Aircraft Association - with Arthur Ord-Hume as one of its leading lights - welcomed the L.A.4A with open arms. Here was a cheap, vice-less aircraft that was fast to build and ideal for the first time flyer.
Looking every inch the 1930s design that it is, this Luton Minor is one of the post-war versions built from plans by members of the Popular Flying Association. I can honestly say that this machine has lashings of character, and it flies well – a testament to its builder, Robert Kirby, who completed this little gem in 1966, after a three year building process. Fairly 'short-legged' (range is around 180 miles), this Minor has turned up at PFA Rallies and other aviation events on a regular basis, despite numerous changes of ownership. Powered by a 34 hp Ardem 4CO2-1 (a modified VW engine), G-ASML is a fine example of a classic British aircraft from the Golden Age of flying. Well done "Chookie" and well played, Arthur!