Welcome to Thursday Coffee Hour. This is an open topic thread so help yourself to the goodies and sit a spell and let us know what is new with you. I thought we could talk a bit today about the naming of pets. I have mainly had cats in my life but my Mom inherited a dog from my brother who moved out and couldn't take her with him.

I'm not sure but I suspect that Mom named the dog Ruffles. It isn't exactly a name my brother would have come up with. Ruffles was pure mutt, sweet natured, a coward, and dumb as you can get. Mom loved her however and that made up for everything. Ruffles seemed to suit her as a name because she had a furry rear end that sort of looked like ruffles on a petticoat.
My first cat Zonker was a huge red-orange and gold tabby. He eventually reached 23 pounds, 3½ feet from nose to tip of tail and 15 inches at the shoulder. I named him Beowulf but he quickly got the nickname of Zonker because he was always asleep or zonked-out, as my Mom would say. He was a cat only I could love. He was nasty tempered, arrogant, and a mama's boy.
Sasha came along as I was immersed in Shogun and the Richard Lester version of the Three and Four Musketeers and he got named Sashiko d'Artagnan after the Michael York version. You know very pretty but a klutz. That was Sasha. He was also the most friendly cat you could ever meet. He was so personable that he ended up being the mascot for my science fiction convention.
Casper came fully-grown into my home. He was pure white with ice blue eyes. He was big, gentle, and as I told my Mom would make a great Hoosier cat. I could always picture him with a straw stuck out of the side of his mouth and a cold Stohs by his side going "Yup." His original owner took him to the Vet and said "put him to sleep he's a pest." The Vet kept him for a couple of years until I asked if I could adopt him.
Merlin came to me on Mother's Day. He was 4 weeks old and the litter had been abandoned by the mother cat. I had just finished watching the Hallmark special Merlin and with those big green eyes and the black on him he reminded me of Sam Neil one of my favorite actors and the star of Merlin.
Pixie was one lucky little girl. My Mom had adopted her and she wanted to name her Snickerdoodles. My brother and I vetoed that suggestion. Mike named her Pixie. She also goes by Pixie Doodles Wilson and the Pixster or her absolute favorite Princess Pixie. If ever a cat was perfectly named it is Pixie. She was a mischievous rascal from the very start.
So that is my menagerie. How did you come up with the names for your beloved pets?
Ruffles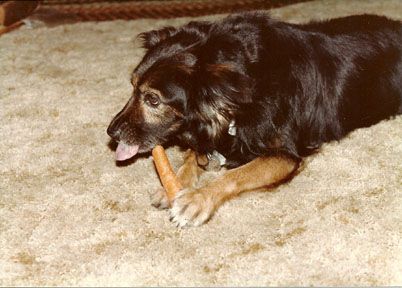 Zonker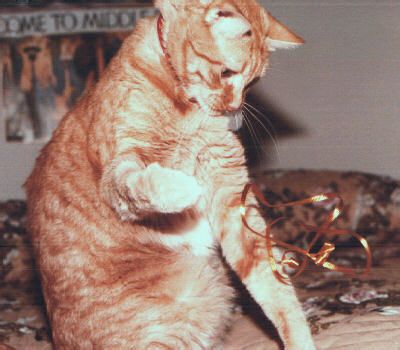 Sasha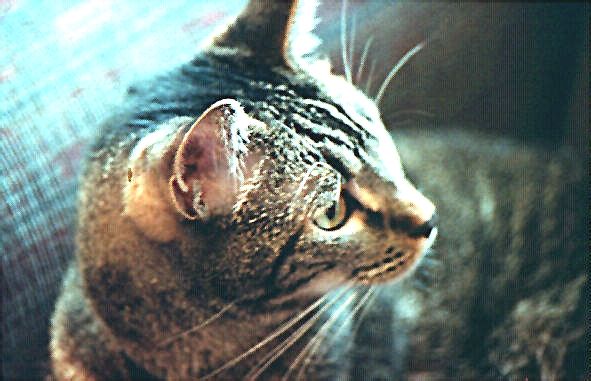 Casper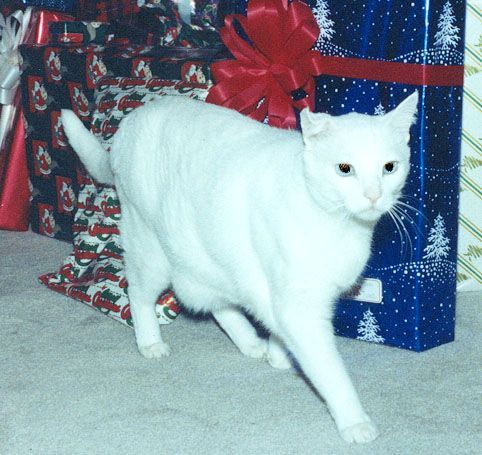 Merlin