On Friday I had the opportunity to do something that tens of thousands of people used to do, but now only a few of us get to experience. I traveled back to the past in a time machine. To be more specific, I got to fly in a WWII B-17 bomber. Follow me as we take off over the cow pie in the pasture below.
The Collins Foundation (http://www.collingsfoundation.org/....)is a non-profit organization that tours the country with aircraft from different eras of US history from WWI through Vietnam. They offer rides on several of their planes. They have a P-51 Mustang, a B-24 Liberator and a B-17 Flying Fortress. Instead of being stuck in a museum where only a few people can see them, the foundation travels the country where these historic aircraft are seen by millions and flown by thousands. Their B-17 is named Nine o Nine. The original Nine o Nine held the record for making 140 combat missions including 18 over Berlin, and never losing a single crewman. Unfortunately the original Nine o Nine was scrapped after the war. This incarnation is a couple of years newer and was built by Douglas in Long Beach, CA in April, 1945 and never saw combat. One of the reasons why I was eager to fly on her was because one of my first jobs out of high school in 1964 was working for Douglas Aircraft building planes in the building where this Nine o Nine was built 19 years earlier. Not only that but some of my co-workers were there during the war and had helped build this very plane. It was pretty neat climbing aboard the plane people I knew had built 68 years earlier. Gotta tell you, it gave me a chill.
If you want to know what it's like flying in one of these the first thing you need to know is it's loud. Very loud. Those four 1200 HP Wright-Cyclone engines make a lot of noise. Second is it's bumpy. There is a lot of vibration. There aren't any plush seats and exposed cables run everywhere throughout the plane. A word about these cables. There aren't any hydraulics on this aircraft. The cables control things like the rudder and the flaps. You don't want to grab them if you start to fall. You could cause the plane to go into a fatal dive and ruin everyones' day. Getting around isn't easy either. Space is tight maneuvering around all the equipment crammed inside. You have to do quite a bit of crawling and raising or lowering yourself into the various compartments. There are lots of things to bump your head on and lots of sharp objects to come into contact with. This was a great experience and I'm hoping to fly on the P-51 next year. I tried to take some pictures, but with all the bouncing around only a few came out. BTW I'm an ID10T when it comes to posting pictures. This is my first attempt at this.
Here is a picture of her parked.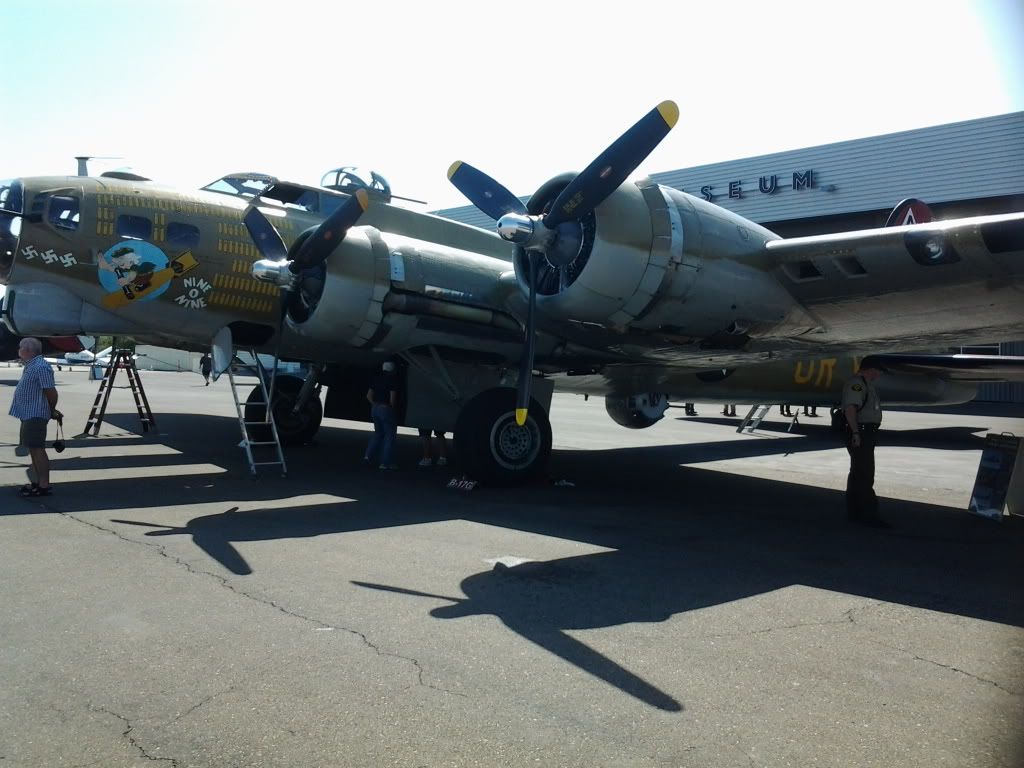 Here is where the Bombardier and Navigator live.

The wing and top Turret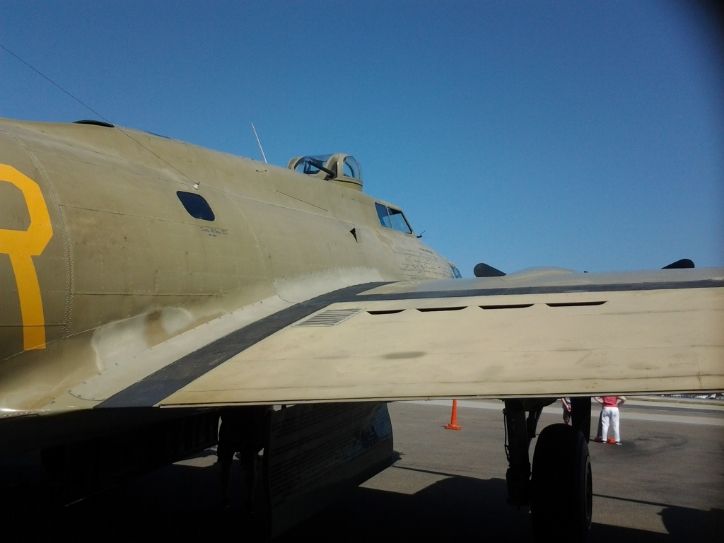 This is one of the engines
The ball turret, it was the safest place on the plane

Taxing, take off and view from the nose. Turn up the volume and ignore the crappy filming. I'm not good at editing yet.
Flying along Bolsa Chica State Beach, Huntington Beach Pier and at the 1:00 mark, my house
And here is a picture of her little buddy who protected her.