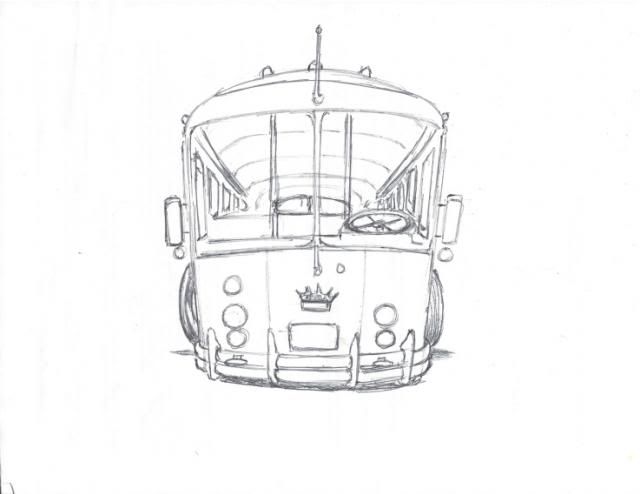 ">
Undefeated by an engine fire that did $4,000.00 in damage to Large Marg – the Veteran's Green Bus - Gordon Soderberg was about to roll out of the Virginia Truck Center repair shop today.
">
Then Marg blew a gasket. Oil spewed out of the tank all over the ground. The repair crew forgot to tighten a whose-it on the what-cha-macall-it and screwed up the gasket. It has to be replaced. That'™s a neat trick for a 1980 Crown Coach. But, as soon as that replacement gasket is found the Veteran'™s Green Bus will roll once again.
Barring any natural disasters, Soderberg is planning his first West Coast tour to demonstrate the bus'™ sustainable energy solutions. That damn bus converts free used cooking oil to fuel that powers the bus. In spite of all the problems the bus has experienced in the last month that part of the power system is running just fine. The primary mission of the bus is demonstrating sustainable solutions including bio diesel, WVO and solar.
So, if you want to veterans green bus to visit your community, contact us soon! Gordon (985) 640-1801 or llbear (503) 624-6072.
States and Dates on the West Coast
Specific Locations & Times - TBA
We plan to stop in Detroit, Chicago, Madison, Minneapolis, Denver, Salt Lake City demonstrating our design to Team Rubicon Regional Members.
">
June 1st we start the west coast tour of Veteran farms in Seattle, WA, Portland, ORE, Corvallis, ORE, and Grants Pass ORE.
Beginning June 10th we hope to stop in Arcata, CA Eureka, CA Willits, CA Mendocino, CA, and San Francisco, CA where we will be demonstrating the Green Energy aspects of the project.
June, 19th at the Palo Alto, VA Hospital assisting Sara and Ann with the donation of 40 lap-sized quilts to wheelchair-bound Veterans
June 19th-21st San Jose: Netroots Nation 2013. We to make it to NetRoots Nation 2013 only with your help!

A message from Gordon:
With repair bills and necessary maintenance work has created a financial setback we were not prepared to handle. This has forced us to rethink our in our planning methods and funding goals before we can confidently commit to any tours of events or offer our services to anyone and be confident that we can deliver.

Here is where you can help us.

United Peace Relief's Veterans Green Bus Project empowers Veterans to continue their service by helping communities recover from natural and man-made disasters with sustainable energy solutions reducing the cost of fuel for organizations transporting tools, supplies and volunteers by up to 90%.

The Veterans Green Bus Project provides sustainable transportation fuel and electrical power for first responders In the event a national disaster occurs and demonstrates how to produce emergency fuel for transportation, emergency generators and off road equipment from used cooking oil. The goal is to train veterans in operating the bus, maintaining its alternative power and communications systems and cooking facilities and serve the community at large by providing emergency aid while demonstrating sustainable energy solutions.

To use the Veterans Green Bus as a research and development vehicle for disaster relief efforts effectively, it needs to be safe, provide a needed service and demonstrate a sustainable operational plan before we put it out as a model for others to follow.