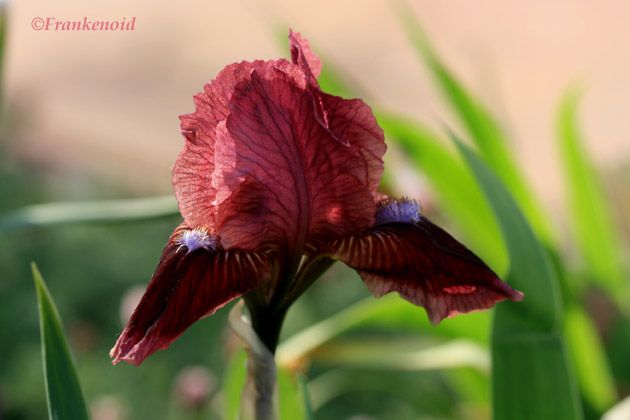 Good morning, and is it safe to come out now? Welcome to Saturday Morning Garden Blogging.
Having suffered through first, second, third and fourth winter, here in Denver we seem to have sling-shot right through spring and directly into summer.
Just a couple of weeks ago we armored against the cold and snow in parkas and boots so it feels exceedingly weird to bop out the door sans sweater and wearing sandals.
Highs have been ranging to the upper 80s; lows have stayed above 50°.
We've even had thunderstorms.
Some "weather" is slated to roll in at the beginning of the week, bringing some cloud cover and temperatures down into the 70s; good weather for planting out the warm weather crops and making it easier for them to transition to real sunshine.
Meanwhile I've been surveying the damage from our very late, very severe freezes.
Oy. The rosemary lost one major branch and the tips of most of the other branches; two oriental poppies didn't come back and I'm not sure about the wild thing salvia. Only a few of the dwarf iris bloomed, including the Cat's Eye dwarf pictured above the fold — but the standard iris are well budded.
One of the herbaceous peonies will bloom but the other sustained too much freeze damage to its new growth; it will survive but not bloom. And I doubt that the tree peony's blighted little buds will go anywhere.
I'm grateful that the daphne is blooming well; it almost, but not quite, makes up for the bleeding hearts not blooming at all and the sparseness of the blossoms on the lilac bush.
So now it's time for a deep breath and looking forward. This weekend I'll get the bed ready to plant leeks, tomatoes, melons, squash and cucumbers. There's a ton of weeding — it's amazing just how fast the damned dandelions and bindweed try to take over.
That's what's happening here. What's going on in your gardens?