Griffin Nichol was a soprano in the New Zealand Secondary Student's Choir, halfway through his music degree when he just couldn't do female anymore.

I had always felt really uncomfortable but it got to the point that I couldn't swallow it down anymore. As soon as I discovered that transition was a possibility I knew that was what I needed to do.

--Nichol
Griffin knew, however, that taking testosterone would exact a high price in terms of voice change.
As much as I tried I couldn't find any concrete information about what would happen to my singing voice, and lots of people warned me that I wouldn't be able to sing again.

--Nichol
But Griffin knew that his need to transition came first.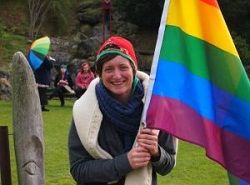 I got to the point where I had to make the call, and I knew inside me that I would never have been able to have a real career as a soprano because it was so excruciatingly 'not me'." "I toured with Youth Choir in 2010, which felt like my swan song as a soprano, and, as I thought then, my goodbye to choral singing.
But three years later Griffin's voice settled down and he decided to "give it a whirl." He auditioned for choir again. He was delighted to learn that he was accepted into the tenor section.
I've heard lots of transmen worrying about losing their singing voices, and after having been in that position myself, I am glad to be able to reassure others that it is possible to keep singing.

--Nichol
As far as is known, Griffin is the first female-to-male in the New Zealand national choir.
I think sometimes people forget that trans people are just like everybody else and have hobbies and dreams too. Sometimes attitudes like those get inside your head and make you feel like you don't have all the options you otherwise would, and that you can't still follow through with things you're passionate about.

--Nichol
Griffin has the opportunity to go on tour to the USA and Canada with the National Youth Choir, but needs to raise $3500 NZD towards his flights before September. He works part-time and has some income as a busker, but is also looking for help from the
crowdsourcing site Givealittle
. He has so far garnered $1160 NZD.
Note: If you are not familiar with the term:

busking: to be an itinerant performer, probably from busk, to go about seeking, cruise as a pirate, perhaps from obsolete French busquer, to prowl, from Italian buscare, to prowl, or Spanish buscar, to seek, from Old Spanish boscar.
I was selected as a tenor in the NZ National Youth Choir in 2012, which means a lot to me after I thought I would have to say goodbye to singing as a result of some health challenges. Help me by donating towards my airfare so that I can go on the choir's international tour later this year!

This is an opportunity to sing with choirs in the USA and Canada and represent NZ choral music overseas. I am a busy social work student, and I am working part time and busking around Wellington to raise money, but I need your help!
This tour means so much and it is an amazing step for me to be finally be singing in a voice that feels right, but I can only go if I manage to raise enough for my flights and extra costs on top of that.