The crisis of joblessness and idleness for 1st world youth has reached historic levels. No healthy society can simply abandon a generation the way we have and not encounter serious consequences down the road. Systemic problems like this often lead to wars, revolutions, extremist politics, and social unrest.
I'm going to try to put this crisis into perspective by focusing on hard numbers.
Let's start with the student loan bubble.
The past few weeks have seen a few infamous milestones:

$30,000: The average student-loan debt for a borrower who received a bachelor's degree in 2013.
Other groups put the average debt figure even higher. A poll from Fidelity Investments earlier this week found 70% of graduates had at least some debt, and the average was $35,200. That figure is higher in part because it includes debt owed to family and credit-card balances.
The average cost of college tuition, room and board is about
$22,000
a year, up from $9,000 in 1980. Inflation adjusted tuition is
up 70% since 1991
while real wages have barely budged.
Student loan debt has increased 284% since 2004.

19% of undergrads at four-year colleges received merit aid despite scoring under 700 on the SAT
There's nothing inherently wrong with handing out tuition breaks to the middle class, or even the rich. The problem is that it seems to be happening at the expense of the poor. At 89 percent of the 479 private colleges Burd examined, students from families earning less than $30,000 a year were charged an average "net price" of more than $10,000 annually -- "net price" being the full annual cost of attendance minus all institutional and government aid.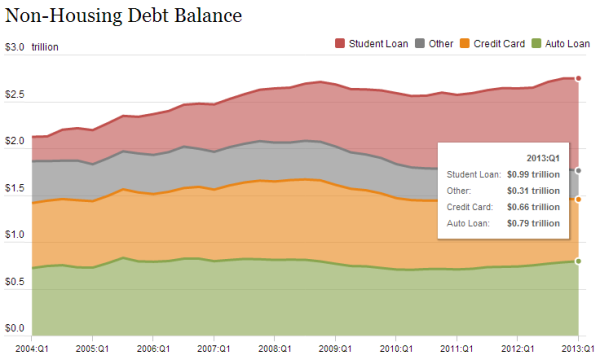 Banks wrote off $3 billion of student loan debt in the first two months of 2013, up more than 36 percent from the year-ago period, as many graduates remain jobless, underemployed or cash-strapped in a slow U.S. economic recovery, an Equifax study showed.
Student loans are the hardest type of debt to discharge, so getting banks to write them off requires pretty much no hope of repayment.
If student debts continue to rise at this rate, student loan debt will more than triple by 2023.

284,000: the number of people with bachelor degrees working minimum wage jobs.
The jobless rate of people under 24 years with a bachelors degree is 7.1%

290 million
Official figures assembled by the International Labour Organisation say that 75m young people are unemployed, or 6% of all 15- to 24-year-olds. But going by youth inactivity, which includes all those who are neither in work nor education, things look even worse. The OECD, an intergovernmental think-tank, counts 26m young people in the rich world as "NEETS": not in employment, education or training. A World Bank database compiled from households shows more than 260m young people in developing economies are similarly "inactive". The Economist calculates that, all told, almost 290m are neither working nor studying: almost a quarter of the planet's youth
There are countless studies that show that young people who begin their careers without work will have lower wages and longer bouts of unemployment than those who don't.
In today's world, it seems we will go to extreme steps to protect our children from seeing naked breasts, but when it comes to helping them get by in this world we simply don't have the time.