As you may already know, Mexican-Americans make up almost 70% of the entire Latino population pie. We are the bulk of the "Latino" group -- and as such ... Mexican Americans ought to take a deeper look into Coca Cola as the thirsty summer season approaches.
Mexican Americans also ought to consider more Mexican-friendly soft drinks, too, and Jarritos is looking better and better to me as a mom, and as a consumer deciding what soft drinks to buy for my children.
Allow me to esplain myself ...
America's Voice has identified the below people as part of the Gang of Hate with regard to the immigration reform bill that is being discussed:

SEN. JEFF SESSIONS (R-AL)
SEN. CHUCK GRASSLEY (R-IA)
SEN. JOHN CORNYN (R-TX)
SEN. TED CRUZ (R-TX)
SEN. DAVID VITTER (R-LA)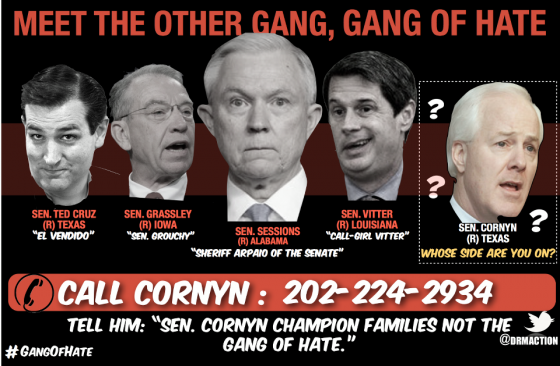 Yet, we see Coca-Cola giving to anti-immigrant politicians like Senators Ted Cruz and John Cornyn.
In fact, Coca-Cola continues to give more in contributions to Republican politicians over the Democratic politicians.
See below Open Secrets image:

House
Total to Democrats: $167,000
Total to Republicans: $237,000

Senate
Total to Democrats: $72,500
Total to Republicans: $108,500
So there ya have it, mi gente!
I encourage you to drink less Coke and drink from companies who don't backstab us.
Con Safos
c/s