There are many ways to understand our economic situation. In my view, though, one graph explains the whole thing. This chart has made the rounds on twitter in the last few days - though most who follow economics have seen it before.
This chart shows the trend in the share of total income that goes to workers.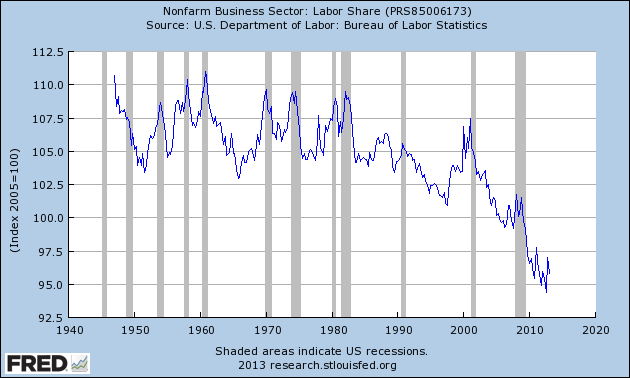 The chart shows up until 1980 a fairly stable trend - labor's share would fall during a recession and then grow until the next recession. After 1980 the trend changes - the recovery in mid-80's never restored labor's share of income to what it was in 1980. Even the boom of the '90's did not restore labor's share to what it was before '80.
Things really start to breakdown after 2000 - where there is a continuing and unprecedented decline in labor's share of income.
Why does this matter? At its core I think most everyone to the left of center would agree that the fundamental problem with the economy is a problem of demand. In introductory economics they usually talk about the Marginal Propensity to Consume ("MPC"). One of the first things you learn is that poor people have a higher propensity to consume than the rich. There are only so many houses and cars the rich can buy until they start stashing money in places like Switzerland. As the rich increase their share of the economy, you begin to have a systemic problem in the economy. The rich get more and more share of the wealth, but they don't spend it so the demand problem gets worse and worse.
In my opinion this is the current problem. Labor's share is declining because companies are offshoring production, or alternatively, automating it. In either instance, labor gets less and less share of the total income.
I promised one graph - but lets look at one more. Let's compare labor's share of income to the S&P 500 since 2000.
Two things to note - the stock market is going up while labor's share is going down. I don't think is a a real surprise, but the graph shows the cause pretty well. But there is a second point I want to make as well. In addition to a lack of demand, a world where the rich have too much money is a world that is going to be subject to asset bubbles. If the rich don't spend their money it is going to go somewhere. That somewhere is in part various financial markets. But because financial markets are prone to panic, I think you can predict that we will see more bubbles build and then burst.
The graph suggests at least in part that my second point is true is well.
There are many conclusions you can draw on this. Some here will say that this is a house of cards that will all come crashing down. I don't think this is really right for a variety of reasons. But I DO think that until something happens to change the balance of power between labor and capital, the economy will not perform as it could, and the fruits of that economy will be very unequally distributed.
I close with Marriner Eccles' (the head of the Fed under FDR) famous explanation of the cause of the Great Depression. His words ring true today:

As mass production has to be accompanied by mass consumption, mass consumption, in turn, implies a distribution of wealth -- not of existing wealth, but of wealth as it is currently produced -- to provide men with buying power equal to the amount of goods and services offered by the nation's economic machinery. [Emphasis in original.]

Instead of achieving that kind of distribution, a giant suction pump had by 1929-30 drawn into a few hands an increasing portion of currently produced wealth. This served them as capital accumulations. But by taking purchasing power out of the hands of mass consumers, the savers denied to themselves the kind of effective demand for their products that would justify a reinvestment of their capital accumulations in new plants. In consequence, as in a poker game where the chips were concentrated in fewer and fewer hands, the other fellows could stay in the game only by borrowing. When their credit ran out, the game stopped.
Thu Jun 06, 2013 at 7:01 AM PT: Since this is on the reclist, I thought I would point people to a very wonkish - but still important piece by Brad Delong this morning. Delong is pretty much required reading if you want to understand the economy - he was one of the leaders of the attacks on Reinhart and Rogoff.
He notes in part about the incredible gap between corporate profits and the Treasury rate:"Right now the profit share in the US economy is at levels far and away higher than I at least ever imagined I would see. And, given the high profit share and the extremely low return on Treasury notes the stock market is far and away lower than I at least ever imagined I would see. With downward pressure on real wages from elevated unemployment making it more likely that profits will grow faster than the economy rather than shrink, the 9% point gap between the S&P earnings yield of 7% and the Treasury note real yield of -2%--I never thought I would see anything like this in my lifetime."
http://delong.typepad.com/...