Overnight News Digest, aka OND, is a community feature here at Daily Kos. Each editor selects news stories on a wide range of topics.
The OND community was founded by Magnifico.


National News

Abducted Cleveland Women Bill Would Provide Them an Income, Education and Health Care

By CHRISTINA NG

An Ohio lawmaker is looking to pass a bill that would pay for a lifetime of medical care, a college education and $25,000 a year to the three Cleveland women who were held captive as sex slaves for more than a decade.

The bill is named after the three Cleveland women. It is called the Michelle Knight, Amanda Berry, and Gina DeJesus Survivors of Abduction Act and it has been introduced by Ohio state Rep. John Barnes, Jr. who said he wanted to restore some of the things the women were deprived of.

Knight, 32, Berry, 27, and DeJesus, 23, have kept a low profile since Berry escaped and the other two women were rescued May 6.

"This was perhaps one of the most tragic and protracted crimes in the history of our community here," Barnes, a Democrat, told ABCNews.com. "They were deprived of an education, they were deprived of health care, they were deprived of a normal life--a prom, an ice cream cone and all of that."


Powerball Record Winner Is 84-Year-Old Woman Gloria Mackenzie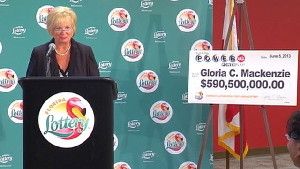 By GEETIKA RUDRA

An elderly Florida woman has claimed the $590 million Powerball bonanza and revealed that she bought the winning ticket when another person waiting to buy a ticket let her jump the line.

Gloria C. Mackenzie, 84, of Zephyrhills, Fla., was named the winner of the largest Powerball jackpot in history, but was not present at the televised press conference.

Florida Lottery officials read a statement from her in which the elderly woman said:

"We bought the winning ticket as a single ticket, even though we bought four other tickets before the drawing. While in line at Publix another lottery player was kind enough to let me go ahead of them in line to purchase the winning Quick Pick ticket.

"We are grateful for this blessing of winning the Florida jackpot... We hope that everyone will give us an opportunity to maintain our privacy for our family's benefit," her statement said.


Heather McGill, Wife of Alabama Sen. Shadrack McGill, Warns on Facebook to Keep Off Her Man
By ABC News

An Alabama politician's wife who took to Facebook to warn women to stay away from her husband said a "righteous anger" pushed her to write a post that has now gone viral.

"I know that I can't bring about change in other people's lifestyles but I can protect my household, my husband and my children," Heather McGill, the wife of Alabama state Sen. Shadrack McGill, told ABC News.

Heather McGill logged on to her husband's Facebook page Monday night to write a post targeted at the women she claims are soliciting her husband, a Republican who has served in the Senate since 2010, for sex.

"Multiple times since being in office he has gotten emails from women (who may not even be real) inviting him to explore, also sending pictures of themselves. NO MORE!!!," McGill wrote. "We have children that look at our face books from time to time! Shame on you!"

Sen. McGill told ABC News that, during his 2010 campaign, strippers arrived at his family's home in the middle of the night and that, since being elected, he has received numerous photos on Facebook of scantily clad women.


DEA Arrests Scarsdale Mom In Massive Pot-Growing Scheme
by Bill Chappell

Andrea Sanderlin, a mother who drives a Mercedes SUV and lives in a large Scarsdale, N.Y., home, is facing serious drug charges after federal investigators accused her of being the mastermind behind an operation growing nearly 3,000 marijuana plants in a warehouse in Queens.

"The DEA's arrest of Sanderlin — an attractive, divorced mother of two girls (ages 3 and 13) who lives in tony Scarsdale, New York — will likely draw comparisons to the Showtime series Weeds," reports , which first reported the story, "which starred Mary-Louise Parker as the sexy young matriarch of the hydroponic pot-distributing Botwin family."

Sanderlin, who is currently being held in Brooklyn without bail, has pleaded not guilty to trafficking in narcotics, The Smoking Gun reports. If convicted of that charge, she could face a mandatory minimum sentence of 10 years in prison.

Her lawyer, Joel Winograd, tells New York's that his client is a full-time mother who has "never been in trouble before." He added, "It's rare that you get a woman accused of running a grow house."


Amazon's Grocery Delivery: A Trojan Horse To Get In Your Door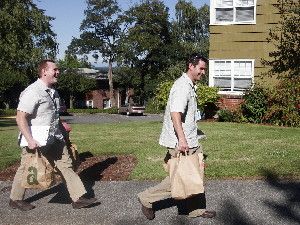 by Maria Godoy

Amazon already delivers everything from toothpaste to televisions to your doorstep. Now, it wants to bring your berries and beer, too.

The online retailing behemoth is planning a major expansion of , the home delivery service of meat, dairy and other fresh and frozen foods that it has been field-testing in Seattle since 2007. The service could launch in Los Angeles as early as this week, and delivery in San Francisco is on the horizon for later this year, according to . By 2014, the company could expand grocery delivery to as many as 40 major urban areas.

So why would a heavyweight like Amazon bother diving into the grocery business, with its notoriously razor-thin profit margins? After all, the online grocery business has become a sort of Bermuda Triangle for many companies, including , one of the most spectacular failures of the dot-com era at the turn of the 21st century.

But home grocery delivery could prove to be a Trojan horse for Amazon to get inside your home more frequently, says , a senior analyst with , which released a research note on AmazonFresh in April. (The firm shared the note, which requires registration to access, with The Salt.)

"What this does is give Amazon the opportunity to connect with customers on a more frequent basis," he tells The Salt.

International News

Woman labeled 'icon' of Turkey protests: It's not about me
By Ashley Fantz, CNN

(CNN) -- She has become a symbol of the violent protests in Turkey. Across social media, she's known as "The Woman in Red."

Wearing a red summer dress and a delicate necklace, the woman walked among demonstrators in Istanbul's Taksim Square when a security officer lurched at her and pepper-sprayed her so powerfully her hair was blown upward.

She could do nothing but turn away from the toxic spray. The officer, wearing a gas mask, lunged closer to her, unleashing more spray on the back of her neck. She covered her mouth as officers spray others.

The photos of the incident have been shared widely on social media in recent days. International headlines have proclaimed her an "icon" of the movement against the government of Prime Minister Tayyip Erdogan.


'What kind of country is this?' Families demand answers after China plant fire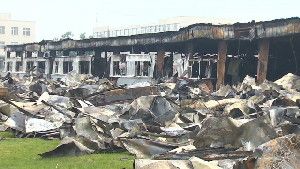 By Nic Robertson, Steven Jiang and Jethro Mullen, CNN

Mishazi, China (CNN) -- The 38-year-old man stands on the road outside the burned out poultry processing plant, yelling at passing vehicles and demanding answers.

He blocks the path of a local official's car and shouts, "My wife's just gone like that -- what kind of country is this?"

Wang Shoufeng is very angry, and he's not alone.

He says he last saw his wife before she went to work at 4 a.m. Monday to start her 14-hour shift at the poultry factory in this town in the northeastern Chinese province of Jilin.

About two hours later, according to authorities, a fire broke out in the plant's slaughterhouse and spread through the building. The lights went off, witnesses say, and smoke quickly filled the rooms and passageways.

Workers rushed to escape the rising flames, stumbling into one another and slipping over in the confusion. Their panic deepened when they found many of the exits were locked or blocked.


Wasting food is like stealing from the poor, says pope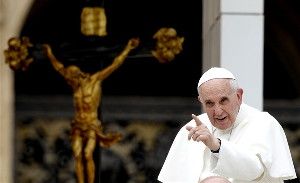 By Reuters

Pope Francis denounced on Wednesday what he called a "culture of waste" in an increasingly consumerist world and said throwing away good food was like stealing from poor people.

"Our grandparents used to make a point of not throwing away leftover food. Consumerism has made us accustomed to wasting food daily and we are unable to see its real value," Francis said at his weekly audience in St. Peter's Square.

"Throwing away food is like stealing from the table of those who are poor and hungry," he said.

Since taking office in March, Pope Francis has said he wants the 1.2-billion-strong Roman Catholic Church to defend the poor and to practice greater austerity itself. He has also made several calls for global financial reform.

Around 1.43 billion tons of food, or one third of what is produced for human consumption, gets lost or wasted every year, according to the United Nations' food agency.


Rescuers winch families to safety in German flood town
BBC

Rescuers used helicopters to pluck families from rooftops in the southern German town of Deggendorf on Wednesday as the Danube flood crisis continues.

Meanwhile more than 30,000 people in the eastern city of Halle have been told to leave their homes after rivers reached their highest level in 400 years.

Floodwater is also threatening parts of Austria and the Czech Republic.

At least 13 people have died and two are missing as a result of the floods.

Rising waters have been triggered by heavy rain following a wet spring.

Eight deaths were recorded in the Czech Republic and three in Germany, while two people were reported dead and two missing in Austria, according to a European Commission update on Tuesday evening.

Parts of Germany have not seen such severe flooding in centuries. However, in the Czech Republic, the water level has stabilised in the capital Prague, where there had been fears of a repeat of disasters in 2002 and 1997.


Venezuela expels West Hollywood filmmaker
By Mery Mogollon

CARACAS, Venezuela -- Interior Minister Miguel Rodriguez Torres of Venezuela confirmed Wednesday that West Hollywood filmmaker Timothy Tracy had been expelled from the country earlier in the day, six weeks after he was arrested on espionage charges.

Tracy was put on an American Airlines flight bound for Miami.

The documentary filmmaker was arrested April 24 by operatives in the SEBIN intelligence agency on accusations of "gathering information" including video and photographic images for what Torres described as the April Connection, an alleged conspiracy to overthrow the government.

The alleged conspiracy included youths affiliated with opposition political parties such as Justice First and Popular Will.

"The method of this person was to mix with violent sectors of the right," Torres said. Torres said the arrest after an investigation and on "instructions of President Nicolas Maduro."