Welcome to yet another Fuzzy Friday open thread with your sleepy host, Marko.
This week I thought I'd take you for a walk in my garden. It's a place that I get to spend too little time in. So, some thoughts and photos from one of my favorite places lie beyond the twisted ginger hairball. A few gardening failures, a bit of wildlife.
This is an open thread.
Note: This diary started as a comment in a diary about the dwindling amphibian populations around the world. The bit that follows, before the photos, was part of that comment. I cut it off and stuck it into its own diary. I thought that with some space it would grow ...
I find toads in my garden every year. I've already found one small toad this year. I even put in a small pond but haven't gotten anybody to move in yet. The water striders are pretty happy with it though. I've got a couple piles of branches and rocks on my property to encourage reptiles and amphibians to move in. I dig up
slow worms
in my compost heaps every year. And we've got lovely, tiny lizards around the place. On a rare occasion we'll find a frog passing through.
It's a nice little plot of land in terms of wildlife. We get roe deer and hares looking for stuff to nibble on. When we dump a pile of fallen apples and plums out back we can count on finding wild boar tracks. We used to have the occasional squirrel and families of hedgehogs but that stopped after the martins moved in. I saw one of our martins in the barn last weekend-- beautiful beastie; stinky critters though... Shrews, voles, moles and a few varieties of mouse. We have one regular, smallish bat every year and some years there'll be two or more flying around in the evenings. Several types of snail and slug. Fantastic variety of insect life-- we find a nest of tiny, wild bees somewhere in the buildings practically every year-- wasps, yellowjackets and hornets too. And we've got so many birds! I was finding owl pellets last year. The boxes my grandfather-in-law put up to encourage redstarts are occupied every year. And yes, we do have blue tits-- and a couple other varieties of tit (the blue tits like nesting in a crack in one of the stone walls while the other, larger varieties prefer the houses I've built and hung in the orchard), woodpeckers, blackbirds ... and all sorts of visitors like falcons, storks, herons, magpies ...
Not bad for such a little patch of ground.
Here's a peek at one of my two patches of dirt: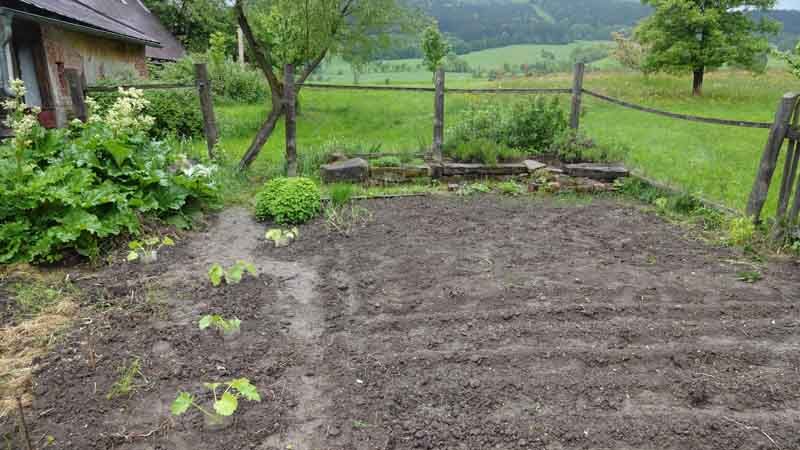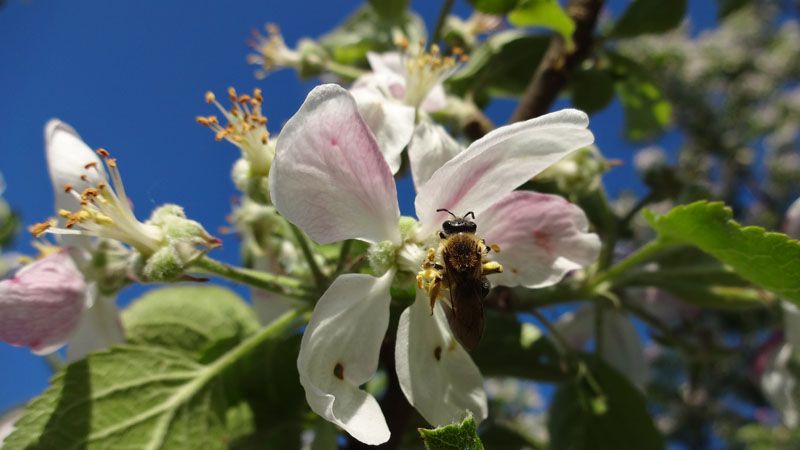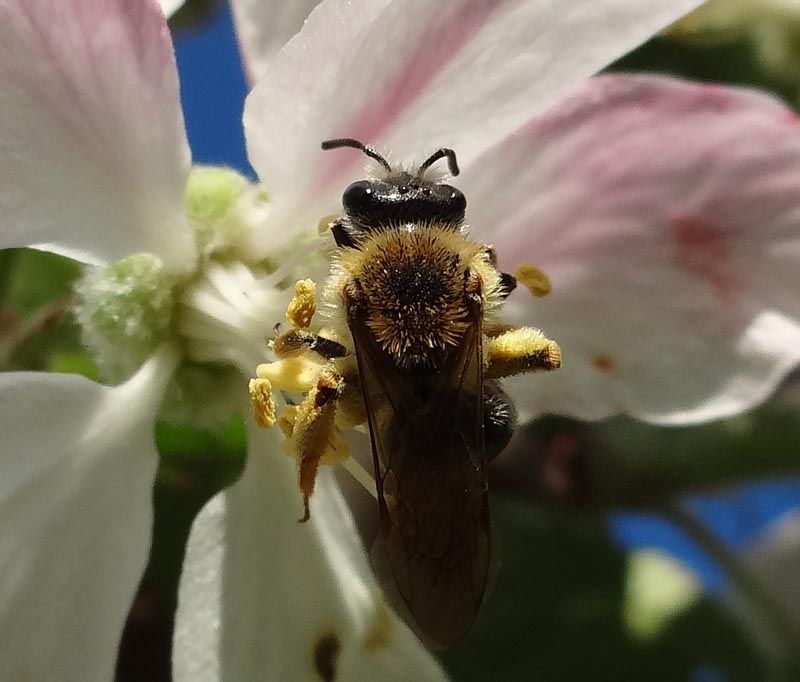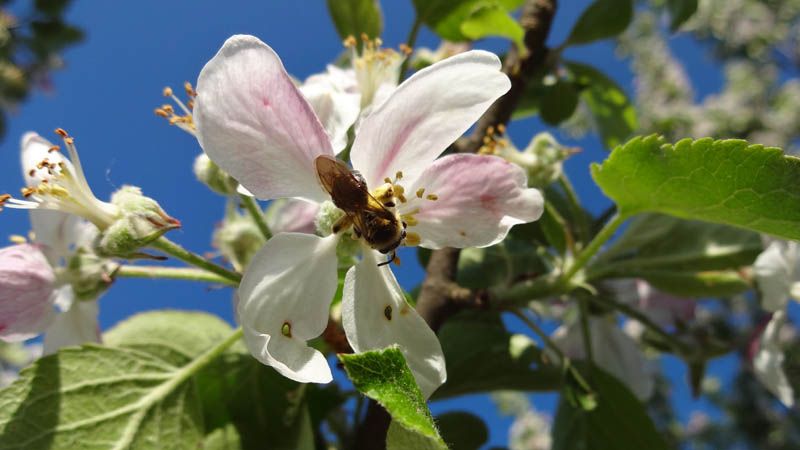 The bees seemed quite happy despite all the rain. It's hard not to be happy when you're sitting on an apple blossom. It looks like it will be a good year for our fruit trees. We had something of an early Spring without a late hard frost.


But a long, cool, wet Spring is pretty much only good for the local molluscs. I rather enjoy taking pictures of the snails.


The slugs are slowly eating all the seedings I've transplanted into my garden. I'm going to have to replant my cucumbers I guess.


There are some things that slugs don't seem to enjoy eating-- like rhododendrons: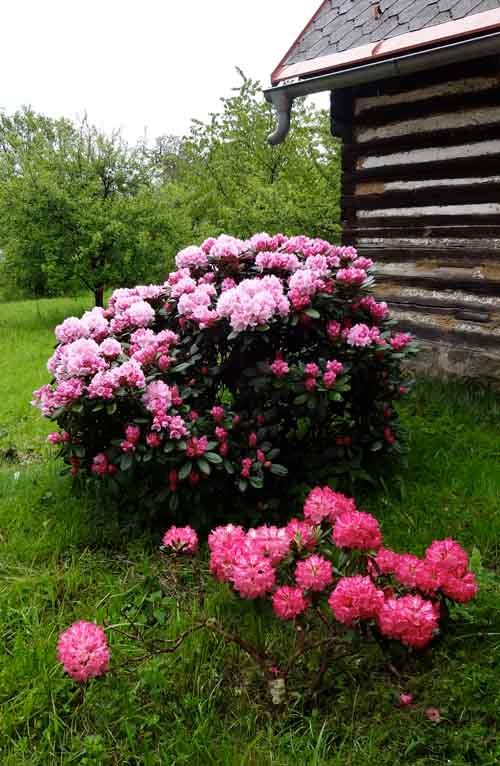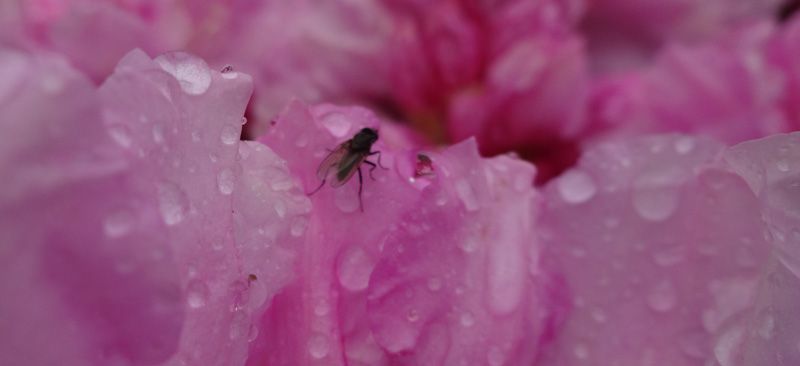 This young bird was absolutely no help in getting rid of the slugs:


Last weekend though, it was rain, rain and more rain. Much of central Europe has been having problems with flooding. My home city of Prague is just beginning to dry out again. The subway is almost running normally. Out on my little slug farm in the country the rain was having its effect on things too. The small, lazy stream across the road from us was roaring with brown water and from the look of the grass the stream had been much higher during the week:


I wrote about my kiln building project here and here. Now, I knew that I'd have some trouble with drainage around my kiln but I laughed when I saw this:


'Course the snails were enjoying the kiln: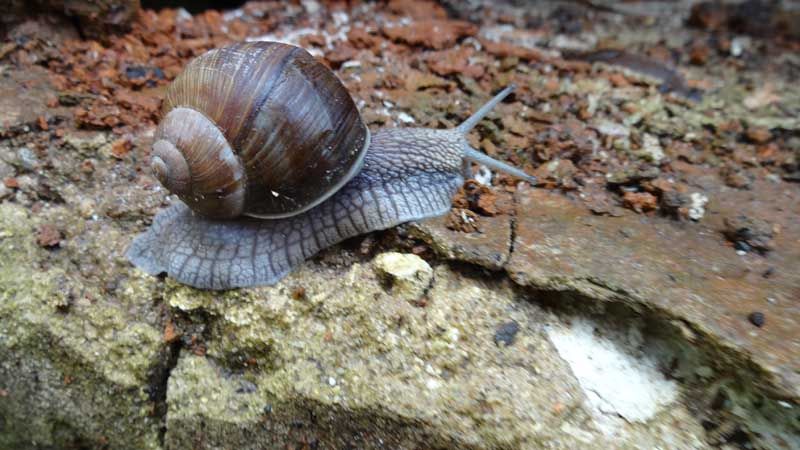 Lots of frost damage to the kiln. I'll have to solve my drainage problems and build a roof over it. I've heard that we can expect a lot more floods in the years to come. And I can expect the snails and slugs to thrive. I can't expect much help from wandering hedgehogs. The martins are a multi-generational institution at this point. It's been a few years since I found the little pile of spikes and bones on a shelf in the garage-- probably the last hedgehog I'll see around the place for awhile. Ah, but I have thought up a nefarious scheme to help reduce the slug population... Hopefully I'm going to be setting some traps this weekend.
So, what shall I dig up for you next week?
Sat Jun 08, 2013 at 2:49 AM PT: Alright, a couple of photo links have been fixed. What does it take to get someone to complain about the quality of my diaries around here? I feel like I've been walking around grinning at guests at a party with a huge gob of bright green spinach stuck between my teeth ...
No harm done of course. Just feeling sorry for those of you who saw the mess. My apologies!
I hope you're all having a lovely weekend. A bit of thunder and a few heavy drops of rain here this morning. I might get less work done in the garden than I'd hoped today.