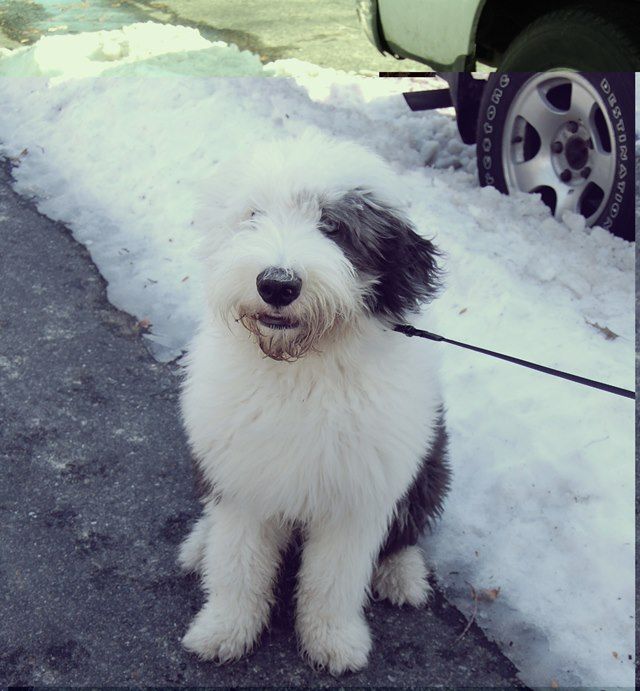 I always try to remember my camera, when strolling around the neighborhood; sometimes, I'll see an interesting bird, or the branches of a tree will form an interesting pattern, but I also seem to bump into a charming puppy or two!
Here we see Oliver, a member of that classic breed, the Old English Sheepdog. Although Oliver was only 9 months old when this photograph was taken, he is already showing signs of being a very superior woozle! The Old English Sheepdog is a very ancient breed, thought to have originated in the West of England, several centuries ago. They were a working dog, similarly to the Bearded Collie, and would herd almost anything (yes, they will herd children, if allowed!). Usually their tails were docked, to identify them as a working animal, and thus avoid a tax.
Despite their rather 'bear-like' shambling gait, they are actually quite fast and very agile for their size; underneath that harsh outer coat and fine, soft inner coat, is a real canine athlete. The 'combination' coat means that the breed can stand all weathers, and is used to farm work. The modern-day dog has changed somewhat, and nowadays most puppies are born tailless, giving them a four-square look, which is especially noticeable when trimmed for the show ring.
The breed has always been a popular show dog; in the U.K., the Old English Sheepdog Club was formed in 1888, whereas the American equivalent came into being, thanks to W.A. Tilley, in 1904 with American Kennel Club recognition arriving a year later. The breed is, of course, part of the Herding Group. Strangely enough these dogs have a tender mouth, and you COULD teach them to retrieve game, if you wanted to!
Oliver will grow up with a natural tendency to love and protect his family, and you can see from his pale blue eyes, and the nice way he sat when asked (for his portrait!) that he exhibits the intelligence of the breed. Many potential owners are put off by the idea of owning a dog that requires a lot of grooming, but if you start young, keep the sessions SHORT, and lie your puppy down on a grooming blanket (always groom in short strokes in a direction TOWARDS the toes) then you can establish a routine of brushing once a week, and a thorough grooming once a month.
There are the usual canine health difficulties, but one genetic problem has arisen in recent years. Cerebellar degeneration (also called cerebellar ataxia) was first noticed in the 1970s, and causes a very pronounced ataxic gait (overstriding, usually of the front legs). Work at North Carolina State University has identified the responsible gene, and a simple test can now identify the problem. Since it is an autosomal recessive trait (you need two copies of the mutated gene for the condition to be expressed) it is possible to 'breed out' the trait from a bloodline. The results of the new test are - 'normal' (no copies of the gene), 'carrier' (one copy of the gene) or 'affected' (two copies of the gene).
One interesting fact is that the Old English Sheepdog is often known in the U.K. as the 'Dulux dog'. This is because since 1961, it has been the 'brand mascot' of Dulux Paint, one of the brand leaders in the U.K. Almost everyone my age can remember seeing Shepton Dash, the famous dog who performed in TV commercials for nearly 8 years, although he has been followed by many of his relatives, of course. Similar campaigns have been run by the equivalent Australian company, DuluxGroup Pty.
The Old English Sheepdog is a fine breed, and if you can get used to the grooming, you will be rewarded by a loyal, intelligent friend for many years; and, people will want to chat with you, wherever you go!
http://shortfinals.wordpress.com