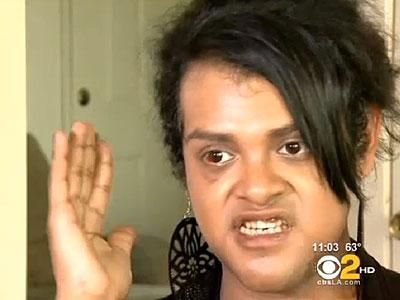 A transgender woman identified as Vivian Diego, 22, was the victim of a vicious attack on May 31, around 2:15 am, near Hollywood and Vine in Los Angeles. Vivian was waling along Hollywood towards Vine when four men started following her near Ivar.

She became involved in a verbal confrontation.
At that point [after Vivian walked away from them towards Vine], one of the males ran up behind Vivian, striking her from behind, knocking her unconscious, it appears on the video, to the ground. And then the rest of the group joined in and brutally assaulted Vivian by kicking and punching her.

--Lt. Marc Reina, LAPD
Vivian worked under her male identity as a barista at Eva Longoria's Beso restaurant. After work that night, she went to a friend's apartment to get dressed for a night of clubbing.
Vivian spent a week in the hospital as a result of the beating. Police are trying to determine if it was a hate crime.
Well, duh!
Warning: The video on the inside may be a trigger for some people.

This happened with people walking by, at least one cyclist riding by, cars driving past, so there had to be witnesses. A $25,000 reward is being offered by the LA City Council for information which leads to an arrest of the four suspects, visible in the following surveillance video.
KABC news story:
Surveillance video:
Right when they see me, they started being malicious, verbally, abusing me verbally with words.

[Then] I was being kicked on and punched on. And then, I wake up in the hospital.
Vivian is now out of the hospital, but faces a lengthy recovery according to police.
I'm not letting this incident, this attack, stop me from living my life. As you can see, I'm still fabulous. You guys didn't stop no show.

--Vivian Diego
Vivian speaks video
.