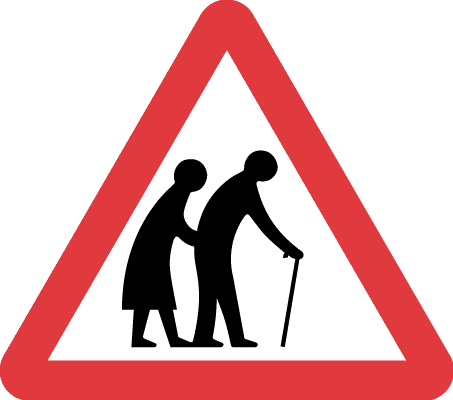 We all know by now that a retirement crisis is looming, the magnitude of which has not been seen in this country since before the New Deal programs were put in place. The National Institute on Retirement Security, a nonprofit organization dedicated to examining the prospects for Americans' retirement, released a study on Thursday which actually puts the breadth of what is coming into focus.
WASHINGTON, D.C., JUNE 20, 2013 – A new research report calculates that the magnitude of the retirement savings shortfall is staggering. When all working-age families are counted, the typical family has only a few thousand dollars saved for retirement. Four out of five working families have retirement savings less than one times their annual income. Because of this dangerously low level of savings, the U.S. retirement savings deficit is between $6.8 and $14.0 trillion, depending on the household assets counted.
Obviously the older the "working family" is, the more money they have saved for retirement. However, the NIRS study also compared relative retirement savings levels with the target savings goals commonly urged by financial firms. They concluded that 92% of American working households do not meet even the
most conservative
target estimates for their age and income. Even counting their entire net worth (the largest component is usually home values) 65% fall short of those targets.
There are 78 million boomers, the largest age segment in the history of the world, preparing to retire. At the tail end of the baby boom (of which I am a part), workers are turning 50 every six seconds. As of 2010, they were retiring, one every ten seconds.
As noted in these pages in March, Forbes magazine, not a bastion of socialist thought, agrees:
We are on the precipice of the greatest retirement crisis in the history of the world. In the decades to come, we will witness millions of elderly Americans, the Baby Boomers and others, slipping into poverty. Too frail to work, too poor to retire will become the "new normal" for many elderly Americans
As dire as the predictions seem to be, no one seems to want to acknowledge
what this all means
in human terms-- what it will mean, to Americans as we pass into this unprecedented
adventure.
You can run a hundred searches on the Web, but you won't find many examples of what this scenario comes down to in terms of everyday life. While there are plenty of articles about poverty, and elder poverty, there's not a whole lot of analysis on what the impact will be of a large demographic segment of our society suddenly finding itself relatively destitute, and looking at as many as two-three decades of life ahead.
Because no one, it seems, wants to really talk about that. Which makes some sense, since it's a national disgrace.
Let's assume for the sake of argument that the powerful Senior lobby protects at least the existence of Social Security over the next twenty years. I think that's a realistic assumption given voting demographics (although some might disagree).
What's it like to live on Social Security and nothing else? Remember, aside from inherited wealth, that's the scenario facing whole generations from here on out. That's what having a five-figure nest egg, or even a low six-figure nest egg means. It means the money runs out, and quickly. One of the more prevalent fantasies appears to be that Seniors can make up for the shortfall by working well into their 70's. Beyond vague allusions to "entrepreneurship" and "consulting," where the jobs are that would cater to a septuagenarian work force is never satisfactorily explained. Nor is it ever explained why forcing the aged to work in perpetuity wouldn't drastically diminish employment opportunities for younger workers.
The average retiree receives $1200/month in Social Security benefits. 5% of retirees receive $2000 or more. Currently, Social Security keeps an estimated 21 million people out of poverty.
Living on only Social Security isn't a happy prospect. It means stretching every dollar, depending on a patchwork of family, charity and state programs to pay for what Social Security doesn't cover — and sometimes doing without. Those living on nothing but Social Security are often single women and minorities. AARP, the senior advocacy group, says 25% of retired women, including 46% of unmarried Hispanic women, have no income beyond Social Security. AARP also says 33% of retired African-Americans live on Social Security alone.
As the retirement crisis manifests itself, state and local governments will be asked to
make up the shortfall
.
That fact has set up an interesting tension when it comes to the study of aging in the U.S. On the one hand, there has been a considerable amount of work on how to make communities more livable and friendly for the elderly -- how streetscapes, co-housing, public transportation, food supply, recreation centers, volunteer opportunities, continuing education and so forth can all be blended to make for a rich and positive aging experience. Less attention has been paid to the darker side of aging. Many elders are ill-prepared to shoulder the cost of retirement, and the gap between what seniors need to live on versus what they have might land squarely on state and local governments.
People who have their homes paid off or otherwise have no housing obligations are generally able to get by on only a modest amount of money. But add the factors of a mortgage, rent, and poor health, and the cost of living skyrockets.
According to the Chair of the American Medical Association:
By age 65, around two-thirds of all seniors have at least one chronic disease and see seven physicians. Twenty percent of those older than 65 have five or more chronic diseases, see 14 physicians -- and average 40 doctor visits a year. Situations like these are a nightmare for patients and the physicians who treat them. Variations in therapies, medications and even differing instructions can be confusing, conflicting and hard for patients to remember.
Economic status
also factors in; generally, the poorer you are, the more likely you are to get sick:
One of the biggest drivers of poverty in old age is failing health and the associated medical costs. Most retirees living below the poverty line (70 percent) have suffered acute health conditions such as cancer, lung disease, heart problems, or stroke, compared with 48 percent for those above the poverty line, according to health and retirement study data. And almost all senior citizens living in poverty (96 percent) have some sort of health condition, such as high blood pressure, diabetes, psychological problems, or arthritis, versus 61.7 percent of retirees with incomes above the poverty line.

"Medical expenditures go up for the elderly as they age and medical expenses have been rising over the past decade very rapidly," says Sudipto Banerjee, a research associate at EBRI and author of the report. "A lot of people have to move to nursing homes, and nursing homes are very expensive. People who live there, they lose their income and assets very quickly."
For current Seniors already living below the poverty line,
the picture is a lot worse
than the "official" figures suggest.
So, these are the facts and figures. So what? We've seen all the facts and figures before. What does it all mean?
It means that people in their forties and fifties are now or will soon be faced with the added burden of caring for, and in many cases, housing their parents as the money runs out. They're part of what's being called the "sandwich generation." But there's no data yet that suggests this phenomenon will be limited to a "generation," and right now there's no reason to expect it will be. Calling it a "generation" is actually being optimistic.
It means that married couples will potentially shoulder the burden of caring for two sets of parents, depending on their relative affluence.
That means more emotional stress and family discord, in addition to the financial hit.
It means driving them to their doctor appointments, and sitting through them. Because at a certain point many elderly people are simply not able to drive. It means missing work in order to make those appointments. An average of 40 appointments per year for one out of five. With 14 doctors. Good luck trying to keep your job with that schedule to meet.
It means supplementing your elder parents' income. Or subsidizing it, and the longer they live, the more money it takes. What does that do to normal feelings of love and affection? For some it will mean a choice between caring for the parent or sending their child to college. Who wants to have to make that choice?
For some middle-aged children it's going to mean keeping track of the medicine, when it has to be taken, when it needs to be refilled. Some older people simply can't do that.
It means caring for parents with the onset of dementia and Alzheimer's. It means footing the bill for a facility or attendant home care. Because Medicare won't cover it all. And the states don't have a whole lot of money to spare.
For the elderly it means all the guilt associated with being a "burden" on one's children.
It means going without medication in order to pay the rent, or pay for food. Or pay for the car. Or pay for the electricity. It means your activities that come with a price tag are severely curtailed if not eliminated altogether. And the ones that are free are often only available to you if you're not sick.
And you will get sick.
It means living with more pain and discomfort. Isolation. Even hunger. Because the means to alleviate those aren't available.
It means substandard housing. Because Social Security is eaten up by rent. It means a cottage industry for developers of such housing, and it means vast tracts of pallid, generic housing for the elderly.
It means many of the financial resources that would have gone to one's children, either in the form of college assistance or helping them with their first house payment, will be reduced.
It means inherited wealth, which is what many middle-aged, middle-class families rely on in making their financial decisions, will be diminished as the money runs out. On the other hand, those with substantial inherited wealth will continue to do just fine, as will their children and grandchildren. You couldn't imagine a better catalyst for continued income inequality.
And the pattern repeats itself right down the line. It means the children of the middle class elderly are saddled with more debt, less likely to dig themselves out of it, and pass the same burden along to their own children.
The NIRS report couldn't be more stark:

Left unaddressed, the twin challenges of low access and low savings likely will result in grave consequences. We can expect substantial increases in public assistance costs, and even greater demands on strained families and social service organizations to help older Americans who just can't make it on their own."

Oakley added, "The data is grim, but I want to be as optimistic as the kindergarten teacher who tells students they 'need improvement.' Retirement policy can improve with reforms in three areas to help all Americans and encourage greater savings: 1) strengthen Social Security; 2) expand low- and middle-wage workers' access to retirement savings via payroll; and 3) expand the incentives of the existing Saver's Credit."
The report has
prompted
Senator Tom Harkin to announce:
[H]e will offer a bill "to give every American access to a retirement fund that will give people a secure source of income for life."

* * *
He added, "My USA Retirement Fund proposal would enable workers to save for a secure retirement even as they move jobs, making it easier to plan for the future. We know that we can increase savings rates dramatically by ensuring that everyone has easy, automatic access to a retirement plan, and today's report shows how critical it is that we take action.

"Unless we do something to help every American save for retirement, we will face an epidemic of senior poverty in decades to come."
Chairman Harkin's report is linked above. It is well worth reading if you're interested in this issue.
Public input on this issue is critically important, so people with ideas or stories they want to share can contact Chairman Harkin by:
Sending emails to:
Retirement_Security@help.senate.gov
Sending letters to:
Retirement Security Project
Senate Committee on Health, Education, Labor, and Pensions
428 Senate Dirksen Office Building
Washington, DC 20510