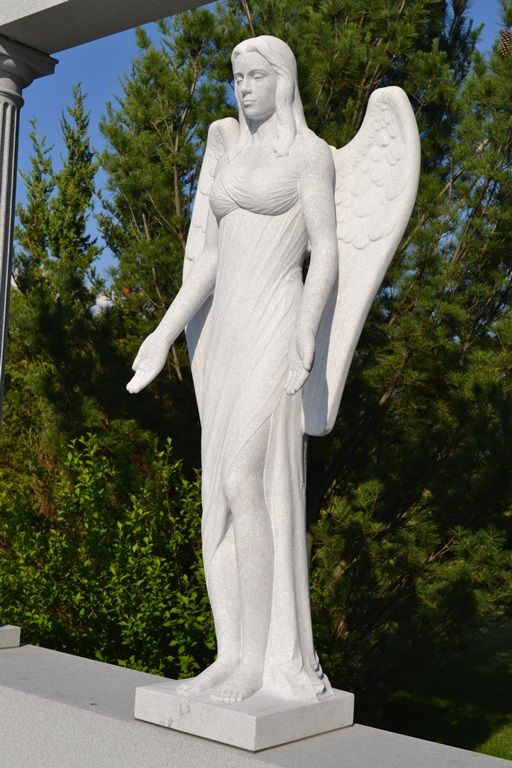 It is highly likely that the Weeping Angels are one of the most dangerous opponents faced by Doctor Who. This alien race, only slightly less older that the Universe, is an extremely strange one. Psychopathic killers, who feed off their victim's life energy in a unique manner; they send their victims back in time, before their birth date and absorb the POTENTIAL energy of the years the victim would have lived after the point of translation. Strangely enough, the victim can live out the rest of their allotted span in the past, and die of natural causes - all you need is to be 'touched by an Angel' ! They CAN be defeated, either by lowering their energy level to the point where they age, and corrode away, just like normal statues, or they can be tricked into looking at another of their own kind. In effect, this means that they are BOTH being observed, and they are in a state of 'mutual quantum lock'. The bad news is that they can transform ordinary statues into Weeping Angels, and it would appear that little 'putti', or baby Angels, can be produced in some fashion or other (think of the difficulties of a 'Weeping Angel' date!), as these were referred to in 'The Angels Take Manhattan' episode.
The Angels also have other means of absorbing energy, from an electrical light bulb, for instance; and they can interact with the photons of light energy which form images on a TV or CCTV screen - so be careful how you read DKos, people! Ultimately, they seek really huge energy sources, such as that at the core of the Tardis (tapped from a decaying black hole by the Time Lords on Gallifrey) or the quantum energy of the Universe, leaking from the mysterious crack in Amy Pond's bedroom wall, for example.
Their ability to move very fast towards their potential victim is their biggest weapon. If observed they become 'quantum locked', and appear as statues (usually transfigured from their peaceful 'statue-like' appearance to something more vampyric)! You simply CANNOT blink, as a fully 'charged' Angel will cover the remaining distance in a flash. The individual with possibly the greatest knowledge of the Angels appears to be River Song, who finds them 'interesting'. Sometimes the Weeping Angels will NOT be as 'benevolent' as they usually are, but actually snap their victim's neck; this normally happens when they want to take over the brain of the dead individual, so that their voice can be used to communicate with other sentient beings.
Although they appeared in 'Blink' (Series 3, 2007), 'The Time of Angels/Flesh & Stone' (Series 5, 2010), 'The God Complex' - briefly (Series 6, 2011), and, in perhaps the most traumatic fashion, 'The Angels Take Manhattan' (Series 7, 2012) in which the whole of the island of Manhattan seems to be infested with them, and Rory and Amy finally lose their battle against these 'silent assassins'.
The Weeping Angels are deadly, and they certainly seem to pose huge problems for ANY intelligent race they come across. They also have the ability to REALLY scare children! All in all, this foe is right up there with the Daleks.
Foe Rating: 9 out of 10