I usually hate researching a piece like this.
After connecting all the hidden dots, I'm generally not happy with the shadowy images that can emerge. Connect them at the risk of your own world view's stability.

Dot One: DSAC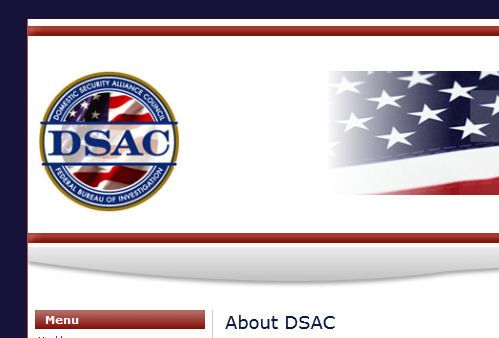 dsac.gov
DSAC Background
[...]
In November 2005, a steering committee comprised of ten Chief Security Officers (CSOs) from ten of the 100 largest publicly traded, domestically chartered corporations to include Citigroup, Coca-Cola and Federal Express, was convened at FBI Headquarters to explore the feasibility of creating a domestic security intelligence sharing program between the U.S. government and the U.S. private sector.

In December 2005, DSAC was officially formed as an FBI program with the following mission statement:

"The Domestic Security Alliance Council (DSAC), a strategic partnership between the FBI and the U.S. private sector, will enhance communications and promote the timely and effective exchange of information. The DSAC will advance the FBI mission in preventing, detecting, and investigating criminal acts, particularly those affecting interstate commerce, while advancing the ability of the U.S. private sector to protect its employees, assets, and proprietary information."
[...]
Dot Two:
FBI, DHS, and Corporations use DSAC to tackle the "threat" of Occupy.
FBI Documents Reveal Secret Nationwide Occupy Monitoring
Partnership for Civil Justice Fund, justiceonline.org -- December 22, 2012

FBI documents just obtained by the Partnership for Civil Justice Fund (PCJF) pursuant to the PCJF's Freedom of Information Act demands reveal that from its inception, the FBI treated the Occupy movement as a potential criminal and terrorist threat even though the agency acknowledges in documents that organizers explicitly called for peaceful protest and did "not condone the use of violence" at occupy protests.
[...]


-- Documents released show coordination between the FBI, Department of Homeland Security and corporate America. They include a report by the Domestic Security Alliance Council (DSAC), described by the federal government as "a strategic partnership between the FBI, the Department of Homeland Security and the private sector," discussing the OWS protests at the West Coast ports to "raise awareness concerning this type of criminal activity." The DSAC report shows the nature of secret collaboration between American intelligence agencies and their corporate clients [...]

-- Naval Criminal Investigative Services (NCIS) reported to the DSAC on the relationship between OWS and organized labor for the port actions. The NCIS describes itself as "an elite worldwide federal law enforcement organization" whose "mission is to investigate and defeat criminal, terrorist, and foreign intelligence threats to the United States Navy and Marine Corps ashore, afloat and in cyberspace." The NCIS also assists with the transport of Guantanamo prisoners.

-- DSAC issued several tips to its corporate clients on "civil unrest" which it defines as ranging from "small, organized rallies to large-scale demonstrations and rioting." It advised to dress conservatively, avoid political discussions and "avoid all large gatherings related to civil issues. Even seemingly peaceful rallies can spur violent activity or be met with resistance by security forces. Bystanders may be arrested or harmed by security forces using water cannons, tear gas or other measures to control crowds."
Dot Three:
DHS used 'Social Media' to gauge Occupy's effectiveness ... to learn just what they were up against -- and how to "best" react to it.
As It Spied on Occupy Wall Street, Department of Homeland Security Fixated on Media Coverage
by Pam Martens, Partnership for Civil Justice Fund, justiceonline.org -- April 3, 2013

[...]
A DHS employee expressed concern in an October 27, 2011 memo that Federal Protective Service personnel, a division of DHS, may have been caught on camera, writing: "Was there media coverage of the events last night which may show FPS involvement?"
[...]

The new documents released by PCJF also show that DHS was interested in the Occupy movement's ability to gain momentum through social media. In an October 2011 memo, an agent wrote:


"A distinct feature of OWS is how it was born from online organization and continues to use social media to spread its message, organize further protests, and keep protesters connected. OWS and the broader Occupy Together movement that organizes protests in other cities use services such as Twitter, Tumblr, Meetup, and Facebook to this end, as well as having set up a live video feed of the OWS encampment in New York. Announcements, videos, and images are all collected and disseminated via these social networks as well as on the OWS Web site."

Another memo notes:


"Social media and the organic emergence of online communities have driven the rapid expansion of the OWS movement. In New York, OWS leaders have also formed ad hoc committees to organize protesters and manage communications, logistics, and security. The OWS encampment in Zucotti Park features a medical station, distribution point for food and water, and a media center complete with generators and wireless Internet. Organizers hold general assembly meetings twice a day and a have established committees and working groups including an Internet Working Group and a Direct Action Committee, which plans protest activities and works to maintain peaceful and controlled demonstrations. This high level of organization has allowed OWS to sustain its operations, disseminate its message, and garner increasing levels of support."
SO therefore, it must be crushed ...
the thing has had legs.

Dot Four: University files, Police, FBI, Private Security co-ordinate forces and information to 'crush Occupy' nationwide.
Revealed: how the FBI coordinated the crackdown on Occupy
Naomi Wolf, guardian.co.uk, Saturday 29 December 2012
[...]
The documents, released after long delay in the week between Christmas and New Year, show a nationwide meta-plot unfolding in city after city in an Orwellian world: six American universities are sites where campus police funneled information about students involved with OWS to the FBI, with the administrations' knowledge (p51); banks sat down with FBI officials to pool information about OWS protesters harvested by private security; plans to crush Occupy events, planned for a month down the road, were made by the FBI [...]

The documents show stunning range: in Denver, Colorado, that branch of the FBI and a "Bank Fraud Working Group" met in November 2011 -- during the Occupy protests -- to surveil the group.

* The Federal Reserve of Richmond, Virginia had its own private security surveilling Occupy Tampa and Tampa Veterans for Peace and passing privately-collected information on activists back to the Richmond FBI, which, in turn, categorized OWS activities under its "domestic terrorism" unit.

* The Anchorage, Alaska "terrorism task force" was watching Occupy Anchorage. The Jackson, Mississippi "joint terrorism task force" was issuing a "counterterrorism preparedness alert" about the ill-organized grandmas and college sophomores in Occupy there.

* Also in Jackson, Mississippi, the FBI and the "Bank Security Group" -- multiple private banks -- met to discuss the reaction to "National Bad Bank Sit-in Day" (the response was violent, as you may recall). The Virginia FBI sent that state's Occupy members' details to the Virginia terrorism fusion center. The Memphis FBI tracked OWS under its "joint terrorism task force" aegis, too. And so on, for over 100 pages. [...]
Dot Five:
Fast-forward to the present-day world-view context: Witness how "adaptive" those DSAC fusion centers can be ...
by Beau Hodai, PRWatch.org, Center for Media and Democracy -- May 22, 2013
[...]
Initially, fusion centers were intended to be intelligence sharing partnerships between municipal, county, state, tribal and federal law enforcement/"counter terrorism" agencies, dedicated solely to the dissemination/sharing of "terrorism"-related intelligence. However, shortly following the creation of fusion centers, their focus shifted from this exclusive interest in "terrorism," to one of "all hazards" -- an umbrella term used to describe virtually anything (including "terrorism") that may be deemed a "hazard" to the public, or to certain private sector interests. And, as has been mandated through a series of federal legislative actions and presidential executive orders, fusion centers (and the "counter terrorism" entities that they are comprised of) work -- in ever closer proximity -- with private corporations, with the stated aim of protecting items deemed to be "critical infrastructure/key resources."

[...]
JTTFs may relay intelligence gathered at the local level to the FBI's National Joint Terrorism Task Force (NJTTF), which, according to the FBI, is comprised of representatives from at least 35 law enforcement/public safety agencies. This counter-terrorism intelligence cooperative is fed information through the nation's 104 JTTFs (which work, in turn, with regional law enforcement agencies through state "fusion centers"). NJTTF, originally situated within the FBI Strategic Information and Operations Center (SIOC, the same FBI office that issued a request for information to vendors in January 2012 for the development of a social media application capable of trolling Facebook, Twitter, and other social media for certain keywords and other information), is currently situated within the National Counter Terrorism Center (NCTC). NCTC, an entity of the Office of the Director of National Intelligence (ODNI) is the nation's leading "counter terrorism" intelligence sharing partnership. NCTC is comprised of staff from partner intelligence agencies. Such agencies include: the Central Intelligence Agency (CIA), FBI, Department of Defense (DoD) and the Department of Homeland Security.

Initially intended to combat "terrorism," ACTIC, while still retaining its "counter terrorism" appellation, has shifted to an "all hazards/all crimes" mission. This shift in the focus of fusion centers from "terrorism" to "all hazards/all crimes" (which does include "terrorism," along with any and every other activity that could be deemed a "hazard") occurred nationwide as the result of both legislative action and presidential directives. ACTIC pursues this "all hazards" detection, disruption and investigation model through the use of several programs/units -- including the ACTIC Intelligence Analyst Unit, the ACTIC Computer Forensics Unit, ACTIC Facial Recognition Unit and the ACTIC Threat Mitigation Unit.
[...]


Arizona Counter Terrorism Information Center (ACTIC, commonly known as the "Arizona fusion center"). While each of the nation's more than 70 fusion centers may have their own unique structures and protocols, ACTIC (one of the nation's first fusion centers) serves as an excellent illustrative example of a fusion center, as envisioned by both federal legislative action and presidential orders issued over the past decade.
Dot Six:
Who's decision was it
to elevate the peaceful Occupy Wall Street protests into a "criminal" or "terrorist" threat --
that precipitated into all the fusion-responses against American Citizens just carrying out our First Amendment rights?

Dot Seven: Will that person or persons, who made the decision to use the secret apparatus of "state terrorist surveillance" to plot against and 'systematically crush' our own Citizens -- a peaceful movement for Economic Justice -- ever, Ever, EVER have to answer for those rash and ill-conceived decisions?

[ Source: technology-digital.com ] -- larger image

Or are our First Amendment Rights merely another "worthy sacrifice" to our never-ending War on Phantoms Terror. (Including "citizen terrorists" like those shown above.)

Connecting those last 2 dots is still yet to be seen, yet to be done. And this is the part I hate, it looks like the Constitution has already been "sacrificed" -- for the cause of "fusion" -- by shadowy deciders unseen and unnamed.
And still unaccountable to 'we the people.' You know us 21st-century Citizen Suspects, naive enough to believe the First Amendment still matters in America;

... with Liberty and Justice for more than just the wealthy few ...