Morning Open Thread is here every morning at 6:30 a.m. EDT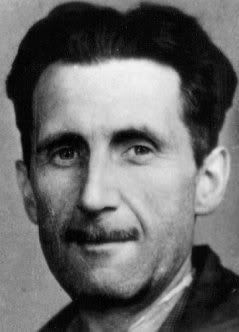 As we continue to follow the travels of the boy who kicked the hornet's nest, one of the words that keeps cropping up to describe the NSA's web of surveillance is "Orwellian."
According to the indefatigable Wikipedia:
"Orwellian" is an adjective describing the situation, idea, or societal condition that George Orwell identified as being destructive to the welfare of a free and open society. It connotes an attitude and a policy of control by propaganda, surveillance, misinformation, denial of truth, and manipulation of the past, including the "unperson" — a person whose past existence is expunged from the public record and memory, practiced by modern repressive governments. Often, this includes the circumstances depicted in his novels, particularly Nineteen Eighty-Four.[1]
The other work by Orwell that inspires the term "Orwellian" is
Animal Farm
, an allegory of power involving pigs, dogs, sheep and other animals. The meaning of
Animal Farm
has provoked intense debate since the novel was first published. Now we have a
letter authored by Orwell himself
, in 1946, shortly after its publication, in which he explains what he intended by the novel:
...I intended it primarily as a satire on the Russian revolution. But I did mean it to have a wider application in so much that I meant that that kind of revolution (violent conspiratorial revolution, led by unconsciously power-hungry people) can only lead to a change of masters. I meant the moral to be that revolutions only effect a radical improvement when the masses are alert and know how to chuck out their leaders as soon as the latter have done their job. The turning-point of the story was supposed to be when the pigs kept the milk and apples for themselves (Kronstadt).1 If the other animals had had the sense to put their foot down then, it would have been all right. If people think I am defending the status quo, that is, I think, because they have grown pessimistic and assume that there is no alternative except dictatorship or laissez-faire capitalism.
Orwell adds:
What I was trying to say was, "You can't have a revolution unless you make it for yourself; there is no such thing as a benevolent dictat[or]ship.
----------------------------------------------------
A list of dogs you won't see in Beijing.
---------------------------------------------
Meanwhile, the sheep are looking up:

Sheep have been found to be far more intelligent than their unfair reputations suggest. In a series of tests involving learning how to get food from differently coloured buckets and recognising different shapes, carried out by researchers at Cambridge University, sheep performed as well as monkeys, and better than rodents. Sheep have also been found to recognise and remember the faces of 50 individual fellow sheep, as well as human faces.
-------------------------------------
Think you can escape the ominipresent eye of the NSA by encryption software? Think again:
Bad news for fans of anonymizing Tor networks, PGP and other encryption services: If you're attempting to avoid the National Security Agency's digital dragnet, you may be making yourself a target, as well as legally allowing the agency to retain your communications indefinitely -- and even use them to test the latest code-breaking tools.

Those revelations come via leaked documents that detail the operating guidelines for secret NSA surveillance programs authorized by Congress in 2008. Those documents include a one-page memorandum from a U.S. Foreign Intelligence Surveillance Court (FISA) judge, saying that the guidelines don't violate Fourth Amendment protections against unreasonable searches.
But here's the real kicker:
Furthermore, as noted by Ars Technica, encryption may mask not only a person's identity, but also their physical location. Since the NSA guidelines say that a person "will not be treated as a United States person" without a positive identification based on name, address, electronic communication addresses or geographic location, encryption users may [be] classified -- at least temporarily -- as non-U.S. residents by NSA analysts.
----------------------------------
Should Americans care about protests in Turkey and Brazil?
According to this article in The Atlantic, they should:

From Turkey to Brazil to Iran the global middle class is awakening politically. The size, focus and scope of protests vary, but this is not unfolding chaos -- it is nascent democracy. Citizens are demanding basic political rights, accountable governments and a fairer share of resources.

The movements may lose their way. The demonstrations will have a limited long-term impact if they fail to become organized political movements. And the violence and criminality that erupted during some protests in Brazil have prompted a popular backlash.

Overall, though, Americans jaded about world affairs should see the activism as positive. The protesters are performing the same role as middle classes have in developed nations. As their standard of living rises, so do their expectations of government.
------------------------------------
Netroots Nation in the news on CNN, MSNBC, Huffington Post, in the Los Angeles Times, and Politico.
--------------------------------------------------
Hopes and Prayers to Nelson Mandela, probably the world's most revered statesman. Who Dick Cheney (in true Orwellian fashion) called a "terrorist."
This is the Monday Morning Open Thread.