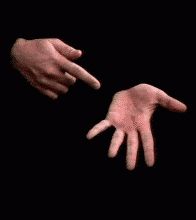 [ Source -- www.wikumagic.org ]

Misdirection (Magic) -- wikipedia.org

Misdirection is a form of deception in which the attention of an audience is focused on one thing in order to distract its attention from another.

Managing the audience's attention is the aim of all Theater, it is the foremost requirement of Theatrical Magic. [...]


"Nearly the whole art of sleight of hand depends on this art of misdirection." (Harlan Tarbell, The Tarbell Course in Magic Vol. 1)

"The central secret of conjuring...is a manipulation of interest." (Henry Hay, The Amateur Magicians Handbook, pg. 2, copyright 1972).
Here's a example of how the theory works in practice:

Vanishing the Statue of Liberty -- David Copperfield


link to video

Simply Amazing! How'd he do that?
Think I'll buy a Tee-Shirt ...




[... a few more tips of the trade ...]
There are two basic ways to "misdirect" your audience; one is time-sensitive, the other isn't.

The time-sensitive approach encourages the audience to look away for a fleeting moment, so that the sleight or move may be accomplished undetected.

The other approach has much to do with re-framing the audiences perception, and perhaps very little to do with the senses. The minds of the audience members are distracted into thinking that an extraneous factor has much to do with the accomplishment of the feat, whereas it really doesn't have any bearing on the effect at all. "The true skill of the magician is in the skill he exhibits in influencing the spectators mind." (Dariel Fitzkee, Magic by Misdirection, pg. 33, copyright 1975).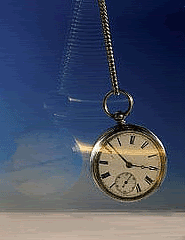 And for our next "illusion" in trying to making common-sense things just disappear, Behold the mastery of inserting an unimagined question into the audience's mind -- all without any subtleties -- once again nod quietly viewers, at another "grand illusionist," the showman of Meet the Press:
David Gregory:

"To the extent that you have aided and abetted Snowden, even in his current movements, why shouldn't you, Mr. Greenwald, be charged with a crime?" Gregory asked the columnist in a Sunday interview.

Glenn Greenwald:

"I think it's pretty extraordinary that anybody who would call themself a journalist would publicly muse about whether or not other journalists should be charged with felonies," Greenwald shot back. "The assumption in your question, David, is completely without evidence, David — the idea that I've aided and abetted him in any way."

"If you want to embrace that theory it means that every investigative journalist in the United States who works with their sources, who receives classified information is a criminal," he continued. "And it's precisely those theories and precisely that climate that has become so menacing in the United States."
Gregory asks Glenn Greenwald why he shouldn't be Prosecuted?
by Vyan -- Jun 23, 2013

Here are some other not-so-grand Misdirection Tricks from throughout our recent history:
The non-attacks in the 'Gulf of Tonkin' was a good enough reason to send a generation of young Americans to the Vietnam quagmire.

The non-troversy of Unions 'stealing your freedom,' means those Unions should be busted.

All Taxes are Government Intrusions into your life. Therefore ALL Taxes are Bad.

Capitalism will lift all boats. (except for dinghies, row, canoes, rafts, floatation devices).


Saddam Hussein was Osama bin Laden's best bud. Therefore his Oil is our Oil.

If you haven't done anything wrong Americans -- then you don't have anything to worry about.

The Constitution was meant to be watered down, all in the name of "Perfect Security™." (It's in the fine print.)

They spy on us, because they love us can. So just trust them.


We really don't care about the untapped resources, in far-away lands. Really! (That's just an illusion of the markets.)

Making use of the Cheapest Labor -- anywhere -- simply serves the 'ultimate good' of Society in general. Just ask the P/T associates of Wal-Mart Corp.
Well, at least when Copperfield's illusion was over -- he had the common decency
to bring the Statute of Liberty back!
If only the same could be said about those shouting now -- "Hey look over there ... Ecuador? ... Castro? ... Putin? ... sounds like a shady character to me?"
"Right Americans, this Snowden-chicken is bad news, huh?"

PS. Pay no attention to those other shadowy-characters behind the curtain ... (otherwise the Trick won't work.)