Openly gay Pa. Rep. Brian Sims, D-Philadelphia, was blocked from talking about the Supreme Court's ruling on the Defense of Marriage Act Wednesday on the floor of the Pennsylvania House by a procedural manoeuvre by one of his colleagues.
The Republican Rep, Daryl Metcalfe, has ESP (extra sensory perception) and knew what the gay rep, Democrat Brian Sims, was going to say, and just wanted to shut that whole thing down so he wouldn't be subjected to the agony of listening to open rebellion against God's law.
"I did not believe that as a member of that body that I should allow someone to make comments such as he was preparing to make that ultimately were just open rebellion against what the word of God has said, what God has said, and just open rebellion against God's law," said Metcalfe, R-Butler.
Two other Democrats objected and tried to allow Sims to speak but were also shouted down. Usually such procedural actions are recorded but these cowards, while willing to prevent their colleague from speaking, aren't willing to 'come out' on the record and own their objections.

Reached by phone, Steve Miskin, spokesman for the House Republican Caucus, also refused to confirm who had blocked Sims from speaking. Miskin said he believed objectors were never recorded. He downplayed the entire incident, saying that disagreements happen in the House all the time.
'
Sims explained that he wasn't going to chastise anyone, just wanted to speak about how important the DOMA cases are.

"I wasn't planning on chastising anybody. I wasn't planning on discussing how far we have to come in Pennsylvania or that we really have no civil rights in Pennsylvania," Sims said. "It was really just going to limit my comments to how important the cases were."
Which he shouldn't have to explain, because in that part of the proeceedings, all sorts of wide ranging topics are allowed.
In a part of the house session where members can speak on wide-ranging topics, Sims had just begun his remarks when he was shut down.
So if they stick their fingers in their ears and their heads in the sand - they can pretend this never happened!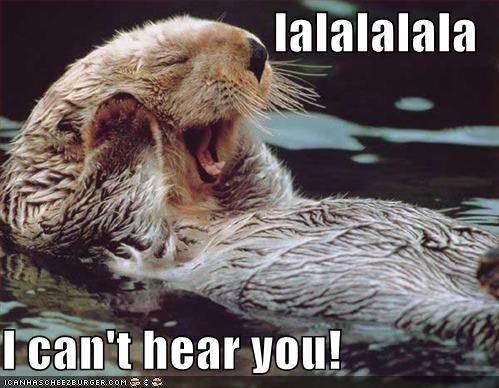 10:46 AM PT: Please write to Rep. Metcalfe if you would like to give him a piece of your mind.
Email: dmetcalf@pahousegop.com
Kind of weird how a governmental body has a .com address and not a .gov one, though.
h/t to humanistique - see his/her excellent letter for ideas